The MGA With An Attitude

MGAguru.com
MGAguru.com
COMPETITION DE-LUXE SEATS for the MGA -- INT-114E
More Photos 3
On 3/25/2010 +0000, Mark Hester wrote:
"The Pirelli webbing seems to have a shinny and dull side. If your clips face downwards as they would to be attached to the frame which side is showing? Also [for the Newton strap lengths], how did you take these measurements"?

On 3/25/2010, Christopher Cox<!-cjpcox at btinternet.com-> wrote:
Definitely, smooth side of webbing faces the seat foam, presumably to reduce friction rub in use.
The measurements I took of webbing straps is un-stretched and excluding the clips.

The seat frame bases are handed left and right sided.
The seat frame backs are the same right and left side, except for one small detail on my pair. The bottom frame rail of one of my seat backs is drilled and tapped in two places to take two screws/lock-nuts, by means of which the rake of the seat back can be adjusted. I assume that the frame without these drillings/tappings is the passenger side seat (I shall probably drill and tap this seat frame so that I can make both seats adjustable for rake). If this is not too clear then the photos to follow should clarify. I am uncertain if all twin cams had one adjustable, one non-adjustable seats and I have only just noted that my seats are like this. An MGC I am acquainted with has both seats adjustable like this.

I need to amend my sketch 3 as I now believe the linen cloth membrane I referred to goes over the top of the cotton wadding, which in turn goes over the semi-cylindrical foam. I had been relying on my memory but looking at the other photos of seat foams recently posted, it could have been that the membrane on my seats had become stuck to the leather covers through age and putrefaction !!!
I am unaware of any source for the original honeycombed moulded foams and I think we need to take a view on how to proceed with the foams we have. Maybe the semi-cylindrical foam should be glued to the circumference of the rectangular foam so that they become like one piece.

The following photos courtesy of Christopher Cox: <!-cjpcox at btinternet.com->
"These are photos of my Newton Commercial seat leathers and I am well pleased with the quality. Also attached is a photo of the de-luxe seats of a car currently for sale in the UK. The seats look to be original, in good condition and nicely mellowed. The arm rest looks possible to have been renewed"?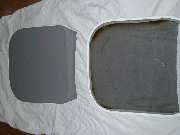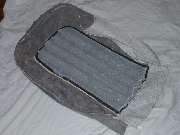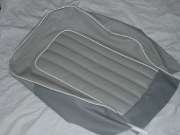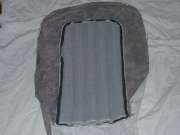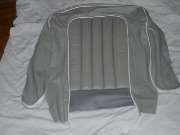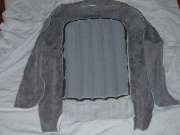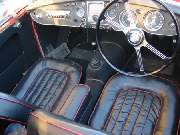 Original de-luxe seat frames - seat base - blast cleaned and powder coated (first two pictures below), followed by original de-luxe seat frames - seat back - blast cleaned and powder coated.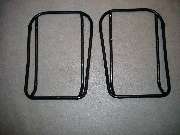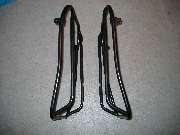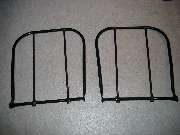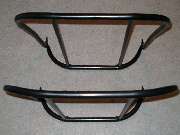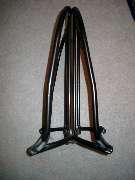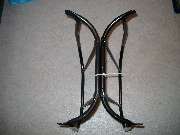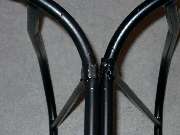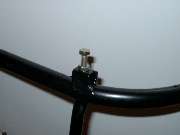 NOTE ...driver's side seat back ..bottom frame member, drilled and tapped for rake adjustment screw and locknut. Other than this feature the seat back frames are identical for left and right hand side, unlike seat base frames which are right and left handed with the tapered sides nearest the transmission tunnel.