The MGA With An Attitude

MGAguru.com
MGAguru.com
SPARE TIRE COVER Material -- INT-117A
This is an original spare tire cover from an MGA 1600-MK-II Coupe (same as 1600 Coupe), removed from the car in 1984 (22 years old at the time). Thanks to John Rogers for the pictures. Notice it is full round rather than truncated like the Roadsters and 1500 Coupe. Otherwise all original MGA tire covers in the boot (when optionally fitted) were made of the same material, and were available in only a single color and print pattern. The material is (was) a nubby textured vinyl called Hardura, and it was overprinted with blue ink. Exposed edges were bound. (Click for larger pictures).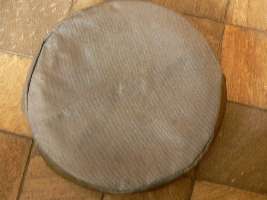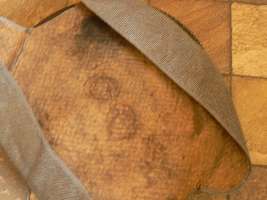 ---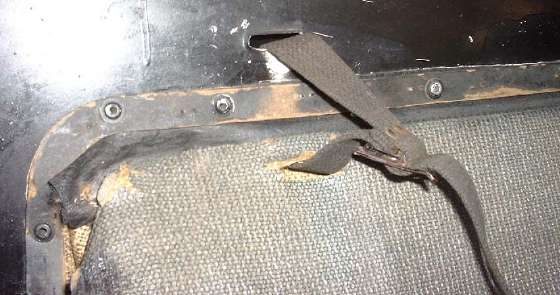 Original Print Pattern. -- Very original tire cover in a low mileage 1600-MK-II roadster owned by Chris Corliss in Wheaton, Illinois, USA. The small circles are flat top bumps with the blue being printed in the valleys between the bumps. Gray vinyl hemming on the edge matches color of the primary material (before blue printing).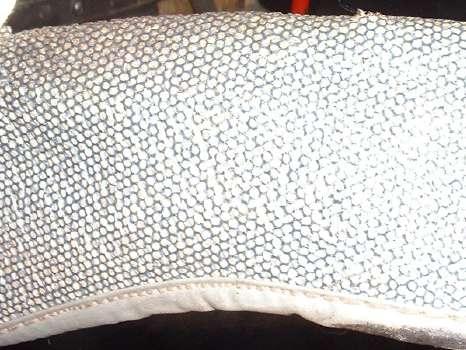 A few years ago the MGA tire covers were available from Scaroboro Faire, exactly as original issue. More recently the company making then has deleted the blue printing (something to do with a failed printing machine I think). The covers are still available without the blue print pattern. MGA tire covers are also available from other places made with non-original carpet material in a few different colors.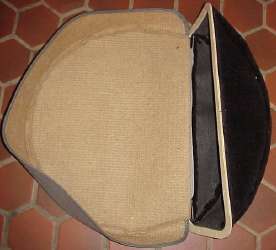 Current offering from Scaroboro Faire without the blue printing.
Photos compliments of Jim Ferguson

On November 20, 2010, Jim Ferguson, North Carolina, USA, wrote:
"It came from SF and is just like the material in the original [without the blue printing]. It did not come assembled. SF sells the fiberboard gasket and rivets for mounting. I stapled the assembly together before trying to put it in the car".
---
Addendum December 28, 2015:
Cliff Hughes in Mandeville, Louisiana, USA has this original tire cover removed from his MGA during restoration. Peeling back a stitched seam has revealed a pretty good representation of the original texture and color including the blue "print" pattern in the depressions. The more I see of the original parts the more I think maybe it wasn't printed. Perhaps there were different colored layers in the material, so when it was stamped or rolled with a forming die to produce the texture the blue color of the underlayer would show in the depressions.