The MGA With An Attitude

MGAguru.com
MGAguru.com
MGA Seat Belts - AFTERMARKET 3-POINT -- INT-122
As noted on the prior page, seat belts were not mandatory in the U.S. until 1963, and most MGA did not even have the anchor points installed until the 1960 model year. Here we have pictures of aftermarket three-point seat belt installations. The first pictures here show installation in a Roadster. The inboard anchor point may be screwed or welded to the side of the tunnel (as per factory optional kit parts), or may be bolted through the lower rear bulkhead panel as noted on the previos page. The outboard anchor bracket can be welded to the top of the frame, just inboard of the weld seam ridge. As previously described, a nut plate can be welded to the frame first, and the anchor bracket then bolted in place.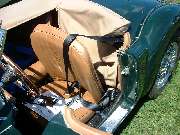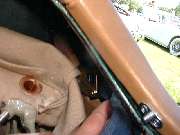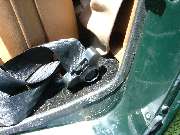 Anchor point for the shoulder harness can be attached to the inner wheel arch as per the coupe instructions, or to the front of the steel body tonneau per early factory instructions. Attachment to the wheel arch will likely result in a more comfortable fit over your shoulder. One end of the shoulder belt must be detachable in order to raise and lower the convertible top frame. The factory hardware put the detachment point on the frame by the door sill. Picture on the right above shows (not very clearly) a detachable connection at the top anchor point on the inner wheel arch.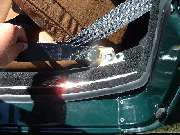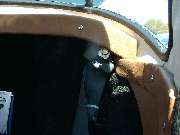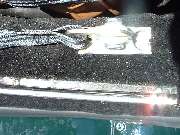 The next pictures show a three-point seat belt installation in an MGA coupe. The coupe does not need to have a detachable belt end, so all anchor points are permanently bolted in place. The outboard anchor is similar to the factory type for the roadster, except that a fixed shoulder bolt is used in place of the removeable pin.