Look at MGAs on the road these days and you'd think red, chrome-wired roadsters were the only model built. To see a coupe is a rarity: to see a Coupe MGA in a shade of sober blue and running on standard steel wheels is almost unheard-of.


We are as guilty as anybody of perpetuating the chocolate-box MGA image: this is the first MGA coupe Classic and Sportscar has featured in nearly a decade - despite the fact that it's the rarer and cheaper, car to buy today, as well as having obvious wet weather benefits. Not everyone gets on with the looks - MG authority Wilsn McComb once described the coupe as 'a tame two-seater wearing a small bowler hat'. But I like it.


When it was announced in October 1956, the coupe was the first closed MG sports car for 20 years. There had been a glass-fibre hard topped version - marketed, oddly, as a separate car and with the hardtop always finished in black - put this proper, fixed steel roof was a move towards a more sophisticated, GT-style MG, swapping wind-in-the-hair exhilaration for draught-free comfort. The panel was hand-formed and then welded to the


The fixed roof's rounded, bulbous shape was copied from the hardtop, its design rushed through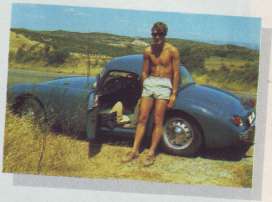 in a couple of months at the Coventry body plant. MGA body, adding 65 pounds to the car's body weight, L59 to its price. Better aerodynamics meant the coupe could beat the ton too, although acceleration suffered. Other coupe benefits were wind-up windows with quarter lights, elegant outside door handles, special seats and door trims, map pockets, a carpeted stowage shelf behind the seats and a vinyl-covered dashboard. There was even a special color - mineral blue, offered only on the coupe.


That's the color of Roger Varley's 1500 coupe, the car his sporty uncle Harry bought new in 1957.