The MGA With An Attitude
MGA REGALIA - MGA ALE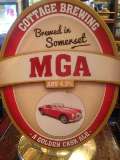 This is a modern product with the MGA name and image.

On 08 February 2013, J Bray in Bedford, UK wrote:
I meet up with some old friend for a pint at the Engineers Arms. The Engineers is a proper pub and usually has about a dozen guest beers on the menu. Todays selection included a cask ale from the The Cottage Brewing Co. in Somerset called MGA. Very pleasant, so I had two pints!!".