The MGA With An Attitude
MGA REGALIA - GRAB BAG RALLY Dash Plaque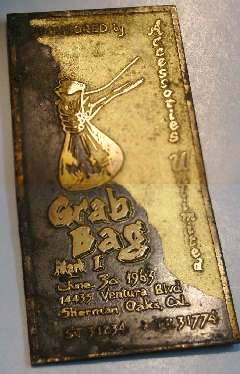 Grab Bag
Mark I
June 3, 1963

Sponsored by
Accessories Unlimited
14435 Ventura Blvd
Sherman Oaks, Cal.
ST31234 TR31774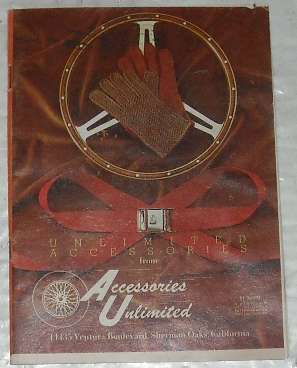 From "Valley News", July 12 and July 19, 1968:
Accessories Unlimited "Grab Bag Mark 4". Gimmick-fun rally. Starts 7:30 p m., Sepulveda Dam Recreation Center, Burbank Balboa Blvd., Encino. Fee: $4 includes DP, jacket patch many gifts. Open to all cars. Information: 787-0461.

The dash plaque picture is from Jeff Allen <!-jallen at col-col.com-> in Massachusetts, USA. He found this piece when disassembling the door of his 1960 MGA roadster for restoration. The plaque is 1 1/4 X 2 3/4 inches and made out to metal. The newspaper note is five years and three runnings of the event later than the plaque, but it lets us know the nature of the event. The Accessories Unlimited catalog photo is from an eBay ad.