The MGA With An Attitude
MGA REGALIA - BOX MATCHES and BOOK MATCHES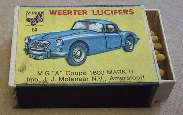 This item has appeared on eBay (more than once). The description said: "Very rare matches box in excellent condition after 40 years ! Made of fine wood, for the Netherlands market only so hard to find in other countries".




This item found on eBay is vintage MG logo matchbooks. These were produced by an MG dealer in the USA. The dealer info is on the back, and the MG logo is on the front.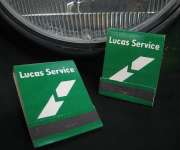 Lucas Book Matches, otherwise known as the optional accessory "Lucas Reserve Lighting System".