The MGA With An Attitude
MGA FASTENERS, The All Metal STIFFNUT - RT-104D
This item will be of some concern for concours enthusiasts. It is the all metal stiffnut, originally used in many places on the MGA.

"Stiffnut" is a generic term used to describe a lock nut which has a prevailing torque. Various types of stiffnut are available. A common modern type type locks by means of an unthreaded nylon or fibre insert into which the bolt or screw will cut it's own thread, thereby providing a grip (ie. Elastic Stop Nut or Nyloc brand). All metal types are manufactured with a number of threads deformed which grip the bolt thread, and there are a few different styles of those.

The style and brand that was originally used on the MGA is the "Aerotight" nut shown in the picture (click for larger image). Aerotight is a registered trade mark of The Premier Screw and Repitition Co. Ltd of Woodgate, Leicester, United Kingdom, LE3 5GJ.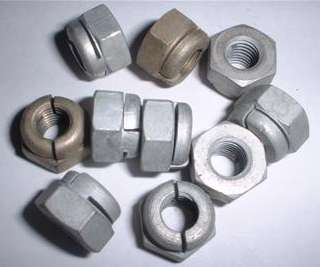 The nut is slotted in two places which, after the nut has been tapped, are bent slightly inward and downward. When the nut is screwed onto the bolt thread the two slotted parts are forced back to their original position. Their stiffness causes the nut threads to bind onto the bolt threads and thus provides a prevailing torque. The mild spring action limits the force of interference, which in turn limits wear.

Advantages of the all metal lock nut are heat and wear resistance. Military and aircraft standards allow this particular style of locknut to be reused up to 15 times, given that the nut will continue to provide some minimum specified prevailing torque (United States' Military Standard 'Mil Std' MIL-N-25027). For use on your car it might be reused indefinitely as long as you cannot turn it with your fingers. The nut will be free spinning through most of the length until the deformed top portion encounters the bolt thread, after which it must be turned with a wrench. Even so, these nuts are almost always used in conjunction with a helical spring lockwasher.

If you have a factory Service Parts List for the MGA you can easily find where these parts are used. In the front of the book there is a Part Number Index. Go down the alphanumeric listing to find the range from LNZ103 to LNZ110 (all zinc plated). (Items LNZ203 to LNZ208 are Nyloc type nuts). These lines will reference a page number in the book. On that page you can find the parts with these numbers.

LNZ103 = #10-32 UNF, used for Bonnet latch bellcrank arm.

LNZ104 = 1/4-28 UNF, used for Boot latch bellcrank arm, Fuel tank mounting strap, Connector for oil gauge pipe.

LNZ105 = 5/16-24 UNF, used for Engine mount front bolts (2 each side), Propshaft flange(s), Handbrake compensator to fulcrum.

LNZ106 = 3/8-24 UNF, used for Wishbone pivot to frame, Handbrake compensator fulcrum to axle.

LNZ108 = 1/2-20 UNF, used for Gearbox rear mount, Steering lever.

Manufacturers:
Arnold Wragg - http://www.arnold-wragg.com

LASAero.com - http://www.lasaero.com
www.lasaero.com/las/30?part=AGS2001-G1-66

Philidas Ltd. - http://www.philidasfasteners.co.uk

Satair Hardware UK Ltd. - http://www.satairhg.com/page_pix/product_grp.htm#Nuts

Sales:
Fastenright Ltd - http://www.bolts-nuts-washers.com

Premier Screw and Repetition Co. - www.premierscrew.com - (not found 12/30/2013 ans 2/15/14)

There are more sources on the net. You just have to search a little.