The MGA With An Attitude
ZINC PLATED PARTS-- RT-109
There are lots of parts on the MGA that were originally zinc plated. This runs a wide gamut from fender bolts, ignition coil bracket, distributor hold-down clamp, manifold retaining washers, throttle pedal brackets and lots more. They are mostly small parts from palm of your hand down to finger nail size. All together they might accumulate to be about a gallon and a half in bucket. The 50-year old parts are commonly dirty and rusty. When restoring a car, if you want it to look nice these parts need to be fresh zinc again. The majority of the parts may be fasteners, which may seem to be cheap parts, but buying all new parts can be quite expensive. It would likely also result in a mismatch of appearances and some non-original styles.

You should consider cleaning up the original parts and having them re-plated all in one batch to save as many as possible. This can be a time consuming job. Soak the parts in solvent and then wash thoroughly for initial cleaning. This might be followed by wire brushing to remove any remaining dirt and rust, running threading taps and dies down all of the threads for clean up (or running nuts and bolts together to assure free running threads), and maybe a follow-up soak in some rust removing solution prior to sending the batch off for zinc plating. As said, very time consuming, but should result in like new zinc plated parts (at least for those parts that have not been physically damaged).

To get proper perspective on the job, we have some pictures provided by Don Tremblay <!-sassawanna at charter.net-> in Rutland, USA.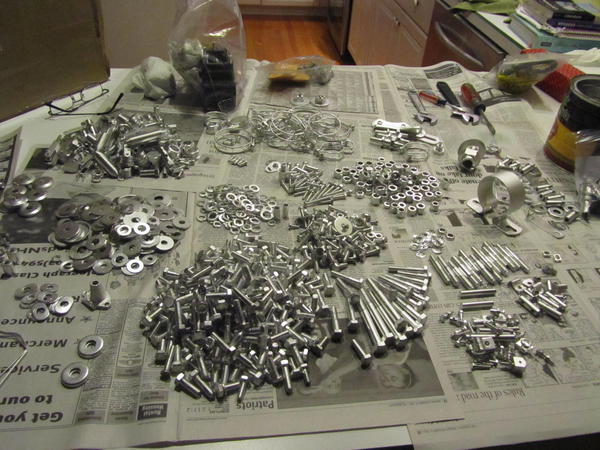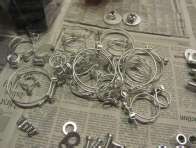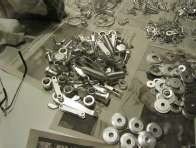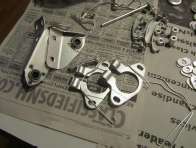 Some additional notes from Don Tremblay:


"It really comes down to personal preference and your own personal decision of whether you want to maintain originality or convenience. To me, there are just too many special washers, clips, clamps and other bits on an MGA that need to be restored/plated that when and if combined with you local hardware/McMaster Carr off shore crap, just doesn't look right as an assembled entity.


With that said and with the aide of references such as Todd Clarke's Technical Guide, I prefer the route of re-plating. In reality, it's the cheapest way to go, but a PITA because you have to do your research and catalog every item for reassembly.


As far as cost is concerned: I removed every clamp, clip, washer and widget off of my car (including many spares) including the seat rails and fuel filler tube that as an aggregate constituted 4 large coffee cans and the cost was $200.


As far as the preparation required prior to plating is concerned, the plater will run the parts through a degreasing and etch operation prior to plating, but it won't remove everything so be forewarned that it could lead to disappointment based on how much crud is on the parts. Instead, I chose to triage my parts and pre-clean them by dipping them in engine cleaner followed with a wire brush operation on my drill press. The result was every bit came back from the plater looking as they were made yesterday".


Best regards, Don