The MGA With An Attitude
The Power of Wishful Thinking - RT-303
Diamond In The Rough - DIGGING OUT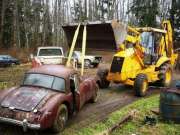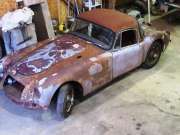 John Larsen <! john atfellerheating.com> in Lynden, WA, USA recruited some special equipment to pull this 1600 Coupe out of the weeds when the wheels were locked up (2009).

"With good rear window and trim, I couldnt resist getting it. Also has a Les Leston aluminum and wood Grand Prix steering wheel. Lots more stuff that will help keep my project budget in line?.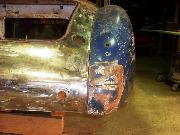 Seems this was to be a "parts car" for the 1500 Coupe already started in restoration. See restoration photos.

In April 2011 the 1500 Coupe was back on the road in top top shape, not a perfect concours specimen but a show winner all the same. See finished photos.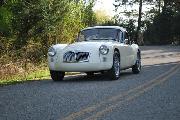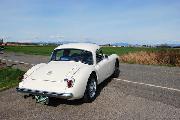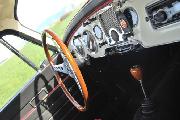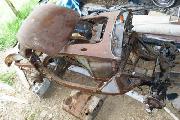 And the 1600 Coupe parts car? Still giving to the end. Rubber from the front dash pad went into the white car, headliner bows went to Steve in Phoenix, a 60 spoke competition wire wheel went with some from Peter across the line in BC. And not finished yet. I see a complete disc brake wire wheel conversion set, steering rack, heater, and part of a dash assembly.


That's the way it should work. When I die I want to donate my organs to save others.