The MGA With An Attitude
INNER REAR WING, Front Section, Metal Mickey - RT-410M2
This photo and report comes from Bill Jeffries. Picasaweb photo page:
picasaweb.google.com/judge7750/MGARestoration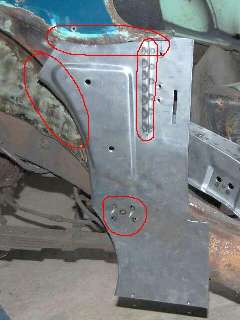 "First new metal is cut to fit - 'Metal Mickey' repair panel required major reshaping to fit!"

First notice top of panel is not high enough. This was an issue with incorrect height of the body mount bracket (2/3 down from top), in which case the entire panel is too low. Solution is to drill out the spot welds using a spot weld mill, reposition panel in correct location, and plug weld the holes to reattach the panel to bracket.

Next issue as the vertical step at top near front, not enough offset, requiring cut, stretch and patch. Right next to it are weld nuts in place of the original floating cage nuts. If you don't get this aligned just right (especially vertical position) it can affect alignment of the convertible top frame.

Last point (I hope) is the curved flange high at the rear edge the should merge into the contoured inner wheel arch. This curve is too low and required re-forming to meet the original position of the wheel well.