The MGA With An Attitude
STEERING ARM and SWIVEL PIN Replacement - FS-111
For general maintenance or overhaul of the front suspension, the steering arm and swivel pin commonly do not need to be disassembled from the knuckle. However, with age and abuse or failed seals, the swivel pin threads may be corroded, or the swivel pin may be bent. On more rare occasion there may be a bent steering arm. If a bent swivel pin is otherwise in good condition it may be possible to straighten it without removing it from the knuckle.

It is fairly common to skid into a curb on wet pavement and bend a swivel pin or steering arm. If the steering lever or swivel pin may need to be removed, you can count on them bring very secure and requiring much force and/or heat for disassembly. To remove the steering arm, screw the nut on flush with end of thread, clamp the knuckle in a vise, and heat the knuckle at the thinnest point near the hole for the steering arm. Heat to dull red, then tap the nut with a heavy hammer to remove the arm.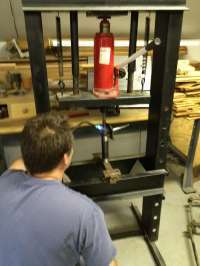 There are three different knuckles and four different steering arms for MGA. The earliest steering arm has smaller nut and smaller diameter taper. The knuckle may be reamed to larger diameter taper and re-cut the keyway to install a later steering arm. Otherwise the parts need to be used as matched sets with part numbers shown in the Service Parts List. Part numbers for the swivel pins never changed, which implies that the pin and knuckle are to be taper reamed in assembly to accept the appropriate steering arm.

To remove the swivel pin, heat the knuckle around the swivel pin to dull red. With enough heat you may get the pin out with a medium hammer, being careful not to damage the thread. The job will likely be easier if you have a press handy.