The MGA With An Attitude
INNER FRONT WING CLEARANCE For Changing Shocks - FS-117A
If you ever change the front shock absorbers on the MGA with the body in place, you find out quickly that there is not enough clearance to lift the shock off of the mounting studs. The factory installed the shocks on the frame before the body was installed, and they didn't leave enough clearnace in the inner fenders for field service. The prior page tells how to remove the threaded studs adn nuts, and possibly replace them with hex heads bolts. Some DPO may not have figured this out, and the inner fender may be badly jimmied to make clearance.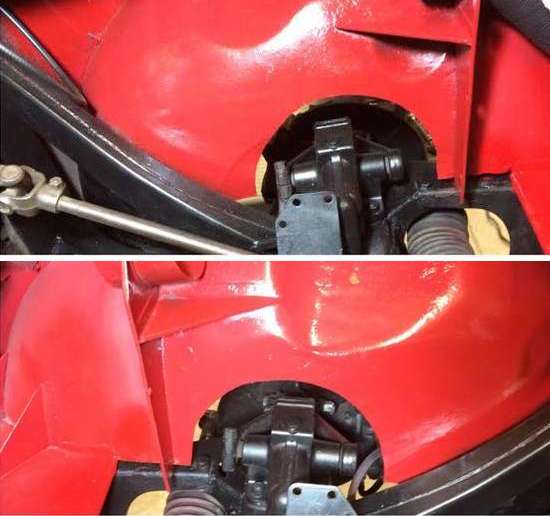 Frank Bice in Yukon, Oklahoma, USA wrote:
"Mine had very slight damage. I simply cut a template of card stock and re-radiused the openings slightly to eliminate the wrinkled metal. I used my handy Dremel tool with the flex shaft attachment. I'm thinking I may fabricate a black neoprene rubber splash shield in the opening, although I do not intend to "splash" anything up there! I was concerned that the car had been damaged in a front-end collision, but saw no other evidence".