The MGA With An Attitude

Odd Threads on Some SWIVEL PINS & LINKS -- FS-200
Here is hoping that no one else ever runs into this problem, and this is posted just in case you might ever encounter it.

On 05 January 2007, Russell in Queensland, Australia, wrote:
>"I have finally tracked down a front end clunk - which has turned out to be loose swivel link. The vehicle had a new swivel pin fitted by the previous owner and the vehicle has since completed about 35,000 miles - lubricated per manual. I question the quality of the part and wonder if the pin is also worn / slightly undersize. The diameter is 0.773. .... In the late 90's .... the right swivel pin was replaced.
>
>"I was able to measure four (2 each of left and right) different original pins. One .... measures 0.784 both top and bottom. Another was visibly worn and measured 0.784 & the worn end at 0.755. The third measured 0.784 & 0.7825. The fourth measured 0.784 & 07835. Each of these was original swivel pins - so my guess is the original diameter was 0.784. The replacement pin which has 35,000 miles of use measures 0.773 at the top, and I now suspect it was manufactured undersize."

On 11 January 2007, Russell in Queensland, Australia, wrote:
>"It looks as though the replacement swivel pin was not only slightly undersize but appears to be a UNC thread rather than ACME type as per original. The replacement swivel pin was fitted just prior to my purchase - the bottom swivel link is brass and a perfect fit, however the repair stopped there. An original steel upper swivel link was screwed on to the assembly. The problem is the replacement swivel pin does not have an ACME thread - and with some wear in the top swivel link the result a lot of movement."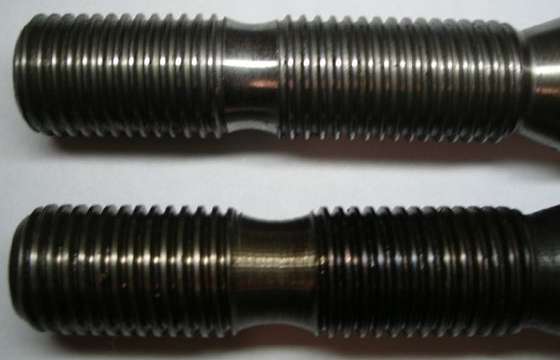 Bottom pin has original Acme thread. Dark color is from flame hardening.
Top pin has other thread, maybe UNF special or maybe buttress thread.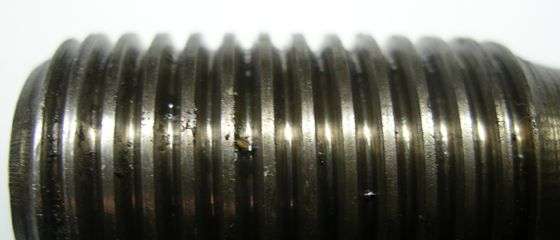 Close up of the original Acme thread.



Close up of the odd thread.

The replacement lower swivel link was brass and has an undersize female thread that matches the thread on the replacement swivel pin. Since the thread is undersize it could not have been machined out from an original part. One guess is the original iron swivel link may have been used as a molding model to cast a new bronze part that was subsequently machined to match the threads on a newly machined swivel pin (with incorrect thread). Let's hope this is an isolated case of a bodged repair from a local machine shop, never to be seen again. But if these were limited production replacement parts, there may be a few more around somewhere. MGA enthusiasts in Australia in particular should watch for these.