The MGA With An Attitude
TUBE SHOCK Conversion, Rear -- RS-201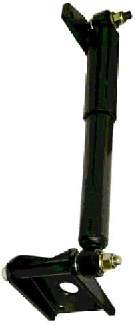 At 07:39 PM 9/25/03 Bill Snyder wrote:
"Can folks on the list who have had experience with tube shock conversion kits make comments on their experiences?"

At 09:37 AM 9/26/03 +0100, Paul Hunt wrote:
"I have one car with levers and one with telescopic which also has a rear anti-roll bar and uprated front bar. I have to have the tubulars on their softest setting or the ride is way too harsh. It's true that the handling and axle location is better on the car with the tubulars, but since the anti-roll bar drop links snapped I realized that this improvement was all down to the anti-roll bar and none to the tubular dampers. IMHO changing to tubulars is a waste of money."

My sentiments are similar. I do not personally recommend the procedure for a daily driver car.. Suspension motion configuration and unsprung weight remain essentially unchanged. For no holds barred competition there may be some advantage to using adjustable tube shocks, but this may also put your car into a different racing class. Read the rule book first. Many vintage racers get along well by changing shock oil viscosity of valving in the original Armstrong lever shocks to affect dampening changes.

HOWEVER, there may be some merit to a rear tube shock conversion if done in conjunction with a conversion to composite leaf springs (see following page). If you are so inclined, you can buy the tube shock conversion parts and find full instructions on Doug Jackson's British Automotive web site.