The MGA With An Attitude
THICKNESS GAUGE, King Dick - TF-118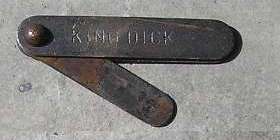 This is the thickness gauge for rocker arm adjustment, has KING DICK on near side and KING DICK 017 on far side. The feeler leaf will be different thickness for different cars.

.017" hot for MGA 1500 and Magnette
.015" cold for MGA 1600 and 1600-MK-II
.014-.015 cold (.018" hot - note 1) for MGA Twin Cam

Note: The Twin Cam tappets were never stated to be done hot. They are done cold. Also the clearance was never 0.018" on production cars. It was 0.018" in the design and testing stage but was changed to 0.016"-0.017" from the outset of production. This was later changed to 0.014"-0.015" by release of a CSM.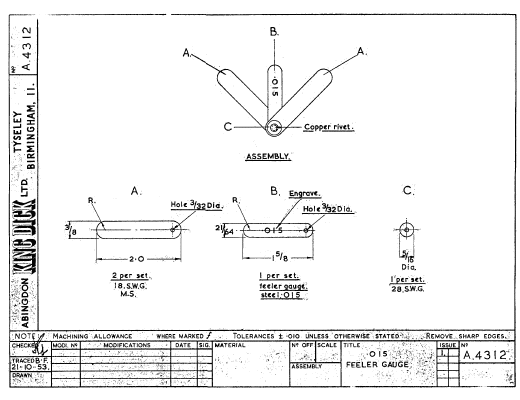 Click for higher resoluton PDF copy of the drawing. Thanks to Rodney Fisher in Australia for copies of original factory drawings of these tools.