The MGA With An Attitude
SCREW JACKS, MGA Tool Kit - TF-130
Addendum, March 26, 2017:
This was a long time coming, but we finally have pictures of what is believed to be the Shelly screw jack used for very early MGA 1500 cars.

On 3/20/2017, Simon Griffin <!-SIMON_GRIF at msn.com-> in Troy, Illinois, USA wrote:
"I picked up a Shelley LJ23 Jack with a 55 date code. I have sent details of this jack to the Classic British Jack web site. They have no current record of this date code and have speculated that this might have been the jack that was supplied with the 1955 MGA's, the first 1000 units out of Abingdon. I have spent quite a bit of time over the last months tracking down Shelley jacks for my MG TD and Austin Healey 100, so could not resist this one when I found it at a car parts show as part of a lot of tools".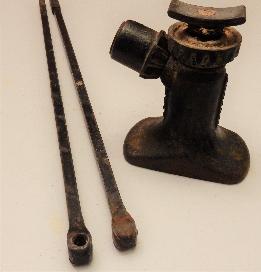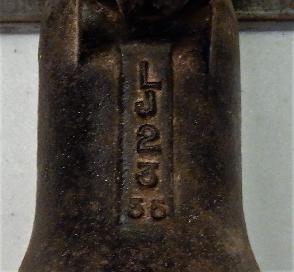 From original page in 2007: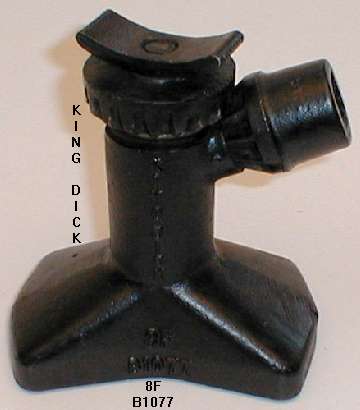 This is the KING DICK screw jack supplied with MGA 1500/1600 cars. This model is commonly called the "bow tie" or "hour glass" jack because of the shape of the base. It has a three-piece handle similar to the one shown at far bottom of page. Place this jack under the front suspension or rear axle, and a two stage screw will lift the car several inches.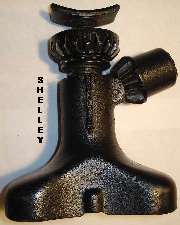 At right is a 6-inch SHELLEY screw jack. This model has a "bow tie" base similar to the King Dick jack, but with more rounded corners. Period tool from a swap meet, not original equipment for any MGA.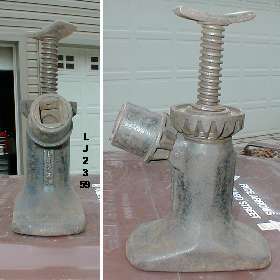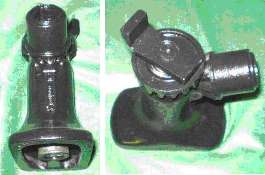 Above is a similar model with "L" shape cradle, definitely not original to any MGA. (Thanks to Steve Gyles for that picture).
Picture above left is a Shelley LJ23 screw jack as supplied with some early MGA 1500 cars. The "59" below the model number is presumed to be the casting year, so this would not be an original MGA jack. It is similar to the King Dick jack, but notice the flat sided base. (Thanks to Mike Parker for this picture).


Picture at right is the Shelley LJ23 jack lowered and raised.

Below is a handle that came with the SHELLEY jack at top right. Part number is 97H577 for the KING DICK three-piece jack handle. This handle is original to the King Dick jack but can be used with any of the jacks shown above.





Below is another picture of a handle that came with a Shelley LJ225 jack (same as above). The center piece (below) has a fat square driving end with rounded sides to allow swiveling like a universal joint, and a spring loaded ball detent. The opposite end has a square socket coupling with small hole in the side. The second extension piece (bottom below) has a mating small square coupling end with a spring loaded ball detent that can engage the hole in the other piece to hold them together. Opposite end has the large eye and cross hole. This accepts the round cross bar (top piece below). The two extension pieces are each 14 inches long, while the manual driving cross bar is 12 inches long. Thanks to Curt Arndt <!-cnaarndt at gmail.com-> in Carlsbad, CA, for this picture.




Below left is the SHELLEY model LJ225 screw jack supplied with late model MGA starting July 1960 and including the last eight months of 1600 production and all 1600-MK-II. The handle for this one is a short piece of round steel bar 18" long. It is turned by a ratchet mechanism operated by moving the handle back and forth. I believe the picture is misleading, as LJ225 jacks for MGA always had a straight handle.



Paint color for restoration is Duplicolor DE 1607 (Chevy engine orange).

Photo at right is a later LJ225 jack with "CA311" on the yoke, introduced about 1965, BMC part number AHH 5986, definitely not original for MGA. The difference is a reinforcing collar around the jack handle hole.

The row below is more pictures of the LJ225 (same as above left). Thanks to Curt Arndt <!-cnaarndt at gmail.com-> in Carlsbad, CA, for these pictures.





| | | |
| --- | --- | --- |
| | | At left is a similar SHELLEY screw jack, model LJ225 59. Here the ratchet head is cast alloy rather than stamped steel. Also definitely not for MGA as it will not fit under the suspension with the extended center screw height. |
Shelley screw jacks were made in a great variety of shapes and sizes. I include here only those that were originally used in the MGA, or those that may be very similar but were not used in the MGA. For information on additional types of Shelley jacks see:
http://www.mgaroadster.co.uk/shelley_jacks.htm.