The MGA With An Attitude
Engine Stands, Side Mount #3 -- TS-102C
On Dec 4, 2016, Jeff Sienkiewicz <!-jbs1948 at aol.com-> in New Milford, CT, USA wrote:
"With engine work in my future, yesterday's project was to build a side mount bracket for the engine stand. Hap recommends the use of something like this, because most standard engine stands attachments prevent installation of the crankshaft. Since I don't weld, some slight ingenuity and a few bolts were required.

I took some 4" x3" by 1/8" rectangular steel tubing and cut two pieces about 1.5" wide. Then I attached these to the passenger side of the engine at the petcock and at the generator bracket attachment. Once those two pieces were in place, I bolted up a 3" x 16" x 3/16" metal plate between these "brackets", then attached this piece to the engine stand mount.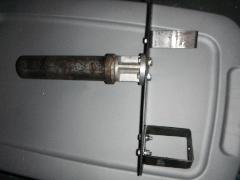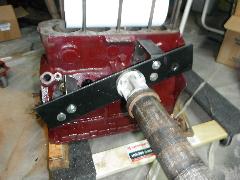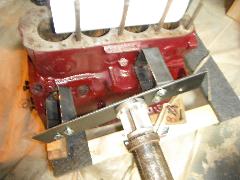 It seems to work OK, but may have a center of gravity issue, as the engine is top heavy when it is turned upside down. But subject to that caveat, success as far as I'm concerned.