The MGA With An Attitude
The Handy Dandy Oil Gun -- TS-105
TS-105 calls to your attention the handy OIL GUN, for all those asking how to add oil in the top fill gearbox, the side fill gearbox, and the differential carrier.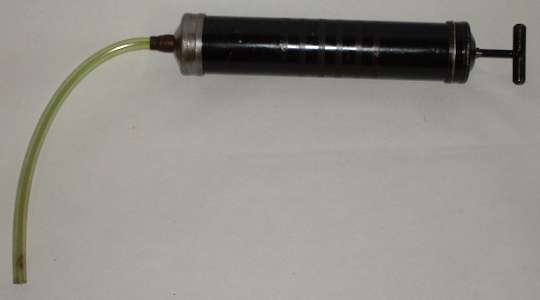 This is a simple lesson for a simple tool, but appearantly not commonly known. This nifty tool is an oil gun, nothing more than a large hand pump grease gun without the hand pump. This works like a large syringe and can suck up about 2/3 quart of oil in a single stroke. It is absolutely the berries for adding oil to the top fill gearbox in your MGA or early MGB (and especially the MGB with the center console obstructing the fill hole in the tunnel). And if perchance you should overdo it, this can remove the excess oil from the top fill gearbox just as easily. Keep a rag handy to wipe the hose and control any drips, and you can easily fill or top off the oil in the gearbox in a matter of minutes without dribbling on your new carpet.

This tool works just as well from underneath your car for adding oil to the later MGB side filll gearbox, the overdrive units, and for the rear axle differential carrier. Find this tool at your nearby major auto parts franchise store for a very reasonable price. Particularly see J.C.Whitney, $7.99 USD or thereabouts (January 2001).