The MGA With An Attitude
Octagonal Wrench(s) for Rear Hub Nut, page-3 -- TS-106B
Here's a slick idea. It may not say in their ad, but the flange on this tool allows it to be held securely in place by the hub studs (with nuts) while you're cranking up the torque.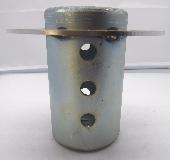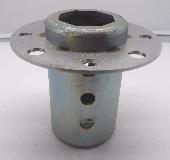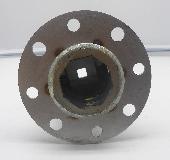 Made in the UK. Brown and Gammons Ltd part number: GAC1500BG
Seen on eBay November 2017. For as long as the link may last see here:
https://www.ebay.co.uk/itm/292324078783
Or on their web site:
https://ukmgparts.com/product/mgb-midcat-2-submgb35-rear-axle-banjo-type/rear-axle-hub-tool-mgb-mga-gac1500bg
---
On 2/15/2018, Peter Shattock <!-peter.shattock at bigpond.com-> in Australia wrote:
"A friend who does metal work cut 3/4" and 1-7/8" holes in 10mm steel. He then scribed 1-15/16" octagon around the larger hole. I used a file to square the 3/4" hole for a socket wrench. Then I used a file to rough out 1-15/16" octagon.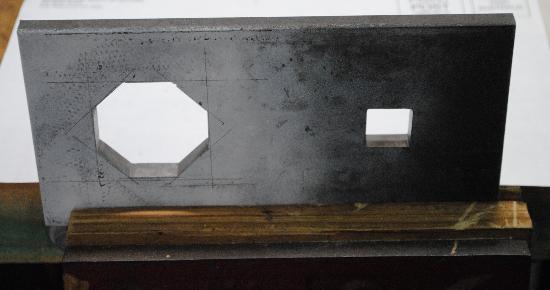 Left portion was cut off and corners trimmed down with a power hacksaw. Bench grinder was then used to trim the outside further so it would fit within the bearing housing. Flats were them filed by hand until a good fit on the nut was achieved. Other half of original piece was then welded to octagonal piece and ground down to create a shallow socket with 3/4" drive.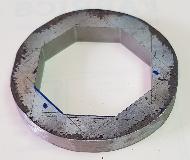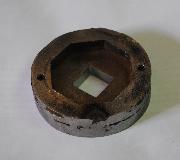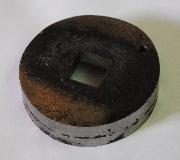 Socket was held in place on axle nut using 2 pieces of aluminum across studs. A bit of grunt and the nut was loosened".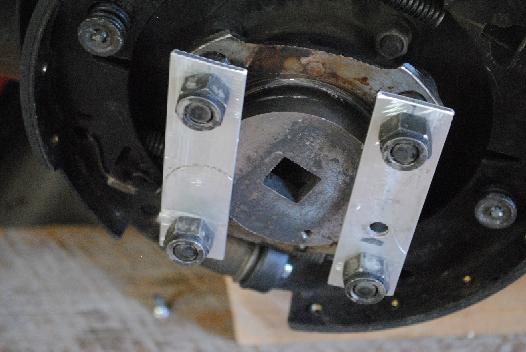 I like it. This is getting pretty close to the minimum physical size for a traveling tool. This would be a good candidate for laser cutting of the two plates. Perhaps make the octagonal socket plate thicker, and leave ears on the top plate to engage two of the hub studs to hold the tool tightly in place. With minimal fillet weld it wouldn't need any grinding of the weld. Then it would be almost a pocket size tool.