The MGA With An Attitude
Tach Drive Gear Puller -- TS-202
This article details a gear puller I conjured up one day in haste, for removing the tachometer drive gear from the camshaft. A new cam comes without the gear, and the gear is moderately expensive, so you want to reuse the old one. The problem is that the gear is against a shoulder on the cam, and there is not much of the gear exposed on which to get a grip. Being just a little careless can smash the gear teeth.

Addendum February 2006:
On 24 February 2006 John B in Denver CO wrote:
"I went to PepBoys and borrowed their "front end service kit" which has a bunch of different presses and pullers designed to service tie rods, etc. One of the presses fits the cam gear perfectly and it came off with out any fuss in perfect condition."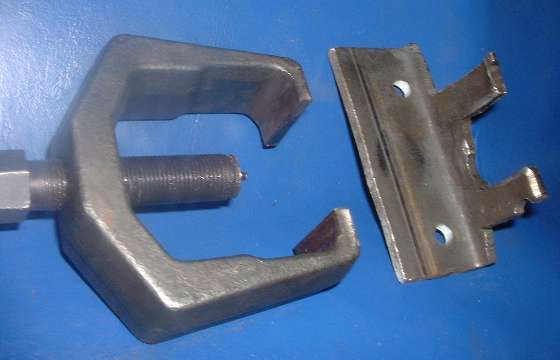 This C-frame tool is a pitman arm puller I bought years earlier for pulling the pitman arm off of a power steering box on a Pontiac. The other part pictured above is a simple bracket that I hack sawed out of a piece of 2" square steel tubing with 3/16" wall thickness (left over from construction of my trailer hitch). A short piece of 3/16" thick angle iron would do as well, with the wide blank side acting as a stiffener for the working side. The opening between the fingers is 1-3/16" wide, and the outside dimension across the fingers is cut to fit the c-frame puller.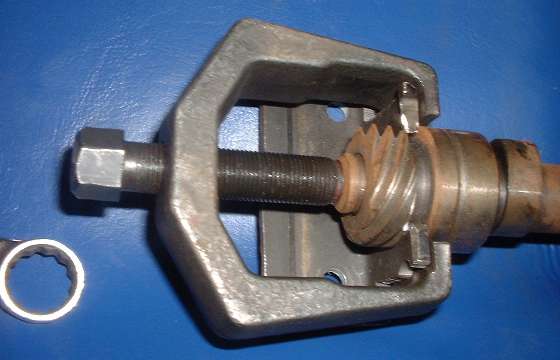 This is where the space between the bracket fingers is important. Too narrow and it won't fit. Too wide and it would have too little contact area against the gear and could deform the gear teeth. Fit the bracket behind the gear and the puller over the bracket with the pusher screw against the end of the shaft.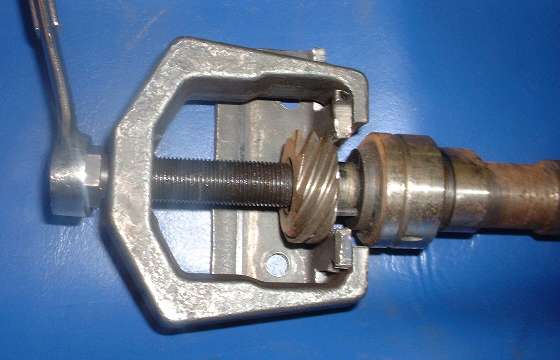 Just a few turns of a wrench and the gear is easily pulled off the shaft without a scratch, ready to be installed on the new camshaft. Buy a new woodruff key, as you would usually damage the old one while removing it from the shaft.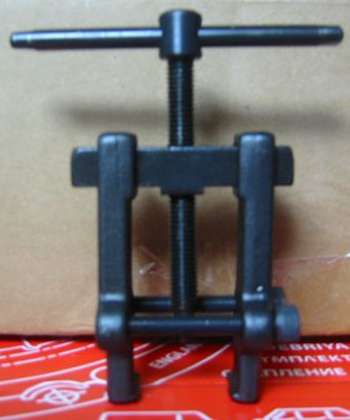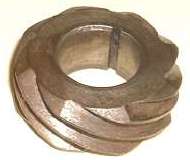 This may be an easier way out if you have a discount tool store nearby. This is a mini gear puller purchased from a cheap tool store in Japan. It is a 35mm bearing puller discounted for around $7-USD, looks like it was designed specifically for this job, and works well.