The MGA With An Attitude
SIDE CURTAINS For Bolt-on Hardtops - TT-110H
The first factory bolt-on hardtop was produced in June 1956. Better aerodynamics with the hardtop made the MGA about 3 MPH faster at top end, so this was immediately a hit with the racer types. The first Coupe was produced a few months later in September 1956 with a similar roof profile. For the bolt-on hardtop they supplied side curtains with rubber seal along the bottom and on the front edge, but not on top or back because the hardtop had a rubber seal there. There were rigid plastic (Plexiglas) panels front and back with the rear panel sliding and the front one fixed.


Left: early painted style frame. Above, later aluminum frame also for aluminum top. Below, aluminum frame for fiberglass top.



Very early side curtains for the aluminum hardtop had black painted steel frames. This was shortly changed to bare anodized aluminum frames. The fiberglass hardtop had slightly different style aluminum frame (picture above), being straight along the bottom edge with wide rubber strip rather than having a tapered metal panel.

The bare metal side curtains were considerably cheaper than the cloth covered units, so they were popular replacements for the 1500 type units (which were generally hated and often replaced after people saw the sliding panel units). They were also available for nearly three years before the 1600 type side curtains were produced. As a result there are a LOT of 1500 roadsters carrying this type of side curtain (even without a hardtop).


Photo above shows an original Weathershield bare aluminum side curtain to be used with the alloy hardtop. Notice seals along bottom and front, but no seals along top and back. This is because the hardtop has seals built into it. The front panel is fixed wile the rear one slides


Photo below shows a Moss Motors bare aluminum side curtain placed in front of the Weathershield part. The Moss part is virtually identical to the Weathershield part except that it also has seals along the top and back, and both panels slide.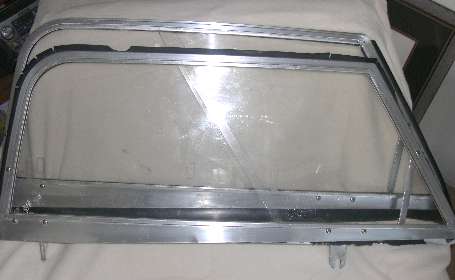 Per Confidential Service Memrandum MG/338 dated 22 Nov, 1960, all of the aluminum frame side curtains were ultimately superseded by the fabric covered units (with narrow edge flanges). As a result, any fiberglass top sold after that date would have been delivered with fabric covered side curtains, later 1600 rag top style.