The MGA With An Attitude
MGA FIBERGLASS TOP Photos and Details - TT-122
Here is an interesting sidebar on the factory fiberglass top.

At 01:32 PM 12/20/04 +0000, Roger Martin from MGA Hardtop Group (Yahoo Groups) wrote:
>"It was generally believed that the fiberglass hard-tops were manufactured by Universal Laminations, as documented by Anders Clausager in his book 'Original MGA', published when he was Archivist at the British Motor Industry Heritage Trust, which holds the post-1955 MG factory records.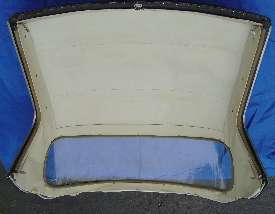 >
>However, subsequent research by David Knowles suggested that whilst the fiber-over-wood prototype was produced by Universal Laminations, the hard-top business of this company had been bought out by Dennis Ferranti by the time that the tops went into production, which then produced the fiberglass tops that we know today.
>
>I tried to confirm this during my research for our 50th anniversary book 'Call it MGA' but David did not have time to revisit his source materials before our publishing deadline. I could therefore only acknowledge the latest thinking in our text.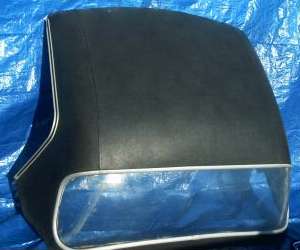 >
>Regards
>
>Roger Martin
>MGA Registrar
>MG Car Club
>Abingdon-on-Thames
>England

At 01:18 AM 10/22/04 +0000, mgajaguarowner wrote:
"The correct parts company is Anglo parts, www.angloparts.com, and it's in thier British parts, tool & accessories Catologue fourth edition, page31 part #121644. this product is also used to line the bottom edge of the hardtop along with the rubber weather seal. the rubber around the door edge is on page 29 part #121.596 and is then covered cloth which is glued onto the rubber."

At 04:22 PM 6/7/05 -0400, Steve <mg2cam@aol.com> wrote:
The primary sources for hardtop hardware were:
Todd Clarke <Clarkespares@worldnet.att.net>,
Todd O'Dell--rear windows and some of the rubber trim (FAX=604-276-9597),
McGregor Car Parts <martin@macgregorukcarparts.com>,
Bob West (UK) -- I got the "L" brackets and "J" brackets from him,
I provided the rear stainless window struts to four other guys, but am currently out of those. I may have some in the future, but the supplier is very good, but very, very slow. The rear body/top seal was missing on mine, and I made that out of soft aluminum tubing, crushed to an oval shape, then run through the table saw to create a "C" shape. It was a project, believe me--but it worked very well.
You also should check with Jim Alcorn <Autovint@icloud.net>. He is always very helpful, and a good source for odd parts.

At 07:07 PM 6/7/05 -0400, Steve Brandt wrote:
Bob West in England has everything needed to completely refurbish both fiberglass and aluminum hardtops - including headliners and rear windows (when in stock).

---
Fiberglass Hardtop restoration information:
This from Dominic Clancy in Switzerland:

The rear seal is originally a strip of flat rubber. I have fitted MGB rear seal for a more effective seal.

The rear mounting is made of a long 7/16 thread bolt with the head cut off and bent into a J shape. The J loop fits under the pivot for the folding top, and the threaded bit goes up through a bracket on the top and is secured with a large thumbscrew.

The front seal over the windscreen appears to have been a bit like the Moss boot lid seal. I am going to use a tubular foam rubber section for this to get a better seal.

The front fastenings are the same T bolts used for the folding top.

Door seals are available from any scrapyard.

The rear windows are available from Bob West.

Furflex for around the rear window is from Woolies trim, who can also supply material to cover the trim pieces and make a headlining.

Many people use a coupe headlining as a good start. The original material seems to have been a fairly dark beige, but I have retrimmed in an OEW vinyl from Woolies. Very strange to drive with a light colour inside the car though.

---
The fiberglass hardtop, alloy hardtop, and MGA Coupe all use the same headliner material (different patterns).

---
Addendum May 2010: Bill Barnes <!-bill.barnes at journalgraphics.com-> wrote:
Here is a picture of the tag on the Universal Laminations fiberglass hardtop that I just sold. This tag is located in the center of the front edge of the top that fits down on the windshield top.