The MGA With An Attitude
MGA Aftermarket Hardtops - TT-123H
"HONEYBOURN MOULDINGS" Hardtop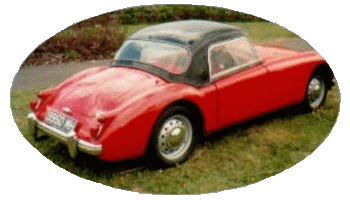 This fiberglass hardtop is manufactured in the UK and is still on the market today for a reasonable price. Check the Honeybourne Mouldings web site.

Word is they manufacture for Moss UK and all in Europe. They also make hardtops for several other vintage British cars.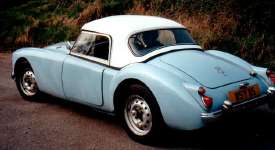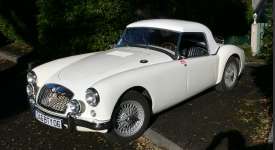 ---
At 01:53 PM 2/4/2009 +0000, Shelley from Honeybourne wrote:


Item
Price in UK
Export Price
Without VAT
MGA Hardtop
£325
£282.61
(Prices in BPS - February 2009 - subject to change.)
[ See BD-251 for additional fiberglass body panels ]

All our items are made to order which takes approx 2 - 3 weeks from date of order. We can arrange shipping via sea although our USA customers usually find it easier to arrange their own transport with UPS. If I can be of any further assistance please do not hesitate to contact me.

Regards,
Shelley - sales@honeybournemouldings.co.uk

---
Addendum August 2011:
Price is currently £355 (aprox £295 or $480-USD for export without VAT).

On 14 August 2011, Neil Ferguson <!-neilferguson.nf at gmail.com-> in Victoria, Australia, wrote:
"I bought one of these 'Honeybourne' units 3 years ago and had it shipped to Oz. They looked good in the picture. It still hangs on my garage wall. They are very poorly made, fittings cheap and nasty and it did not fit. When I say the latter I mean REALLY did not fit. Shape and dimensions were nowhere close and when I appealed for help they told me I had to take all the seals and perspex out and retrim it to suit. I know MGAs vary in shape somewhat but this was something else. Awful and to be avoided. I will get around to it sometime but it will be a major piece of work".

On 12/8/2015, Neil Ferguson wrote:
"Finally in Oct 2015 I got around to taking this top off the wall and trying to fit. I pulled he Perspex out and the seals off. The front windscreen pins would not fit initially (and the screw locates much too high on the screen pins and are smaller than the soft top clamps). The rear looked dreadful with 2 inch gaps. I had to cut about 1/2 inch off the top for about 15 cm on the right hand side, and also cut the other side but not as much. It was a true trial and error job. After this I put an adjustable tie down tensioner strap around the centre rear of the top to back of car (under the window position) and tensioned to pull the sides in. Eventually after about 10 tries and recuts I got it onto the inside hold down hooks. The gaps were still huge but I left it tied to self deform under load for a few days. I then bought new rear seal with about 50% more flex rubber than supplied and refitted. I needed also to throw away the seal strip above the windscreen. It was much too thick and dense. It is nearly there now and the deformation is becoming permanent and gaps only a few mm. So it can be done but what a palaver. Stay away from this top; and the company were no help".


-- Neil Ferguson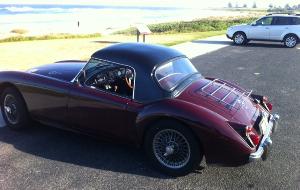 On 12/22/2015, Neil Ferguson wrote:
"After some tugging I got it to fit without gaps above the fender piping and held it in position under load for permanent distortion. About 10 hours work involved. Replaced all the nasty fittings, and now it looks really superb. Now to get the side screens to make a water tight fit".