The MGA With An Attitude
MGA Aftermarket Hardtops - TT-123UL
"UNIVERSAL LAMINATIONS" early aftermarket part.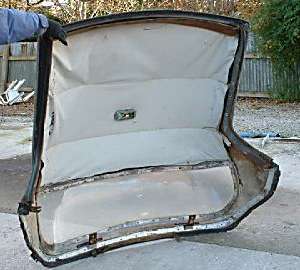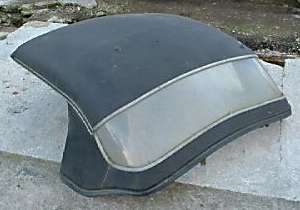 This fiberglass hardtop appeared on eBay in the UK in November 2006. The manufacturer is presumably Universal Laminations, but definitely not original factory issue as was advertised.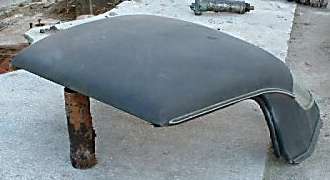 Notice the sweeping drip rail on the sides and the low squared off top of the rear window. There is a dome light inside, but no indication if it was original or added, and no clue where it might pick up an electrical connection. Best information is that this is a model produced by Universal Laminations prior to the company being commissioned by MG to produce the 1600 factory style hardtop. That would make this a rare aftermarket accessory which would be period correct for the 1500 model. A very interesting part.

---

Below is a 1956 magazine ad (from eBay) for a UL fiberglass hardtop for MGA.


You can click for a 2X blow-up of the image. There seems to be a bit of artistic liberty taken with shape of the door and side curtain, so styling impression may not be true to the actual shape.
---
Pictures below are from an eBay ad in March 2014, advertised as "barn find" condition. EBay item number 261414532607. This appears to be the same model with no external trim, and paint over the rubber window molding. Notice the basket weave pattern on the vinyl headliner and the location for a dome light with exposed wires. The manufacturer's tag with Serial No. 826 is attached inside at front center.