The pieces of this assembly are very simple forms. Once the materials have been procured, the parts can be cut to size with a hack saw, welded with an electric welder, drilled, tapped and assembled in your own garage. While a drill press would certainly be of good assistance, the original copy of this hitch was drilled with a 1/2" electric hand drill and the threads tapped by hand. It went from raw steel materials to finished, painted and installed in one day.

Addendum April 2008:
Here is an alternative option for a 1-1/4-inch receiver hitch, for those who may have use for a quick change option with various hitch attachments. The receiver tube (and other hitch accessories) can be purchased from CURT Manufacturing, Inc.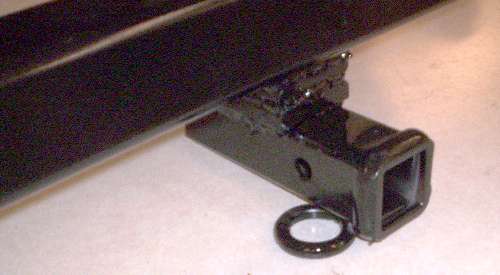 Photo courtesy of George Merryweather.