The MGA With An Attitude
Light TRAILER CHASSIS, Off the Rack - TH-101A1
For what it's worth, most of these little trailers use a nearly identical chassis, built with the same square tube axle and twin leaf springs. The stated GVW capacity is derived from the ground up, starting with the cheap 4.80x 8 two-ply tires which have a rated load capacity of 560 pounds each (at 60 psi). I generally run mine at 30 psi, which seems adequate for anything I carry. J.C.Whitney used to sell the bare chassis, once under $100 and more recenty about $150. You could just add a sheet of plywood for a flatbed, or build your own box from plywood to suit. I see lots of these being used to haul autocross tires, a small moulded plastic cargo box and an ice chest.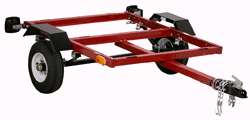 Harbor Freight sells several light utility trailers and bare trailer chassis. The smallest one is suitable for a build-your-own trailer project. It is normally around $179.99, but was on sale at local HF stores in early February 2003 for $129.99. Check the link here (if it still works).
http://www.harborfreight.com/cpi/ctaf/Displayitem.taf?itemnumber=42708

Currently J.C.Whitney is selling a small cargo "Trunk" on one of these chassis, for $599.99. It has a moulded polyethylene clam shell box, curved on top for aerodynamics (so the ice chest may have to go near the back), 48" long, 38" wide, and 21" overall height (just the box). That would make it maybe 14 cubic feet inside, and less rectangular in shape, so maybe not quite so easy to pack up all the space. Weight is 135 pounds empty. No stated load capacity, but probably the same as mine, except the box may not be strong enough to carry very heavy items (like engine blocks for instance).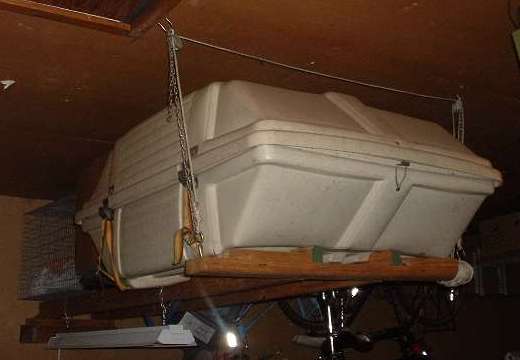 Sears XCargo car top carrier and storage rack
Sears is usually selling the plastic clamshell luggage carriers to go on the roof of a car (hardtops of course), usually in the 12 to 14 cubic foot size. From time to time Sears also offers one of these small trailers built with the same clamshell box on wheels, and sometimes with a slightly larger box. These would also be suitable for vacation luggage and camping gear, but nothing particularly heavy. I just happen to "previously" own one of those Sears cartop clamshell boxes. See picture above. This one is about 36" wide at the bottom, a few inches wider at the center flange. I also have a homebuilt retractable overhead garage storage rack for it. Mount this box on one of those little utility trailer chassis, and you can have an extra large tag along trunk for your LBC. It is incidentally tall enough to hold a full size ice chest, and tapered top and bottom on both ends. I don't recall the exact volume, but something around 12 to 14 cubic feet.

The examples below were found at NAMGAR GT-40 in Frankenmuth, Michigan, in June 2015. I don't know if these were home built or factory standards, but they both strike me as a car top carrier on mini trailer chassis. The second one has 12-inch wheels, making it a serious long distance traveler.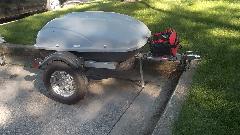 Here's another link to a page loaded with small trailers, mostly for motorcycles and mostly too small for my needs, but some a little larger. Motorcycle trailers also tend toward the expensive side. Now turn the page for more in the continuing search for a nifty small car luggage trailer.