The MGA With An Attitude
Trailer, Escalade Taxi Jr. - TH-101ET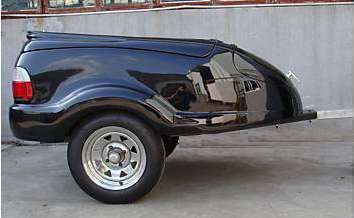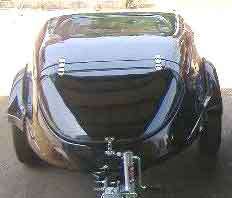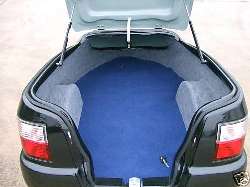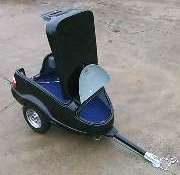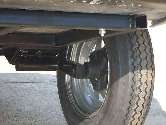 I couldn't resist posting this one, because it's a sweet looking trailer and was selling new on eBay at season's end, offered for a fraction of normal retail price wth no reserve (subject to bidding). It appears to be solidly built with good weather seal, fiberglass box, double hatch, and streamlined. At 24 cu-ft internal capacity it is "tentatively" just a bit larger than my rectangular box trailer, but the irregular shape and intruding wheel wells may take a bit of toll on how you pack large rigid items (like race tires, ice chest, or suit cases). While it looks a lot like a small car on the rear end, I'm pretty sure the "rear bumper" is just fiberglass. At 250 pounds empty it is 100 pounds heavier than mine. The streamline shape may save enough fuel to make up for the extra weight on the open road (but not in the hills). I rather like the torsion arm suspension and larger wheels.

For a sealed and carpeted trailer the MSRP of $2495 (or $2295) USD in 2009 seems like a reasonable price. Ask about (extra cost) accessories like front mounted ice chest carrier, under slung spare tie carrier, tongue stand with (or without) caster wheel. Having traveled extensively with a large ice chest, I'm sure I would like it to be inside, not exposed to direct sun and wind. I have requested but not received definite information on height of the rear spoiler. One dealer who did not have one in hand gave a best guess of 34-inches, but that's too close to call for look-over height with the MGA dash mounted mirror. I'd want an exact dimension there before I'd buy one. The seller finally responded with "I don't know, but no way the spoiler could block your rear view". I'm still not guessing or assuming anything with that much money at stake.

There is also a larger model (the Taxi) at 30 cu-ft, 305 pounds empty, 1500 pound payload capacity, for MSRP $2995-USD. That would be too big to be practical for a small sports car towing. For more information on these and other small trailers, more and less expensive, visit www.motorcycletrailer.com (not the seller in this eBay ad).

---
Okay, there it went, one day auction over. The trailer with MSRP of $2495, discounted to $2295 by one supplier, just sold in the one day fire sale auction for $1575. Not a bad deal if you really wanted one (or if you really wanted to get rid of one quick in a poor economic envirionment).
---
Addendum September 7, 2014:
Today I had the opportunity to see this trailer up close and personal, as owned by Gil Dupre in Chattanooga, Tennessee USA. It is much as advertised, except for a problem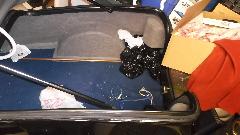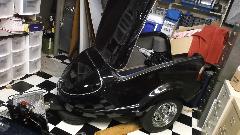 of weather sealing. Gill has had to add a lot of rubber around the box front end to male a good seal for the front hatch door. Otherwise, all peachy keen.