The MGA With An Attitude
RIP Hand Built Trailer - TH-102R


This one was built by Dave Godwin in Australia. It started life as a wheel chair trailer with bolt on wheels, then having the hubs adapted to accept splined wire wheels same as the MGA. A light metal space frame was constructed above, finally closed with plywood panels. It is lined with carpet and has a nice rubber seal around the lid, said to be dust proof. I think I see a license plate lamp in back; tail lights may be on the fenders.

Having towed trailers a lot myself, it strikes me that the trailer tongue is rather short, placing the trailer axle relatively close to the car. That could make backing up a bit tricky. When you have the trailer axle centered under the load bed like this you need to be careful not to place too much load in the back of the box, as that may give it a tendency to fishtail when traveling.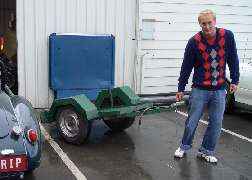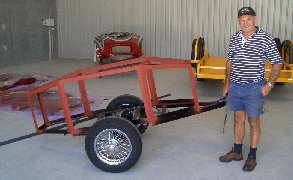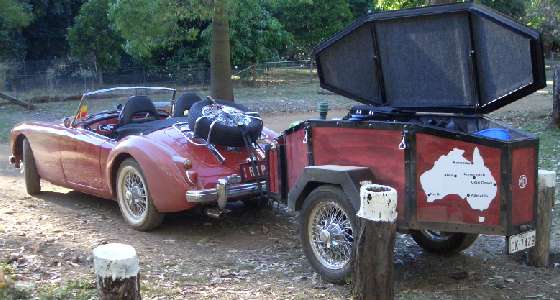 At 08:04 AM 12/29/2007 +0000, Dave Godwin wrote:
>>"The trailer is a little high because I wanted to use MGA wheels so that one spare did all... I had MGA hubs drilled and countersunk to take the 4 bolt ons. A slung axle to lower it was considered a waste of 'more' money by my wife!
>>
>>The 20lt fuel can does load up the coupling but I pack accordingly to take the loads into account to avoid the wiplash effect VS back suspension on the road...
>>
The 'coffin' opens from the kurb side on 2 heavy hinges and is water and dust tight - held down against a double rubber seal with 2 over centre clips - which take padlocks, for security".

At 06:07 AM 11/29/2008 +0000, Dave Godwin wrote:
"All your comments are correct - The lights are LED on the rear of each fender; it is critical to pack the trailer so that sufficient load is on the tongue to avoid fishtailing and it IS difficult to reverse with the short drawbar!"