The MGA With An Attitude
Trailer to CARRY YOUR MG, #3 - TH-403
These pictures also come from Michael Ellsmore in Victoria, Australia. This trailer is a little larger (longer) with more options and accessories.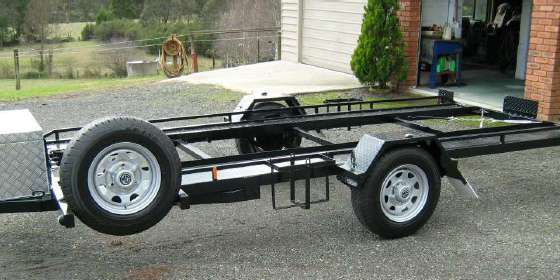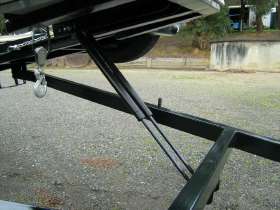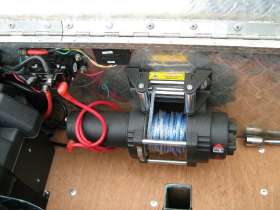 The struts were quite expensive due to size and pressure to handle the load, but gives a regulated tilt motion to avoid the hard hit. The hard box up front contains an electric winch. This is nice, but requires manual control, battery power and battery maintenance issues.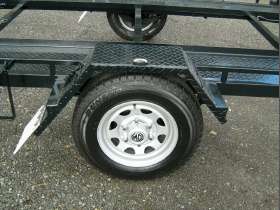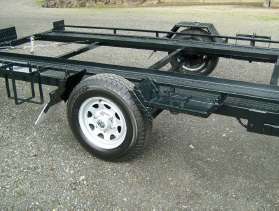 Fold back mud guard allows opening the door on a car with lower ground clearance (right side only for RHD car). Saddle frames on each side about the right size for 5-gallon fuel cans, fore and aft of the axle for balance.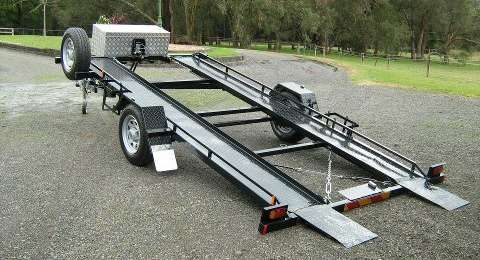 The winch box prevents the car from overhanging the front of the tray, so move the trailer axle rearward and make the trailer longer. Short hook-on ramps at the back. Perhaps they store in the winch box with other accessories, tie-down straps and such. Nice touch to show the tilt, but I wouldn't try loading a car unless the trailer was hitch to a tow vehicle.