The MGA With An Attitude
TP-102 - VEHICLE JACKS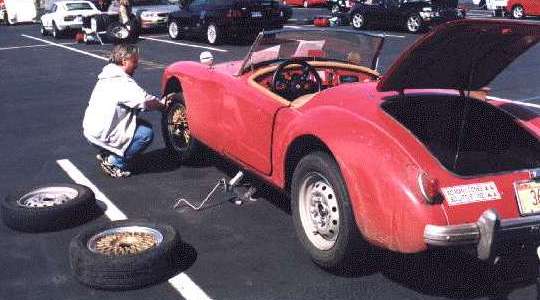 Of course you need the spare tire, lug wrench and jack while traveling, and anyone who has used the King Dick or Shelly screw jack originally supplied with the MGA probably wants something easier. I use a neat little diamond jack bought at K-Mart for $19. Placed under the side frame just behind door hinges, this jacks up one side of the car and two wheels at once. My most important requirement for this was that it has to fit under the sill when I'm using the low profile race tires, and also when the car has a flat tire. This jack is spec'd to lift up to 3000 pounds, so it has a speed reducer at the input that makes cranking a little easier, but a bit slower going.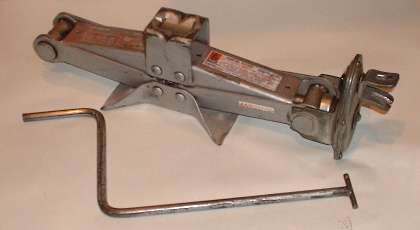 Lowers to 4-1/8 inches. Fits under side frame with flat tire.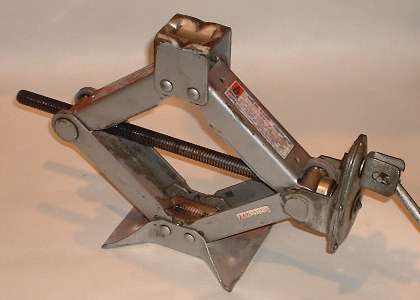 Raises two tires off the ground in less than 30 seconds.
Weight is 8-1/2 pounds with the crank handle.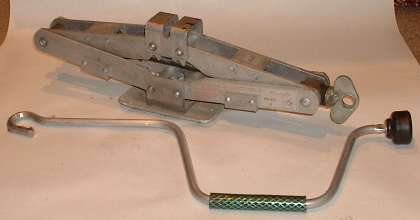 And the space and weight saver jack, only 3-1/2 pounds.

My Mazda RX7 (second generation 1986-1992 vintage) has this very similar diamond jack, but made of aluminum, which weighs only 3-1/2 pounds. With the direct drive lead screw it operates a bit faster than the previous unit, and with not much difference in effort, as there is no friction loss for the speed reducer. Input force requirement is not overwhelming, because the lead screw has a finer pitch. This could be a nice item for your shopping list, next time you visit a wrecking yard, perhaps on the same trip when you pick up the space saver spare tire.