The MGA With An Attitude
TWIN CAMS from the Production List - TC107-627s

SRX 210 - YD1.627S -
Aluminum body Roadster Converted to Fastback Coupe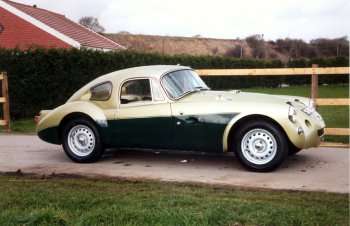 There is speculation that this car may be a spin-off of the EX182 project, as it may have been built using the 6th aluminum body which was produced early in the 1955 Le Mans project (or maybe not).

Ted Lund was apparently told by the M.G. works that the body from his Le Mans car was fitted to a new Twin Cam chassis in 1959, for the MGCC's entry at Le Mans. Ted Lund raced this car (registered as SRX 210) at Le Mans three years in a row, winning its class in 1961. SRX 210 still retains an aluminium body but there seems no absolute proof that it carries the body from EX182/41. There were six aluminium bodies made in 1955, so it is possible that another of those body shells was used. The fate of the chassis from EX182/41 is not known.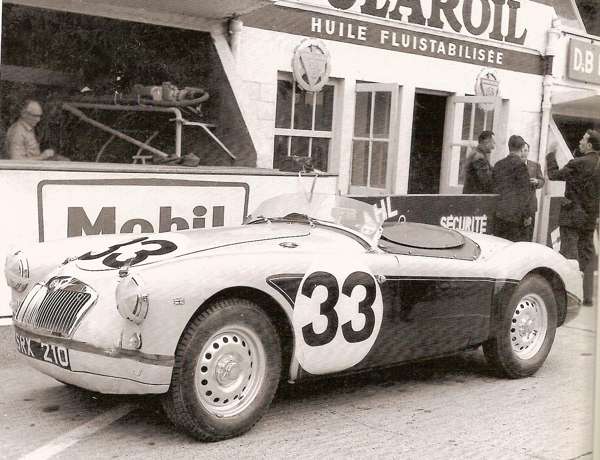 SRX210 in an earlier rendition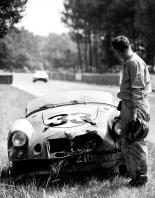 MGA Twin Cam SRX 210 competed in the 24 hour Le Mans race three times between 1959 and 1961 driven by Ted Lund and Colin Escott. The first attempt (1959) was brought to a halt when the car at top speed on the Mulsanne straight hit a large Alsatian dog. Colin Escott stands despondent (picture). Report says the car did not fail immediately, but suffered gearbox failure later because the impact damaged an air cooling duct for the gearbox. This was the only year the car ran there with open body.

In 1960 this 1762cc 120bhp car was fitted with 2 inch carburetors and 4.1:1 final drive gearing for top speed of 130mph. It outperformed a very strong field of Porches to finish first in class and 12th overall. It competed again in 1961 unfortunately without success.

Bob West who runs a thriving MGA restoration and parts business in Pontefract currently owns the car.

Addendum August 2007:
This car has since been passed on to a new owner. Much additional information about its origin and history has been revealed in the "MGA Register 2005 Yearbook". Click to see this MGA Archaeology article (2-MB file in MS Word format) sent compliments of the author Steve Dixon.

Addendum January 2012:
Read article from Thoroughbred & Classic Cars, January 1975, by Jonathan Woods recounting entries at Sarthe in 1959, 1060, 1961.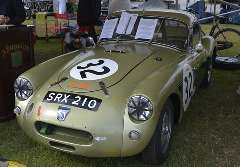 Addendum September 2013:
Seen at Goodwood Revival 2013.
Photo by William Opie.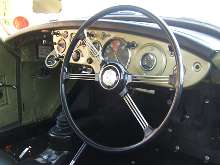 Addendum October 2013:
Cut down racing dash in SRX 210. Photo supplied by Edward Vandyk. <!-Edward at vandyk.co.uk->