The MGA With An Attitude
TWIN CAMS from the Production List - TC107-676

119 EMB - YD1.676 -- and -- VYY.567 - YD1.???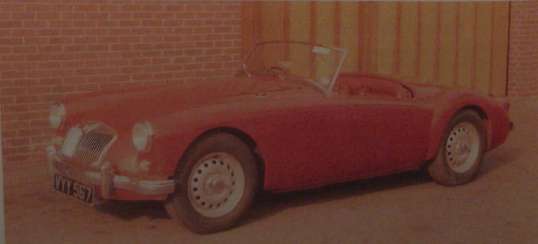 VYY567 Twin Cam photo from Shell Research Centre test report.


On 11/14/2011, Mark Hester wrote:
"MG sent two Twin Cam's to the Shell Research Centre in Thornton UK. Here is a brief summary of what is known of these cars:

"The first survives in a dilapidated state – Chassis No YD1 676 Rego 119 EMB owned by James Millbank. A Safety Fast article was written about this car by Nick Cox in the mid 80's but as yet I've not been able to get a copy of this. Perhaps someone can narrow the dates?

"The second is more curious as the chassis number is unknown and the registration number VYY 567 no longer exists and can't be traced as London records were destroyed before computerization in the early 80's. This car features in the recent 50th anniversary twin cam book on page 88, along with several pages of test reports dated 15th September 1961 where the car covered some 750 test miles. All that can be surmised about this car is that it's a Red Roadster with Red Deluxe seats and from the VYY 567 number plate was registered in approx February 1959. Anyone's UK Log book show this previous registration number?

"How long these cars remained with Shell is unknown and what the purpose of these test were. You can only surmise that these cars were tested by Shell after significant changes were made to their engines, perhaps to address the piston holing problem. When I spoke to James Millbank last week, he indicated separate engine/s were also supplied along with this (his) car for test bench work. Interesting that the 1961 tests were performed on a 9.9:1 engine when the factory had clearly steered customers towards the low compression route by then. No confidential service memorandum's appear to have been released after the second Shell report was released in September 1961, so it begs the question, what were they looking for after production had ceased, other than to reduce warranty claims.

"On a side note: Note the wild variance in compressions recorded on an engine only 8000 miles old, approx page 90, 50th anniversary book".

On 11/14/2011, Christopher Chadwick wrote:
"119EMB was a green roadster and according the the DVLC website it has not been taxed since March 1993. It was registered 3/11/58. I think that this is the Shell Research vehicle which Peter Wood had in January 1986 when I visited his premises. It was derelict even then, but complete. I seem to remember that it was gray but accept that my memory might not be correct. In view of its colour I don't think it likely that it was the red car. No idea about that one".


Below is a photo of a page from the Shell Research Centre test report.
as reproduced in "MG Twin Cam 'The first 50 years'", available at
<!-A href="http://www.kimberstores.co.uk/mg-twin-cam-the-first-50-years-p-234.html" target=new>www.kimberstores.co.uk/mg-twin-cam-the-first-50-years-p-234.html
Click for larger printable PDF file (273-KB).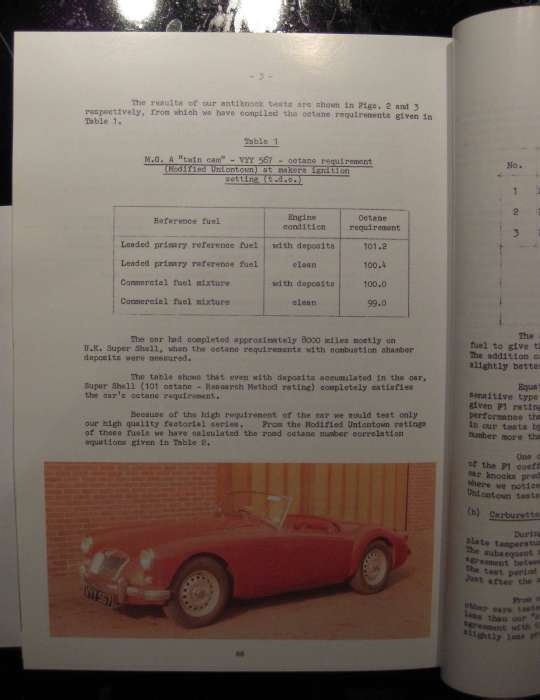 ---
Excerpt from "Thoroughbred and Classic Car" March 1988 issue:

Shell Test Car


A more than slightly moth-eaten MGA Twin Cam is under restoration in Streatham, London. '119 EMB' was purchased new by Shell's Thornton Research Center at Stanlow in Cheshire in 1958 for the Lighter Fuels Divisions test programe. "The engine was found to be very critical on ignition timing" said Brian Toft, a senior scientist at Thornton, and incidentally a ex-monoposto racer: "As little as two degrees excess in ignition timing could lead to severe pre-ignition and piston failure". Brian is one of a handful of people still at Thornton who remembers the car.


Tricia and Jim Millbank bought the car from a garage in Doncaster, and are now scouring the country for missing or replacement parts in order to make a first class restoration. Their first job, however, is to extend their garage in order to make more workshop space.


This MGA Twin Cam is one of hundreds of interesting cars that have played their part at Thornton in research which has culminated in formula Shell and Gemini products. Do any readers have knowledge of history of this car after it left Shell at Thornton?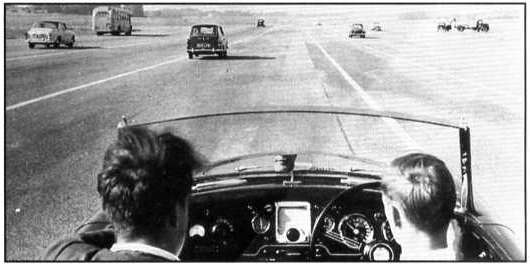 The view from the MGA Twin Cam '119 EMB' during a Fifties'
test track session at Shell's Thornton Research Centre.