The MGA With An Attitude
Twin Cam MG DEALER INFORMATION Letter - TC-128

Do not release until the ANNOUNCEMENT DATE: 15th July, 1958.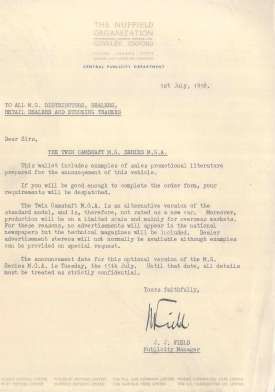 This is a 1-page Dealer Information letter issued by The Nuffield Organization on June 1, 1958, with a note to not release the information until July 15, 1958, the official release date for the MGA Twin Cam. Click for larger 0.8-MB pdf copy.

This dealer cover letter is different from the cover letter sent to print publication organizations, but the balance of the package of Twin Cam release information was likely the same. Additionally the dealer package included sales promotional literature.