The MGA With An Attitude

DEMONSTRATION DAY - July 14, 1958* - TC-130C
Launch of the MGA Twin Cam - (Pg 3)
(*various reports of the actual day of demonstration, 14, 15, 16, or 18).



Debut by Demonstration


(From 'Team Work" magazine, an in house publication from Nuffield)
Thanks to Colin Grant for the scan.

Something quite new was organized last July to introduce the two-mile-a-minute 'MGA' Twin Cam. A Demonstration Day was held at the Ministry of Supply Fighting Vehicles Research and Development Establishment in Surry, where, on the two-mile high-speed track over 100 journalists were able to test the new competition model for themselves. This was also Demonstration Day for all the Nuffield competition models, and those guests who were waiting their turn for one of the four Twin Cams had a choice of Morris Minors, M.G.'s, and Rileys to drive on the snake course and test slopes. This new venture was applauded by the guests as excellently organized and the most practical way of introducing a new car.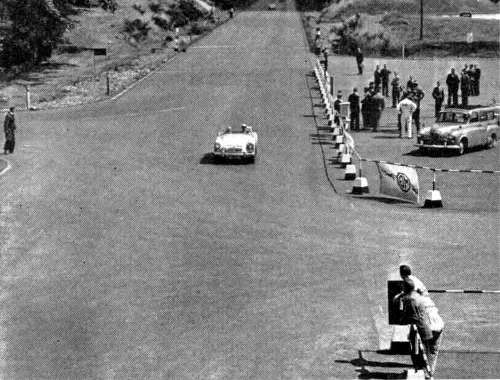 (Above) A view of a Twin Cam on the main stright of the circuit,
where speeds of over 100 mph were reached.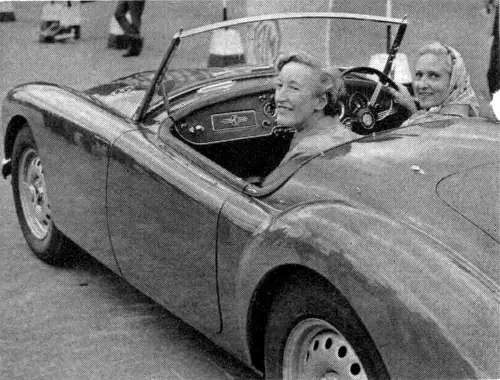 Jean Wakeman, Motoring Correspondent for Good Housekeeping, and well-known rally driver Mrs. Joan Johns at the wheel. Careful preparation, detailed organization and the enlistment of 42 employees for special duties ensured that the day proceeded without a hitch.



(Below) Mechanics standing by while journalists get ready to take
their turn at the wheel and others watch the fourth car in action.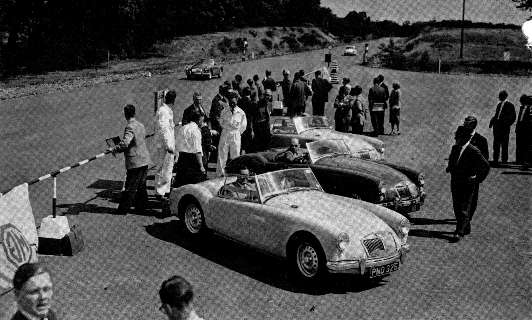 Notice there are five MGA in this picture.

---
That article states "over 100 journalists were able to test the new competition model for themselves." Surely these cannot be the only photos that survive with an event covered by 100 journalists. Has anyone got any further magazines articles from July - August 1958 that covered this event? UK mostly but perhaps US and others. Could those of you with 1950's magazines have a quick look please.

From these photos PMO 326 & PMO 325 can clearly be seen. From speaking to Jim Cox (who was not there) on the 28/7/06. He says VLP 500 was there and also ORX 885 driven by works chief test driver Tom Haig. Other mechanics Jim lists as being there include: Doug Watts, Tom Wellman & Harry Videll. Even the number of Twin Cams in attendance is open to debate. Was it 4 or 5 or 6 or More. And which one was crashed into a concrete pylon late in the day? There is also a report of a photo of VLP 500 (YD1 503) taken at press day, still looking for copy of that one.

---
And there it is, just for the asking, 16Aug06.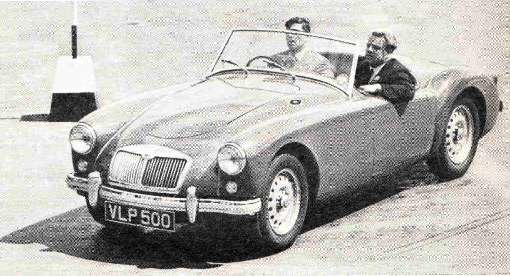 From Safety Fast, August 1962, accompanied by the caption, "The author at the wheel of a Twin Cam 'MGA' on the occasion when the model was first shown to the press at the Army test track at Chobham.".

---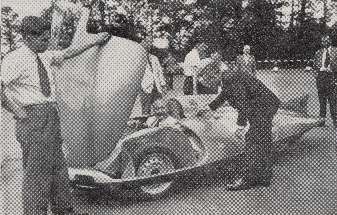 From AUTOSPORT magazine,
July 18, 1958

TIGHT FIT for six-footer John Bolster, who was privileged to drive the record-breaking M.G. Ex. 181 -- the fastest 1-1/2-litre car in the world -- on the occasion of the Press showing of the new "Twin Cam" M.G.A., described this week on page 79.