The MGA With An Attitude
MGA Twin Cam FRAME Engine Mount, RH - TC-201A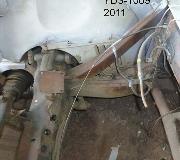 On the MGA Twin Cam frame the right side engine mount is different, smaller and square rather than rectangular. This is to accommodate a lower position of the generator on the Twin Cam engine. The Twin Cam frame engine mount pedestal is the same as the standard frame, so only the plate is different shape.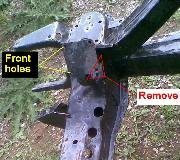 The two rear holes are in same location. Top edge of the plate is shortened. Front edge of the plate is lengthened, and two holes added in front. Size and shape of this plate can be determined by comparison to the bottom plate of the RH rubber engine mount.

Some Twin Cam owners have been known to remove a small section of the lower rear corner of this plate to facilitate installation and removal of the Twin Cam engine without removing the sump. I don't recommend leaving one bolt out of the engine mount, so use judgement and do so at your own risk.