The MGA With An Attitude
SPECIAL Wheels for the MGA Twin Cam - TC-205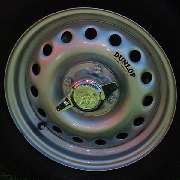 Original wheels for the Twin Cam are particularly special pin drive wheels (shared with some Jaguar models of the same period). These are steel wheels with knock off center mounts, but they do not have splines. Where the wheel appears to have four lug nuts it actually has short studs with cylindrical protrusion and a conical point on the back side. These "pins" engage holes in the axle hub for positive drive. Incidentally that nice "Dunlop" logo is not original factory issue, but is a common aftermarket accessory.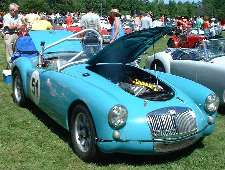 This pin drive arrangement is unusual enough that you will seldom see a different type of wheel on an MGA Twin Cam car. To do so would require custom fabricating a center hub adapter to mate with the Twin Cam axle hub. But I do have an example of such an adapter, photographed at the UML Summer Party Reunion in August 2004. The race car, blue Twin Cam number 51, belongs to Jim Holody (Canadian). See pictures below of a Compomotive (Minilite type) aluminum wheel which was machined and adapted to fit onto the Twin Cam hub (at great expense to be sure).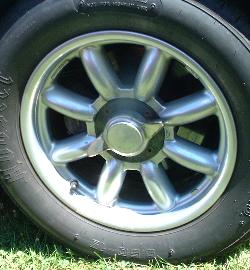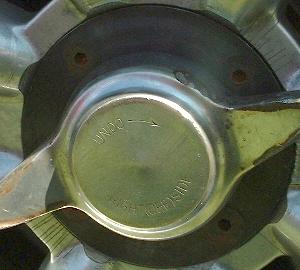 Here's a photo below sent by Mick Anderson in Australia. This picture originally came from Ralph Zbarsky in Canada, so maybe these are the same wheels.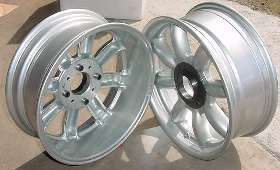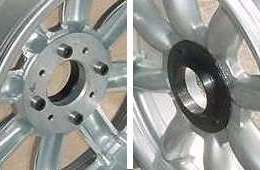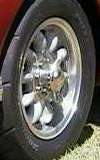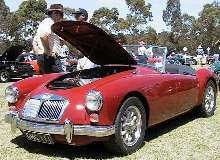 Here's a second Twin Cam with special adapted alloy wheels. This one is in Australia (photo courtesy of Mick Anderson). The center hub here looks suspiciously like the more common spline mount wheels.

Here are pictures of some special machined parts to adapt a bolt-on alloy wheel to the peg drive hubs of the MGA Twin Cam. Photos supplied by Edward Vandyk <!-Edward at vandyk.co.uk=> in the UK.