The MGA With An Attitude
THINGS THAT ARE BLACK On The Twin Cam Engine - TC-300B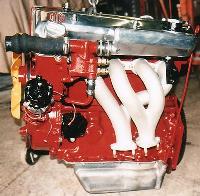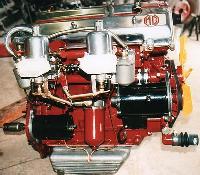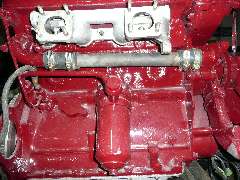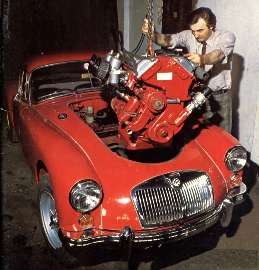 Note first that there are certain things that are incorrect color in each of these pictures. In general, things that are part of the engine proper will be dark red, as the the engine was painted in assembly. Things that were not attached to the engine while it was being painted would have been painted separately (except for some items then were not painted at all).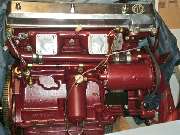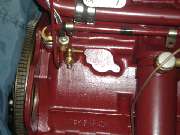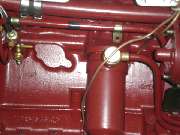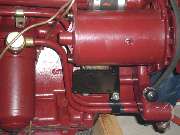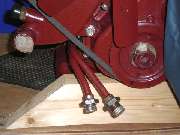 The pot metal carburetors and distributor and the aluminum cam covers were not painted. So far I'm not sure about the aluminum sump, but I think it was originally red, being painted in assembly. Items that were unique to the Twin Cam engine (special order) and would be attached to the engine would be painted red prior to attachment. Items that were not special to the Twin Cam engine would be painted black prior to attachment. There were likely a few minor exceptions, and the exceptions may have changes slightly during production. The cooling fan and fan pulley were most likely always black, as the requirement to be yellow was not yet in effect when the Twin Cam engine went out of production. Before listing specific items, we have the following note about one very original engine.

On 4/24/2013, Daniel Casey <!-daniel.casey2 at bigpond.com-> in Queensland Australia wrote:
"I recently restored YD2 1679, with 14504 original miles on the speedo, and the motor had not been molested from new. The following items were painted black. Dipstick, dipstick tube which screws into the sump, return pipe from thermostat to water pump, fan pulley and fan, generator, starter motor, water pipe from water pump to elbow from rear of head. One of my other Twin Cams had some of these colour combinations but was deemed incorrect by concours judges at a number of meetings. So to keep the 'experts' happy I painted all items with exception of dipstick red".

Engine mount brackets that are attached to the engine would be red, but the rubber engine mounts with integral steel plates are always black. The Twin Cam generator had iron end plates that were painted same color as the generator body, so no arguing about alloy end plates. All replacement starters and generators would be black, as they were used on various cars. So black is period correct for service parts, even if they may had been painted red with original production. If you prefer, you can paint the cooling fan School Bus Yellow (Safety Yellow), as it is a retrofit safety item, and no points should be deducted for concours judging. Otherwise the fan should be black as original, and (probably) the fan pulley as well.

Some other parts unique to the Twin Cam and attached to the engine may be open to discussion. The coolant pipe from pump to rear, assembled with two connecting hoses, may have originally been black, but it looks good in red. Oil Cooler pipes would have been outsourced as special assemblies and would likely have been black. They could have been red if the factory had bothered to specify the color along with the special production order, and they certainly look good in red. Of course like the generator and starter, just because they look good in red does not mean it was original.