The MGA With An Attitude
AIR FILTER ELEMENT Substitute, Twin Cam- TC-308A
MG never released a part number for the Twin Cam air filter element. They did release the part number for the whole air cleaner assembly AHH5831 (early type with no venturi and the base cracks easily). After chassis 2468 it changed to part number AHH5960 with the venturi, covered by MG Confidential Service Memorandum MG 286. What you were suppose to do is wash the element and re-oil them every 3000 miles or more frequently in dusty conditions (see MGA Twin Cam Driver Handbook Page 48). Clearly after 50+ years there are only so many washes they could sustain.

The standard MGA air filter element AHH5442 for pushrod engines is about 3/8-inch shy of correct height for the Twin Cam canister, so that would require rather thick Felt Spacers. Other options include the K&N offering and two part numbers are mentioned.


K&N part number E-3324 -- Thickness = 57mm, Outside diameter = 178mm
http://www.knfilters.com/search/product.aspx?Prod=E-3324


K&N part number E-9143 -- Thickness = 54mm, Outside diameter = 149mm
http://www.knfilters.com/search/product.aspx?Prod=E-9143

---
At 03:58 PM 7/28/04 +0000, Arnold Counts wrote:
>"I have the very well made Todd Clarke air filter canisters. I have searched for elements other than the push-rod types and have found a K&N element that, with a small modification, will fit in the canisters!! The K&N part number is E-3324. It is an oval shape of 4 1/2 in. X 7 in. and 2 1/4 in high. The inside dimension of the T. Clarke canisters is 4 3/8 in. X 6 7/8 in.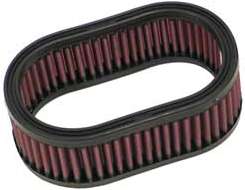 >The modification that I made, after several measurements and calculations, was to cut 1 1/8 in. from the middle of one flat side of the element and then glue the ends back together using a hot-melt glue gun. I used an abrasive cut-off blade in a bench saw to make nice square cuts in the element. I test fitted the element in the canisters BEFORE using the glue gun.
>
>With the K&N element being 2 1/4 in. tall, I did not need the felt pads that would be used with the push-rod element. I did, however, make a 1/8 in. thick felt pad to insure a good top-to-bottom seal with the canister lid in place. IMHO the 2 1/4 in. tall K&N element will allow a better airflow than the shorter, padded push-rod element.
>
>Checking on the internet, just now, leads me to believe that K&N may have discontinued the E-3324 element !!! Some Resellers may have some stock --- click on - www.knfilters.com/online.htm -- and see what can be found."

---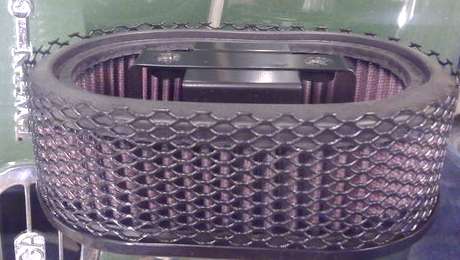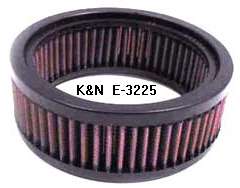 This photo compliments of Ben Rollo <!- ben.n.rollo at gmail.com> in Melbourne, Australia. The K&N filter number is E-3225. Height=56mm (2.20"), OD=152mm (5.98"), round. It fits right in but may need a felt packing to make up full height of the canister.

---
It appears that Clarke Spares are the only ones manufacturing a good copy of AHH5960, his part number is TC-02.

Addendum January 1, 2012:
Photos below supplied by Mark Hester <!-markhester at hotmail.com->. This is to show the difficulty in using filter elements from the pushrod engine in the Twin Cam filter housings. There is a difference in height of the housings of about 3/8-inch. This would require a pair of felt spacer pads 1/4-inch thick in place of the original 1/8-inch thick felt seals. It would also reduce height of the useable filter element.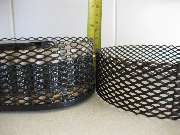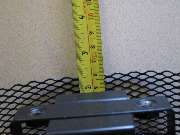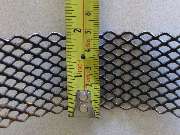 ---
On 12/8/2017, Randall Everson <!-reverson at mweb.co.za-> wrote:
"I found GUD AG607 air filters although round fit perfectly into the TC oval canister when squeezed".