The MGA With An Attitude
CAM COVERS, Cracks and Sealing - TC-312
How do you make the cam covers on a Twin Cam engine seal without putting so much pressure on the nuts that you crack the admittedly weak cover?

First, take the cracked cover and have a bead of weld run over the crack to repair it, then grind and polish it to restore original appearance.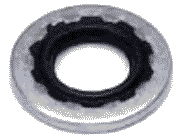 Buy some Stat-O-Seals - these are alloy washers with an O-ring crimped into it. Don't use the similar English Dowty seals as they rely on the alloy surround being slightly crushed.

Cut some new gaskets from rubberized cork material. Glue them onto the cam covers with contact cement.

Take some flat washers that fit over the cam cover studs. Stack just enough on the center stud so that the gasket will compress - in other words stack them until the new cork gasket is just clear of the sealing area at the outside of the cover and then remove one. This will gi The Stat-o-seals deal with the other problem - a big part of the cause of cracked covers. The factory used copper washers that didn't seal very well - so when the leaks started, people reefed down on the nuts, and ended up cracking the covers. These seals work at much lower pressure and work much better than the copper ever did and are all but invisible in place. Concours nuts can get out their paint brushes and turn the aluminum edge to copper colour if they really need to.

If you want to spiff up appearance beyond simple polishing, buy Jaguar V-12 nuts – they are identical to the Twin Cam parts except that they are chromed.