The MGA With An Attitude
WEBER CARBURETORS For MGA Twin Cam - TC-340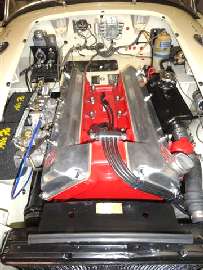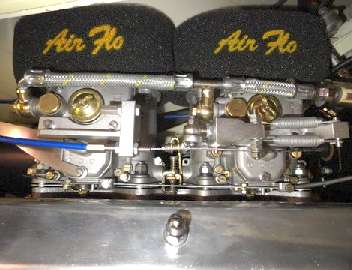 Photos above from Trevor Burnett <!-trevor at safxmarine.co.za-> in South Africa.
The production MGA Twin Cam has dual SU 1-3/4-inch carburetors. There are indentations in the inner fenders for clearance for the standard air cleaners. During much of the production run of Twin Cam cars there were problems with burning pistons, commonly on #3 cylinder. This ultimately turned out to be caused by a sticking fuel float occuring at certain resonance vibration frequencies. The cure is flex mounts for the carburetors to damp out the natural vibration. Part of the clue to the problem came when people noticed that cars equipped with the Weber carburetors never burned pistons.

Competition cars were often fitted with two Weber DCOE-40 carburetors. The intake manifold and linkage parts for the Weber carbs were available through the facrtory competitions department. Since the factory didn't put Weber carbs on production cars, there was never any standard provision for air cleaners, as most of the competition cars used short air ram stacks. Now in modern times when people put a lot of money into restoring a Twin Cam they will often insall the Weber carburetors, even for street use. This leaves us with the question ot how to install adequate air cleaners for street use. (Page to follow).