The MGA With An Attitude
ADHESIVES And SEALANTS, Hylomar -- UT-100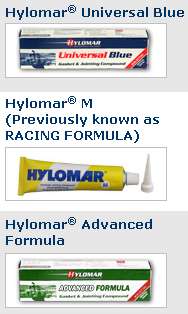 With modern fuel formulations it is progressively more difficult to find a fuel proof sealant. Current preference is one that has been around for about 30 years (with refinements along the way), "HylomarŽ Gasket Sealant". I will try to reduce the choices. There are currently five basic formula of HylomarŽ available in North America, but two of those are "Aero Grade" which are essentially identical to other products. The ones of interest are HylomarŽ Universal Blue that should be good for just about anything on your MG, HylomarŽM (Previously known as RACING FORMULA) with acetone solvent making it more adhesive, and HylomarŽAF (Advanced Formula) with no solvent making it long term pliable for easy removal and reassembly. HylomarŽAF also has lower viscosity, is easy to spread, stays pliable longer, and in general may be more user friendly (easier to use).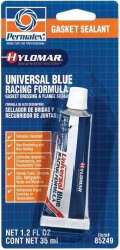 Additionally you can use Permatex Hylomar products which are the same HylomarŽ products with a Permatex brand package. The Permatex products may be more readily available off the shelf at your local auto parts store (maybe).

You can view the Technical Data Sheet for Permatex Hylomar Universal Blue (currently the HylomarŽM formula). As of 2007 Permatex dropped the "Permatex HPF" product (HylomarŽAF). In 2008 Permatex reintroduced Hylomar with the acetone solvent formula (HylomarŽM). That should be good news for people in North America who like the stuff, but some people now object to it being less user friendly due to high viscosity and short working time.

If you insist on using the HylomarŽAF formula, it may be harder to find but is still available. There may be a wider variety of Hylomar products available in the UK. You can order these products direct from Hylomar (for about $10 per ounce in small tubes). It may be available for about half that price from other sources, but higher priced in smaller packages.