The MGA With An Attitude
Wire Wheel QUALITY ISSUES - WL-120
Please consider the following quotes:

From the Victoria British Ltd MGA parts catalog, 2005 Summer Edition, MGA.34:

Wire Wheels are "true" (spokes equally tightened) when they are manufactured. Because they have been shipped over 8,000 miles and handled many times, you will need to "true" your Wire Wheels before mounting them on your car. We also recommend that you have them "trued" again after you've driven on them for a period of time.

We only offer original equipment Dunlop Wire Wheels. All wire wheels are manufactured in India under license from Dunlop Ltd. Dunlop Wire Wheels are of the highest quality. Backed by years of technical expertise, and are uniquely reliable. Great care and attention is taken to assure every wheel is balanced and true when produced. This is why we only offer genuine Dunlop Wire Wheels.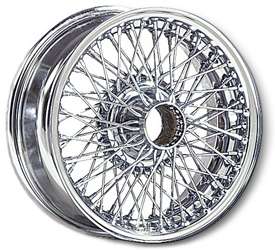 Until I know otherwise, I will not interpret this as a slam against Dunlop Wire Wheels. I believe this is a notice from Victoria British Ltd that they have no intent of honoring any type of warrantee related to the "trueness" of wire wheels they sell. If the wheels are not "true" as delivered, you may be stuck with the problem of getting them repaired at your expense (assuming you can find someone to do it). This also apparently removes any incentive for Victoria British Ltd to exercise due care in handling or delivery. Also read the fine print in their catalog about return restrictions and restocking charges.

From the Moss Motors Ltd web site for MGA wire wheels http://www.mossmotors.com/Shop/ViewProducts.aspx?PlateIndexID=40111:

We offer a complete line of Dunlop manufactured wire wheels for your British sports car. We have chosen our current suppliers after a rigid quality assurance program and continually monitor wheel quality to insure a standard of excellence equal to or better than original manufacturer's specifications. Chrome Dunlop wire wheels feature chrome plated stainless steel spokes and nipples with a 2 year manufacturer warranty.

This certainly sounds like a better policy for customer service. Moss Motors also has a very liberal returns pllicy, pretty much no strings attached and no "fine print", with a 24 month warrantee on everything they sell (including return shipping cost).

From the Dayton Wire Wheel web site http://www.daytonwirewheel.com:

Insist on genuine Dayton Wire Wheels™ – The undisputed quality leader in manufacturing new and restoring old wire wheels. Manufactured in the U.S.A. since 1916, our wheels combine precision engineering and premium construction that allow us to offer the industries only maintenance free wire wheel (never need truing). "Insist on the Best".
....
- Each wheel is hand-tightened and gauged for concentricity. Spokes are pre-loaded with even tension for durability and precise wheel alignment. Periodic retrueing and retightening are not required.

From the Dayton Wire Wheel catalog:

At Dayton Wheel Wheels™, we make our own wheels from our own parts for unrivaled quality. Then, each Dayton Wire Wheel™ is backed by a 3-year limited warranty on all parts and plating to ensure that proper performance handling, and dependability endures well into the future.

This is certainly more promising. I believe they mean what they say, unrivaled quality and solidly backed warranteee.

From the British Wire Wheel web site http://www.britishwirewheel.com/faq.htm:

Our Knock-offs and Splined Hubs are made in England to the drawings of the original manufacturers. For almost 30 years, British Wire Wheel has supplied only the best quality replacement parts. When it comes to safety, insist on the best.

British Wire Wheel is distributor for both Dayton and Dunlop brand wire wheels. They will be happy to answer any questions you might have.

If you are going to be buying new wire wheels and new tires, you might consider procuring the entire set mounted and balanced from a qualified wire wheel dealer.