The MGA With An Attitude
SPORTS WINDSCREEN, Cut Down From Standard #1 - WT-205
In years past when these cars served a lot as daily driver transportation, most people wouldn't think of disabeing use of the convertible top, except for racing or possibly for a fair weather car in warm climates. In recent times with high grade restorations abounding, and many of the really nice cars being reserved for fair weather use only, the Sport Windscreen has become a more popular accessory. It's still not all that practical for a street use car, but plenty of people think it just looks neat.

This is a growingly common modification. This Sports Windscreen is made by cutting down the side posts from a standard windscreen and installing a plastic "glass" panel. It has the standard angle of the original windscreen, not raked back as much as the factory special Sports Windscreen. If you are going topless with a Sport Screen for street use, I recon this is the way to do it. No bumper overriders, no wing mirrors, no luggage rack, just slick and clean like it means business.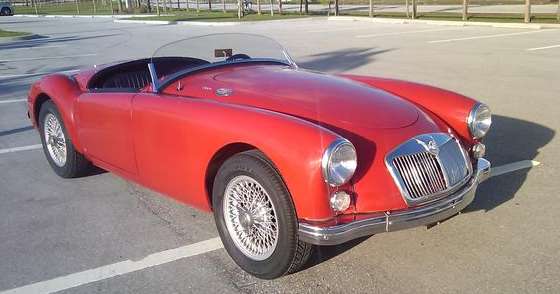 This picture and description is from David Friswell in Boca Raton, FL, USA.


"I built mine using the eBay supplier for the plastic. The material is Makrolon® and it is pretty tough stuff. I'm 5'10" tall and the 9" height is JUST tall enough for me. If you go lower and are as tall as me, you'll be looking over the windscreen and will need goggles for safe driving.


As far as the metal bits go, I just did a straight cut through the stanchions and side frames and polished the exposed brass. I made up a couple of the shorter internal side brackets. You end up with the side post extending just above the second screw. The plastic windscreen is not curved so you need the lower frame channel to hold it to the right curvature when installed. I used the Moss windshield seal and installed with soapy water just as you would with glass. I also thought about raking the angle a bit more but am more than happy with the look as-is".

Photos below come from an eBay ad of a supplier selling only the 1/4 inch thick polycarbonate panel (including instructions to cut down your original side posts).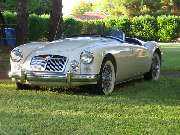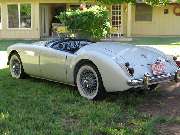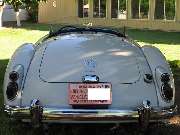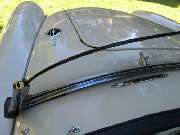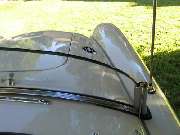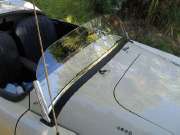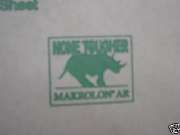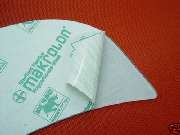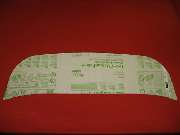 Notice the panel comes flat and must be placed into the bottom frame rail to produce the proper curvature.

Roadsters and Ragtops sells a complete Sports Windscreen kit, but it uses standard side rails, cut down, so, the rake does not match the original competition screens.

For more information about Plastics used in MGA see article UT-111 in Universal Tech.