The MGA With An Attitude
The Lost Checkpoint
By Phil Vanner
As published in Minnesota MG Group Gazette, April 1999
Missouri Endurance Rally - March 1999
"Well, where are you trying to go?"

"Route 154 and 61." I repeated. I was asking directions of a clerk at a combined McDonald's/Shell station on Highway 61 in Bowling Green, Missouri. She wanted to help us, but had no idea what we were talking about.

"I know, but what's there? If you're looking for the implement dealer, that's at the corner of 54 and 154. If I know what you're looking for I can tell you where it is."

"The directions just say `Route 154 and Route 61'."

"There's no such thing."

We started again, "But there has to be, that's the instruction, see?" We proffered our checkpoint list and map. The map backed her up, it showed no intersection of routes 154 and 61; they were at least 10 miles apart at their closest point.

"There must be some mistake," she went on, "I know that those routes don't come together there."

Barney, the driver, seemed to bristle at the very mention of the idea that there might be a mistake. These were the rally instructions. This was all that mattered for the next 24 hours. "Come on," he said, and we piled back into the MGA.

Two hours before, in St Louis, we had been given the instructions and sent on our way. There were eight checkpoints listed, none giving any more detail than two route numbers, and in a few cases a mileage and direction. An example: "Route 67, 6 miles south of 34." We had to visit all of them in 26 hours, figure out how to prove we had been there, and return to the lot in St. Louis. Whoever could do it with the least mileage would win.

The rallymasters had taken us on an escorted six-mile run to determine correction factors for our odometers. Our driver's licenses were sealed into envelopes; if the seal was broken at the end of the rally, we would be disqualified, so contact with police was to be avoided. As soon as the directions were handed out, the competitors began to scan their maps for the checkpoints. I was at a disadvantage as a navigator, I was from Minnesota and hadn't been in Missouri in five years, and just finding the junctions on the map was a challenge.

I had come to be here because Barney Gaylord, owner the "MGA with an Attitude" had put out a call for a co-driver on the MG E-mail list the week before. Messages posted to the list are broadcast to almost two thousand subscribed MG enthusiasts worldwide. I had been intrigued by these endurance rallies since I first heard of the rally around Lake Michigan that is regularly run in conjunction with the University Motors Summer Party. I intended to participate someday. Then, just the week before I got Barney's message, Darcie had walked into our kitchen and showed me a positive pregnancy test. This was wonderful news, but I knew that my days of freedom were numbered. I decided right away to take him up on his offer.

I had driven down to Iowa City on Friday afternoon and met up with Barney, we left my van and took the MGA the rest of the way to St. Louis, a six hundred mile trip for me. The Missouri Endurance Rally started at eight o'clock Saturday morning.

After we left that truck stop in search of our elusive first checkpoint, Barney told me of his suspicions. Along the state highways were innumerable little county and township roads, all numbered on little street signs. If US highway 61 and State highway 154 didn't intersect, we would follow the state highway looking for a town or county route 61, after all the instructions hadn't specified US 61,we had just assumed it. State 154 led directly to the next checkpoint on our list, just north of Paris, in any event. As we headed out, we saw David Darby in his light blue Magnette stopped on the roadside pondering maps. He had two navigators, his wife and son, I wondered how they might fare on the long road ahead. We continued on toward Paris, noting every side-road and byway, but saw no route 61. We passed through a small town and saw a Blaze MGB parked at a general store, gathering intelligence. We continued on. I jogged off to check the signs on roads that connected to route 154 just to be sure. (Can't drive over to check them out, must conserve mileage.)

We arrived at Paris and the point where our route to next checkpoint and route 154 diverged: no route 61. We took the road to the next checkpoint and noted the phone number of a lonely trucking company, the only business at the otherwise desolate crossroads. On our way back to route 154 we passed the MGB again, headed for the crossroads. We eyed them suspiciously ­ had they found 61? We continued on 154 to the end, still no 61. We decided that backtracking was fatal ­ I plotted a route to the next checkpoint and we trusted that if it had been there, we'd have seen it. It had to be somewhere else, so while we drove I studied the maps, looking for an alternative.

The rest of the checkpoints were pretty straight forward, even if the routes were not. The guys from the St Louis club had picked places where there were no obvious straight lines between them, and the major routes were never the shortest.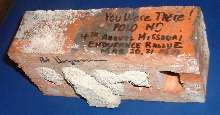 Barney's a skilled driver and he took the twisty routes with glee, rattling me about the navigator's seat while I tried to read the maps. As we read off the mileage from an intersection to find one checkpoint, it became obvious that the point was a sign in front of a church. But this sign, which had been supported by brick pillars, had been struck by something and reduced to a pile of rubble. I hope the good folks at Christ Church in Polo, MO will forgive us if they try to rebuild their sign and come up one brick short.

It seemed we were making fabulous time. We continued on, and as dusk approached we neared the most challenging part of the rally . The route we had decided to take would put us in the Ozarks after dark. We figured we were well over half way, we'd been over 500miles and had four checkpoints, three to go plus the route 61 one. We had to travel east along the southern edge of the state to get to three we knew of, and planned to take US 61 North along the Mississippi, looking for a 154 that wasn't on our map. About twenty minutes out of Cassville, the last real town we were going to see for at least three hours, we crested a hill just as the sun set. Parked by the other side of the road, facing us, was unmistakably a little British Car, rally lights blazing. It was "Mr. Bill 3," a red Midget driven by Bill Hedrick from the Chicago Club, with Kim Tonry navigating. Well, he had been navigating, but the roads of the Mark Twain National Forest had taken their toll ­ motion sickness. He sat, leaning out of the passenger door. This was ominous, we were about to tackle that leg of the rally in darkness, with a spirited driver, in a car ten years older than theirs. We regarded them as serious competitors too; if it took them this long to get here, then maybe we weren't as far as we thought. They declined our offer of assistance and we proceeded. Minutes later an unusually bright oncoming car roared past. It was the primrose MGA coupe, Lucas driving lamps stabbing into the night. We figured this was halfway and wondered if it took them so long to get here because they had been looking for the lost checkpoint.

I didn't have much time to think for the next couple of hours as we swooped through the foggy Ozark mountain roads as fast as we dared. I braced my self in as best I could with only a lap belt; pressing my knees against the sides of the footwell and reading the map with a snake light draped around my neck. Then I noticed the gas gauge ­ it read just over 1/4 tank.

"Barney, we're down to about a quarter tank of gas".

"Can't be." He replied without hesitation, "We filled up about 150 miles ago."

I checked the log. He was right. We had been tracking gas consumption and were getting close to 30 mpg. We should have had over half left. What was this? Terrible mileage we could deal with, but it was after 9PM in very rural country. Everything on the map was indicated as "Population 1000 or less" We'd been passing through lots of those and none had any kind of business at all. The nearest town of any size was West Plains, but that meant going away from the next checkpoint. It was unthinkable. There I spotted Bakersfield, a town down along the Arkansas border that was closer to our intended route. Though it was represented by the smallest symbol on the map, it was at the intersection of a state road and few county roads and I imagined it a crossroads, more likely to have something open than one of these "wide spots in the road" we had been passing through. It would only cost us a few miles if something was open, but if not, making it to Thayer, our next checkpoint, was going to be chancy. I told Barney my intention and laid in a new course.

"Lets do it." On to Bakersfield.

I estimated the mileage, and in a few minutes announced that we must be right on top of it. There were a few houses and nothing else until we turned a corner and there at the crossroad was the only business in town. An open gas station. We pulled in and gassed up, attracting as much attention as one would expect in an MGA in rural Missouri at 10 O'clock on a Saturday night. Barney then announced that the car was full after barely five gallons ­ we had plenty of gas all along ­ it was the gauge that was bad. We were still getting 30 mpg - we'd just use the odometer to tell us when to fuel up. The Odometer was king.

Just out of Bakersfield we encounter a sign "Road Closed Three Miles Ahead ­ Local Traffic Only" The only detour I could find was at least an additional 25 miles. Horrors. Should we drive the three miles to see just how closed it was, and risk having to drive three miles back? We decided to chance it. Soon we came upon a sawhorse with flashing lights; just beyond it there was water on the road. A creek was flowing over route 142 about five inches deep. The water itself wasn't going to wash us into the ditch but had it undermined the roadway? Only way to find out was to go in and check. Got my feet wet but everything seemed solid and we proceeded, no problem. We encountered another State Highway crew closing the road a few miles further on, but they told us we could go through ­ it wasn't really bad yet.

We made it to Thayer and the checkpoint. Now we had to make a decision. If we were going to drive up US 61 looking for the lost checkpoint, we should go to the river crossing checkpoint first and then to Malden. This would add about 60 miles just to get those two points plus another 100 travelling up 61 instead of 63. Which to do? I was very tired and trying to think. I have driven 600 miles to get to the start of this thing and now another 700 ­ on about 6 hours of sleep. I don't want to decide that the lost checkpoint was an error just because that decision gets me to bed sooner, I have too much into this. On the other hand, if the lost checkpoint is a mistake in the rally instruction, I don't want to waste time or mileage chasing it around the country. I figured the mileage back to St. Louis using the most direct route through the checkpoints I knew. That was about 250 miles. We had traveled about 700. The rally instructions described "one leg of approximately 950 miles." Taking a route that would allow us to search US 61 for the lost checkpoint would add at least 150 miles to that. That couldn't be right. We had been much too efficient to be that far off the pace. We decided to take the direct route.

We saved a few miles at the last checkpoint. It was along US 67 six miles south of the intersection of that road and route 34. We were approaching from the south, and shortest path to that corner was up route 67. Since we knew we'd pass the checkpoint on the way up, and didn't want to have to double back to find it, we documented ever rock, tree, sign, lamppost, and squirrel in the area where we knew the point had to be, and wrote down the mileage. When we got to the corner we subtracted six miles (plus a small ODO correction factor) and it was a historic marker; we pulled out the documentation for that and went on our way.

We got back to St Louis at 5:20 AM and collapsed. Before I fell asleep I heard the distinctly British sound of an MG Midget rumbling into the parking lot. MR BILL 3 had made it. The "True Grit" award goes to Kim Tonry for completing the rally in spite of his infirmities. That's the spirit of "Press on Regardless".

When we awoke, and handed in our proof, and the rallymaster checked our mileage, and made sure or licenses were safely tucked away in their envelopes, we waited. A hotline had been set up for emergencies. A few participants had called in to say that they had become lost and gave up; one knew that he would not finish before the deadline and opted to head home instead. Some we never heard from. While we waited we all signed the brick from Christ Church and gave it to Barney as a memento. The mileages were written on the sheet and corrected using the factors determined ­ yesterday? It seemed like last week. After correction, our mileage was the lowest. But what about that checkpoint? Several of us looked at each other but no one said anything until somebody asked Barney about "that checkpoint" complaining they couldn't find it. Relief: there were at lest two of us. The rallymaster acknowledged that he had an older map that showed that
154 and US54 ran together where 54 crossed 61, so it was a mistake. We were right not to waste mileage looking.

There was still time before the 10AM deadline and a couple of cars hadn't been heard from. Somebody with less mileage still might turn up. But at 10 AM nobody else showed up, and so we shook hands and got our plaque, congratulated the finishers and thanked the St Louis Club for a fine rally. But then we had to get moving. Barney and I need to hook up the trailer with the race tires and get over to St. Charles. There was an autocross at the Boeing facility there that started at 11:00, and we didn't want to be late.