The MGA With An Attitude
MGAguru.com
MGAguru.com
Mad Dogs and Englishmen - First SCCA autocross


This one is about my first SCCA autocross event in August, 1991, and was written immediatly after the event. I like to come back to read this occasionally, as I tend to forget some of what it was like, and just how I was doing as a novice competitor in those days. I did have a few autocross events with the MG club before this, and I had already accumulated over 40,000 miles of (sometimes spirited) driving in MGAs.


The newsletter said "Aug 4, 1991, Charleston, IL. Sponsored by the MGB Club. 'A's welcome. Call Greg." The name of the event was 'Mad Dogs & Englishmen Autocross IV -- The Empire Strikes Back'. I couldn't resist! So I called Greg.

As it turned out, the event was open to all comers bringing anything with four wheels and an engine. It was co-sponsored by the Central Illinois Triumph Owners Association, the Prarie Octagon MG Club, and the Champaign County Sports Car Club, and sanctioned by the Sports Car Club Of America. With that many names pushing, it had to be a success; I just didn't know if my MGA could be competitive. But there was a tempting bit of bait: Greg said there would be trophies for big bore and small bore MG's, then promptly added that the MGA would probably be considered a big bore, but that no MG's showed last year. What the hell! It had to be a fun day anyway, so I talked the wife into a seven hour round trip down-state from Naperville.

Sunday morning early I drive to the nearest station to top off the fuel and notice it's running a bit rich. Checking the milage since the last fill, I figure 15 mpg is pretty lousy, so it's back home for a quick tune up. The points are a bit close, so I open the gap to about a thumb nail worth. Since things were running well recently, I assume the timing and valve clearance are within reason and proceed to the carbs. Upon firing up the engine I notice a bit of fuel coming from the front SU's float chamber -- well, more like a gusher. Removing the top I find my 'Gross Jet' float valve has come unscrewed about four turns. Well you know MG's; the valve has been in there unattended for about 20,000 miles, so I figure it's entitled, just tighten it up and forget it. When the idle is a little rough I check the dashpot dampers and find the second one to be disemboweled within. Being only a minor irritation for a road trip, and being an hour late getting off, I elect to ignore it for now; it will keep.

We've packed the normal amenities for an MG: a little oil, a few spares, a bottle of water, some tools and my 'safety' helmet. It's a little cool at 7 am, but light jackets, caps and sun glasses will suffice for some pleasant top down motoring, and we're off. This crew likes the side roads, and the map shows plenty in the right general direction. We don't get lost, and there's only one road closed due to a bridge out, so 3-1/2 hours and 200 miles later we arrive at the Coles County Airport midway between Mattoon and Charleston. We're an hour late, and there's no one else here to notice, so I call Greg again. Guess what? The gig is next week! Someone messed up with the newsletter, and the date was the only thing I didn't verify over the phone. OK, we're all a good natured lot, so just turn the clocks forward one week, and here we are again at the airport on Aug 11, and on time to boot.

This time there are a bevy of beauties on hand including a few we played road tag with on the way down. I see two TR6's, two Spitfires, a TR7, two Healey 3000's two MGB's, one MGA (ours), one MGTD, and one MG Midget with a Mazda rotary engine transplant. That about accounts for the Englishmen. As for the rest, well they're the Mad Dogs. Start with two prepared Corvettes trailered in, one open top and one coupe. Add in a street prepared Camaro, a Turbo Porsche Carrera, a Chrysler Laser, a Ford Taurus SHO, a Toyota Supra, a Honda CRX, a Mazda RX3, and a Mazda sport truck. I probably missed a couple, but the entries seem about evenly divided between the Mad Dogs and the Englishmen. I empty the boot and unload other excess weight, remove the wheel covers, add a bit more air in the tires (about 45 psi), and prepare to do battle. With a little time to spare I take this opportunity to pull that pesky dashpot and put the snap ring back on the damper; in this field I'll need everything the little roadster has.

After tech inspection the car and I are classified as E-Stock Novice, along with about eight others, in spite of an 1800 cylinder head on my 1500 engine. E-stock includes the MGB's, the Healey 3000's and the TR6's, and Novice includes about half the field in all classes. At this point I begin to feel a little out-gunned, but later we're told that there are some handicap style time adjustments allowed.

The autocross course is set up on a cement apron about 500 feet wide and an asphalt taxiway about 50 feet wide and at least 1/8 mile long. We all walk the full course once to get the route down and then line up for a rather late start at about 12:30. When my turn comes I'm buttoned down and on the line, all warmed up and anxious.

The entrance is through a timing trap from a standing start. Given the all clear, I select first gear, rev it up near the yellow line for a couple seconds, then punch it full down and pop the clutch. With a lot of commotion and a moderate cloud of black smoke from the tires I'm off and running. There's a slight turn into a short chicane of three cones. The red line comes quickly, and a speed shift into second gear at the first cone produces another small puff of smoke from the tires and a bit of over steer. I manage to muscle it around the other two cones under full throttle and make a hot turn onto the taxiway at about 40 mph. Still in a bit of a drift, it's time for a power shift to third, accompanied by a substantial but acceptable amount of clutch slippage.

Now I just have to stand on it with patience and intestinal fortitude as the tach needle threatens the red line again. Luckily the gearing is about right for this course, and I run out of taxiway at about 5000 rpm -- the radar trap said 62 mph. Pulling this thing down in a rush with four wheel drum brakes is a bit tricky, but it comes out well near the right edge of the tarmac with only a little tire smoke. Getting it down into second gear before the turn, there ensues a 180 to the left around a cone under full throttle, without running off of the pavement -- I'm still not sure exactly how, but I remember a lot of squealing, a little body roll and a terrific tail wagging. The engine bogs down just for a moment, as it's a bit slow for second gear, but picks up quickly and nears the red line again, requiring another power shift to third with just the expected amount of clutch slippage.

There are several seconds now to line up on the exit from the taxiway between two pairs of cones and into a short but fast chicane. The course swings quickly right, left and right again approaching a hard left turn. Going through this chicane with the brakes half on produces a weird combination of nose dive, body roll and tail hang-out, similar to a diminishing radius off-camber turn down a mountain incline. At the same time a downshift to second requires three hands and three feet, but I pull it off somehow, and the power turn to the left seems tame by comparison.

To finish there's a hard turn to the right between cones followed immediately by a tight 120 to the left, all with the appropriate amount of tire squealing, then a 30 yard sprint to the finish, where I'm required to pass between two cones to trip the timing light. Drivers with more power under the hood have some trouble with this bit, as it's tough to keep it straight with the tires smoking. All in all it felt like a pretty good run with the clock tripping off at 52.029 seconds.

In the time allowed we all managed to get in four official timed runs. In between runs we had plenty of time to watch the competitors and share in all the oohs, aahs and chuckles. The Corvette roadster turned in fast time of the day at just under 38 seconds, while the Corvette coupe was disqualified for the day on his first run for squashing the light source at the finish trap while attempting a power slide across the line. The other Mad Dogs turned in respectable times and shared in the prizes accordingly.

As for the Englishmen, my four runs in the MGA were very consistent with a best time of 51.294 seconds and a total variation of less than 0.8 seconds. That was good enough to beat one TR6, one Healey 3000, both MGB's with extra drivers and both Spitfires with extra drivers. The MGTD turned in times under a minute, while the rotary MG Midget blew our collective socks off but was classified as Modified and not competing with us. One TR6 was 1/4 second quicker than I, taking the prize for big bore Triumph. One very well prepared Spitfire was a second or two slower, taking away small bore Triumph. One Healey 3000 was under 50 seconds, taking a prize for fastest non-MG/non-Triumph English car. I believe the MGTD switched drivers to make two entries, producing a class of their own; the TD subsequently took fastest small bore MG. And last but not least, the MGA that made two trips to compete took the trophy for fastest big bore MG, making it well worth the trip(s).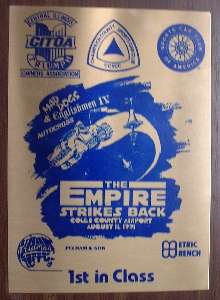 There were also prizes for fastest Novice and for longest distance traveled. I guess nearly half the cars entered won trophies, we all found some new friends, and most of us are planning on attending another meet soon. It seemed like a real deal for $15 to compete in an SCCA sanctioned event. If I was an SCCA member it would have been only $12 and I would get points credited towards SCCA competition. I'll keep that in mind for next season.

As with the week before, we had lunch at the airport dinning room before heading home. A platter size tenderloin sandwich, a deluxe cheeseburger, a large order of delicious onion rings and a couple of cokes with refills came to just over $7.00 -- a nice reprieve from the upstate prices we're accustomed to.

After dropping the tire pressure back to normal, a rather swift trip on the expressways gets us home in three hours, just a little after dark. The car has performed admirably all day and we all retire with those fond memories of another successful outing.