The MGA With An Attitude


MGA Guru Is GOING MOBILE - (February 16, 2015 - February 28, 2015)


Monday, February 16, 2015:
Today we were still playing with cars and folks from British Motoring Club of Montgomery. The morning venture was to let us play a little fantasy in the forest. Thus was a visit to Barber Marina on the Gulf coast in rural Elberta, Alabama.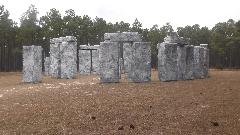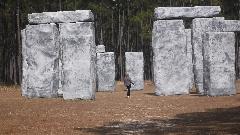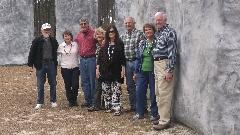 First up was Bamahenge, a replica (in Fiberglas) of Stonehenge in Alabama. Then a few dinosaurs thrown in for good effect.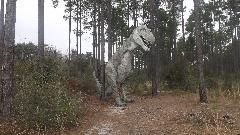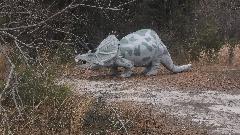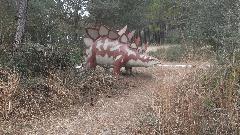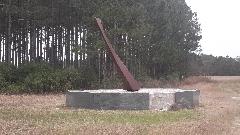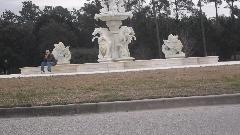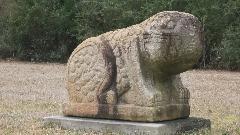 Follow this with various sculptures, most of them recognizable (many deleted), finishing with Knights In The Forest, and Lady In The Lake.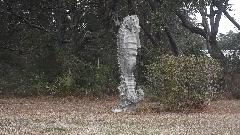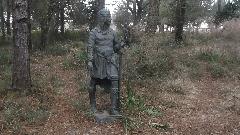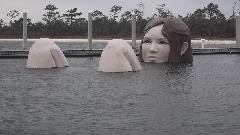 Lunch at Pirates Cove in Josephine, AL (end of the world at Arnica Bay). On the way back to town there was a brief stop at an Airstream trailer sales lot with a few odd mementos.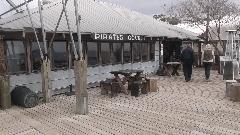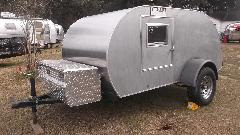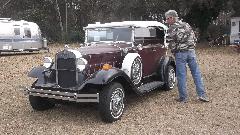 "Town" in this case was Fairhope, Alabama, where we had a brief rest stop at a club member's home, a fuel stop, a quickie Walmart stop, and then on to the upper level of the hotel parking garage for a car decorating party.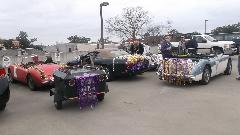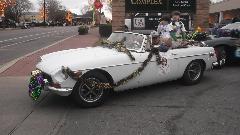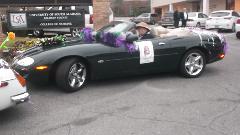 The main event of the evening was the Mardi Gras Parade, running a full two hours (6 to 8 pm), but I think less than two miles travel. It isn't easy driving an MG less than one MPH for two hours, but the parade participants (including our four British Cars) must have chucked several tons of beads at the spectators on the side.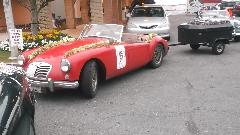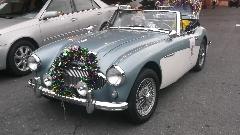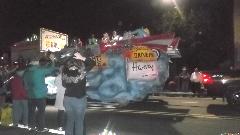 After the parade we went back to George and Lynette Whitley's place for the night, a couple of the nicest hosts in the world.

Tuesday, February 17, 2015:
Today's evening venture was a visit to Mike Darby in Loxley, Alabama, where he does a lot of British car restoration and repair work. I caught him under an MGB where he was swapping out the rear axle assembly.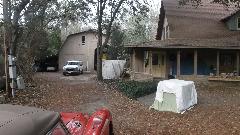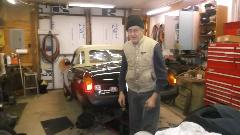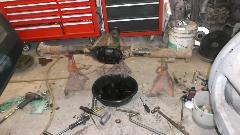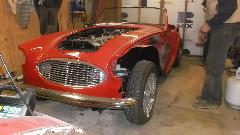 A few of the projects around his shop. Below left is his personal driver MGA. There are at least five MGA here, and every one of them has a story.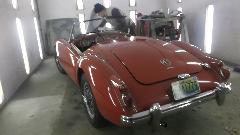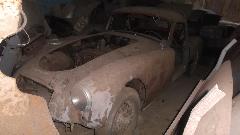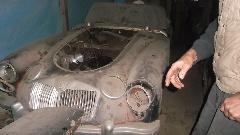 This is his wife's daily driver Jaguar 2.4, and Mike was enthralled with another MGA that gets driven regularly.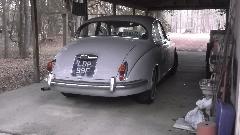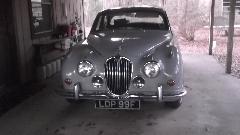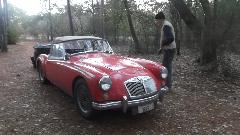 About dusk we were heading back to town for some catch-up WiFi work that would keep me up way past midnight, but at last you get to see the results of the past couple of days.

Wednesday, February 18, 2015:
Beginning the day at Busted Wrench Garage (Museum and Gift Shop) in Gulfport, Mississippi (as we arrived here in the small hours of the morning). Say hello to John Hans, senior partner and general manager here.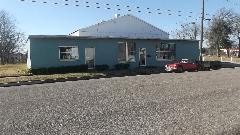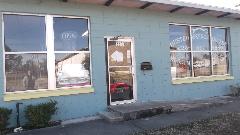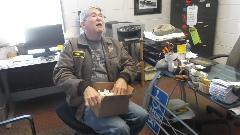 At 60,000 square feet this place is significantly over crowded. Front has a small office and moderate gift shop. Largest part of the main building has loads of classic cars on display, mostly restored but a few in process or waiting. Rear part of the building contains the restoration shop.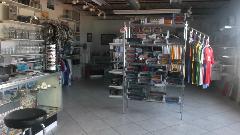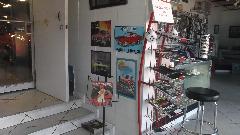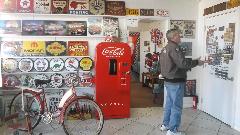 There are lots of British cars here, perhaps half of the inventory. See how many you can count.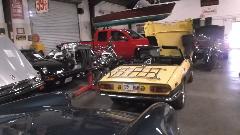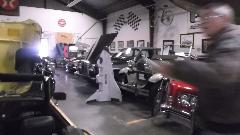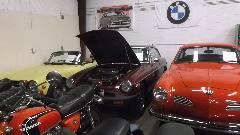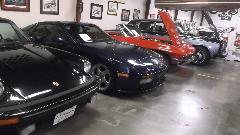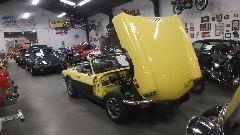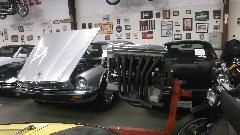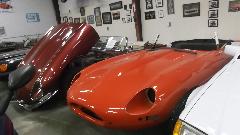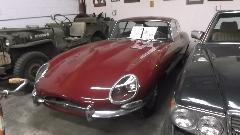 These last few pictures are in the workshop. The '57 Vette is as classic as you get for American cars. Hiding behind it is an Alpine Coupe (quite rare here). They assure me there is an MGA buried in the back and inaccessible at the moment, awaiting restoration.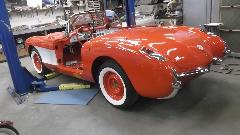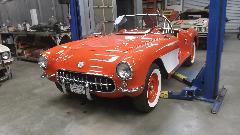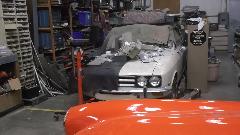 This business really needs to expand. Currently just off of Highway 49 on 29th St, they have been negotiating with the city to get into an old library building on US-90 on the Gulf coast. Part of the proposition is to have a new city welcome center (dearly needed) in the same building. So far lots of foot dragging in city government.

---
Next up was a visit to BMC Restorations in rural Kiln, MS, to say hello to proprietor Peter Brauen.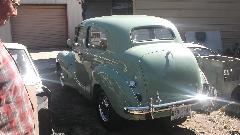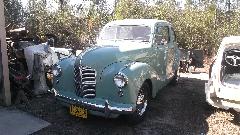 First item to catch my eye was the Austin A40 (for sale). This has been upgraded to MGB 1800 engine, overdrive gearbox, 3.9 final drive, and front disc brakes. Seems it took Best Of Show not too long ago, now looking for a new home.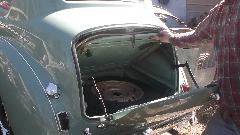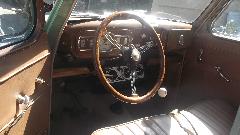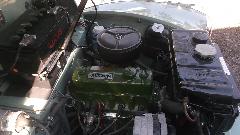 A bit more poking round outside reveals more British cars, some nice, some needing TLC.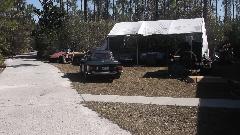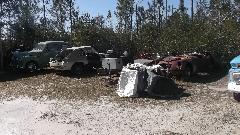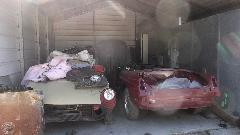 Inside there's a Mustang being made over with rear disc brakes, coil over shocks, trailing arms and Panhard rod.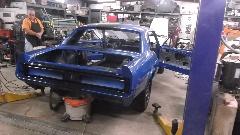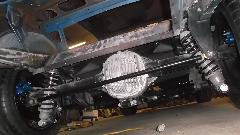 I notice an odd set of wheels which Peter says are made over for an MGB. He call them "quasi Twin Cam wheels" (or something like that). I believe they started life as TR6 wheels before modification. Outboard and inboard they look perfect. In the deep well center is a hidden weld bead where two halves of the rim were joined to make custom 5-inch wide wheels with the desired offset.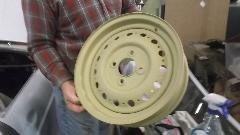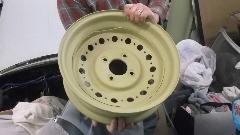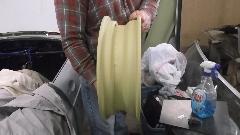 This late model MGB is now sporting a Rover aluminum V8 with American 4-bbl carburetor, rear tube shocks, trailing arms, traction bars and a huge anti-sway bar.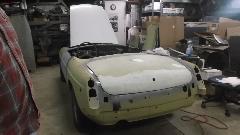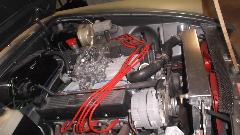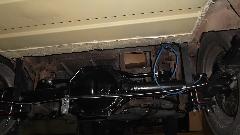 The next interesting toy is an HRG car, made by the same company that made lots of castings including the prized HRG cylinder heads. There is a pile of parts for that car, including some new custom castings to replace corroded original parts.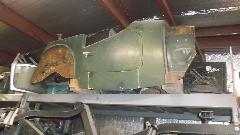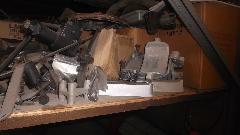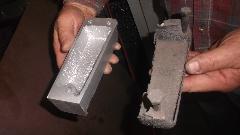 We took a short run in Peter's daily driver Bricklin SV-1. This New Brunswick, Canadian built car is sort of British and sort of American, sporting a Ford 351 Windsor engine the goes like scat in the light fiberglass bodied car. It has tall body sills and deep tumble-home similar to a Jag E-type. The Gull-wing doors were originally hydraulic. If one was being raised while the other was being lowered, it had a tendency to spray the passengers with oil. This one has been converted to pneumatic operation, reducing one-way open or close from 8 seconds to 3 or 4 seconds. The ladies love this thing, but have to learn how to enter and exit gracefully.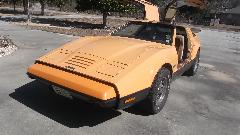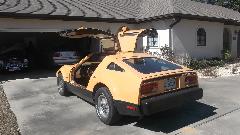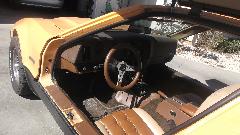 We were going to visit Peter's AH 3000 BJ8, residing at his mother place. Very nice, and the tri-carb setup runs well indeed. Many V8 Camaros need not try, or may be very disappointed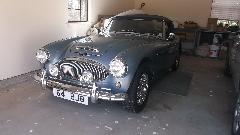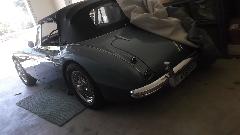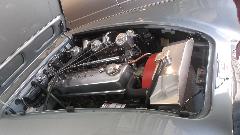 With the Bricklin back home, this very classy classic Austin may be slow and stately. It may also be available to the right prospect, as long as it won't be turned into a street rod.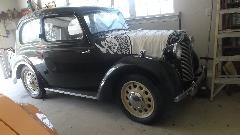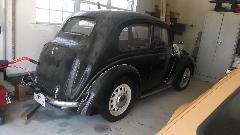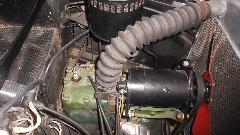 Having consumed enough business hours here, we took a run into Kiln for a quick lunch before rolling on.

---
Our next appointment is with Rick Taggart in Covington, Louisiana. His MG TD was running poorly when we last met (Jan 31 I think). With a bit of investigation Rick has repaired a HT spark plug wire terminal, so it was running pretty decent today. An ohm meter reveals corroded aluminum terminals in the distributor cap, so that part is added to the shopping list.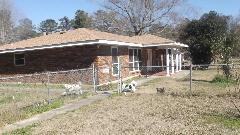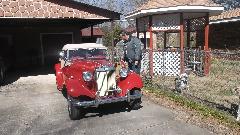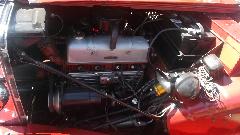 Fuel jets are sticking badly in the carburetors causing very rich running after using choke for cold start. Rick will need to polish and oil the jets to free them up, and if that doesn't cure it he may need to change the jet seals (chores for another day). Blue smoke from the exhaust is a bit of a concern. Run engine to road speed for a bit, then release throttle for forced over-run, then when back on throttle it gives a generous puff of dark smoke. My best guess is worn valve guides, but it runs well otherwise, so umbrella seals for the valve guides may be the easiest fix.

---
Our 4th appointment for the day with Ted and Pat Oster, also in Covington, got a slight re-arrangement due to late hour and a bit of inconvenience for the host. But Ted and I still got to chat for an hour or so by phone, discussing cars and local club activities. What was left of the day was not enough time (a common malady), so most of the effort for photos and notes here had to spill over to next day.

Thursday, February 19, 2015:
Lots of keyboard time today, but we still have an evening appointment with British Motoring Club New Orleans, north shore area, at Abita Brew Pub in Abita Springs, LA. This is the same group we met for breakfast on Jan 31. One or two knew we were coming, a few were taken by surprise, and many more were awe struck at first sight (well maybe not) but about 16 people here tonight. Good food, short meeting, past events, upcoming events, guests and friends, and a good time was had by all. And we have another appointment for tomorrow.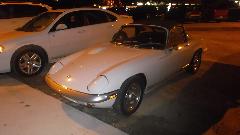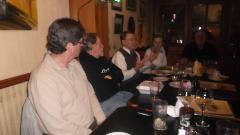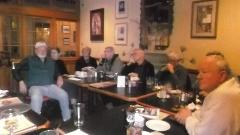 Friday, February 20, 2015: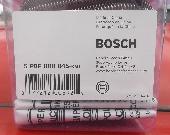 A short run from Abita Springs last night to Mandeville today (still in Louisiana). Morning appointment turned into afternoon, but we had "stuff" to do in the AM anyway. One quick trip to Advance Auto Parts to pick up one of those cheap analog temperature gauges ($17.99+tax), brand name Bosch this time (but still made in China). Plans to use some of the parts to repair the temperature side of a dual gauge.

We were back to visit Cliff Hughes again. Three weeks ago we gave the ZB Magnette carbs a little tweak. Today it was time for the Austin Healey 100-6 to have a bit of adjustment. It was running a tad rich (don't they all?) and too early for spark, and needed a little adjustment of the choke linkage. The LR brake was dragging a bit, so backed off the shoe adjuster one click (1/4 turn) while adjusting the parking brake cable length. Took it for a run to the parts store to pick up a couple of oil filters. On return the LR brake was dragging and hot. We had to R&R the brake drum a couple of times before figuring out the slave cylinder was sticking in the extended position. Looks like it will be treated to a pair of new rear wheel cylinders.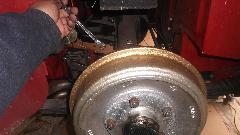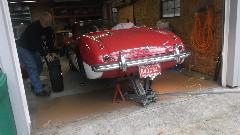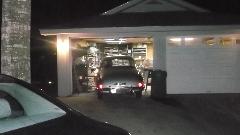 Then we had time for a dinner run in the Magnette (which I got to drive a bit). 1800 3-main bearing engine and Datsun 5-speed, gives it pretty good zip in town and good highway cruising. We were interested in a vibration issue, which may be a non-issue, but I don't have enough experience with the Magnettes to know for sure. It strikes me as mostly normal engine vibration that induces resonant body vibration at certain engine speeds. The car has lots of acoustical insulation, so the body vibration noise is somewhat irritating. Need to check with some other Magnette owners for better opinions.

Got a shot at laundry, and navigator got attached to WiFi for a couple of hours, so it was 10:00-pm before we got out of there. A little more WiFi down the street, followed by a half hour west on I-10 and an hour plus north on I-55, crossing into Mississippi a bit after midnight. Like the song says, "We're going to Jackson". Well, actually we're going to Clinton and Vicksburg, but Jackson is in the general vicinity.

Saturday, February 21, 2015:
Today we hitched up with half a dozen cars from English Motoring Club of Mississippi at Clinton MS Welcome Center (170 miles from last night's departure). Having collected the lot we caravanned southwest down the Natchez Trace Parkway about 25 miles, then up US-27 to Vicksurg.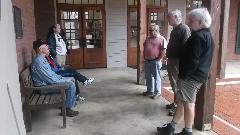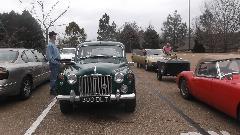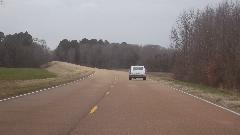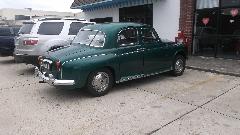 In Vicksburg we collected more club members and coalesced at a warehouse owned by Pat and Barbara Cashman. This building used to be a car dealer about 30 years earlier, and there is plenty of space to rattle around inside. We got to ogle Peter's toy collection, cars, motorcycles, slot cars(?).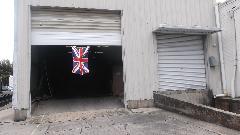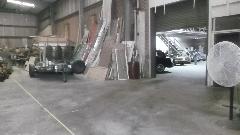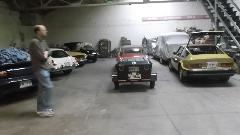 The little black sedan is a Triumph Mayflower, baby sister to the Princess.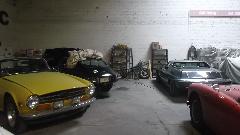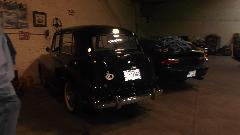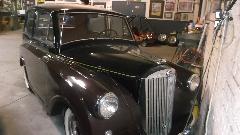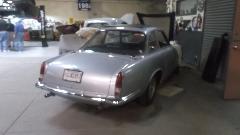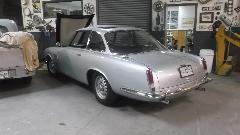 Next up is the Gordon-Keeble. This is of some interest to the MGA Twin Cam folks, as it uses similar pin-drive knock-off Dunlop steel wheels and four wheel disc brakes. It also has a Corvette engine (go ahead and drool). Only 99 of these cars were ever built.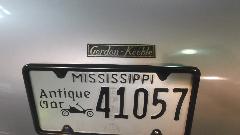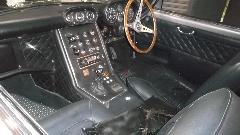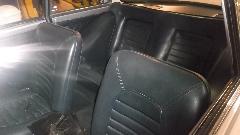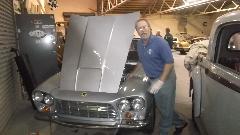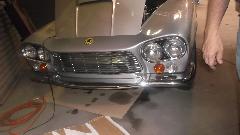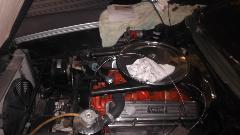 This is an Armstrong Siddeley Station Coupe, British built, Australian market, used on the sheep herd stations. They came in two versions, short cab long bed, and long cab short bed. This one with the rear seat is possibly the first crew-cab pick-up truck.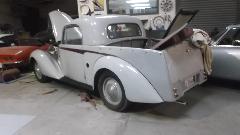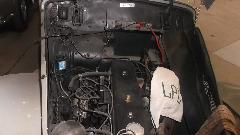 Not sure about the Caddy, but the Jeep is getting an engine refresh and repaint.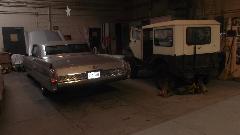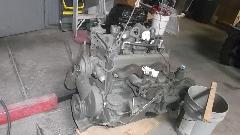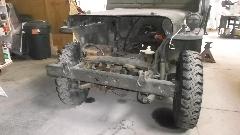 The big Jag spent a large part of the day on the lift getting the new stainless steel exhaust system re-adjusted. The Studebaker Lark is a squatter, just visiting (for the past 15 years).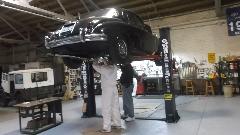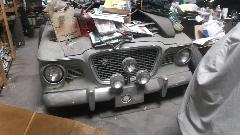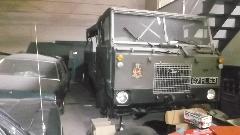 The big Land Rover was trying to hide in the corner while the little Jag and the CitroŽn Deux Chevaux (2CV) were snuggling all day while.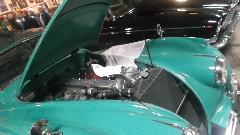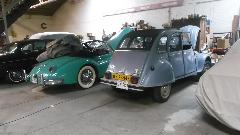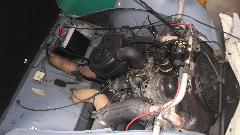 We had lunch with the gang (about 30 people) and get hands dirty as desired.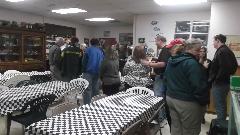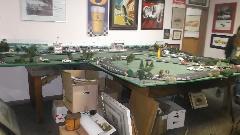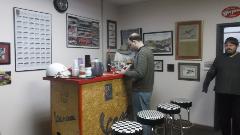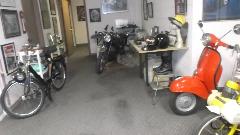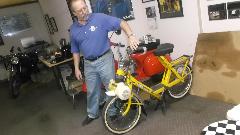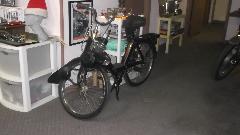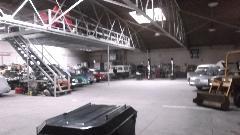 Later in the day when the lift was available, I took this opportunity to change oil in the MGA engine-gearbox-differential, and adjust the valves (last done with the engine repair in August, 17K miles back). Seems we were the last ones out, leaving the locals to sleep in peace. At the last minute Pat and Barbara Cashman decided to adopt us for the night rather than letting us head back south. Late night heavy rain, and it may be a long icky drive in early morning.

Sunday, February 22, 2015:
Up early today, departing Vicksburg at 5:45 am, 38dF and light rain. Half hour later were heading south on the Natchez Trace Parkway where we drove 60 miles without seeing one other car. Seems like tourists and motorcycles don't come out in the rain early Sunday morning. Then a run down the state highways with one fuel and breakfast stop, and at 9:15 we pulled in to Bass Pro Shop in Denham Springs LA to join up with the northwest (Baton Rouge) contingent of British Motoring Club New Orleans. We found four more cars, a TR4A, a big Healey, one Jaguar and a Honda (who let him in?). We also found something like 80dF full sun and humid, so definitely top down time.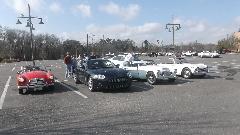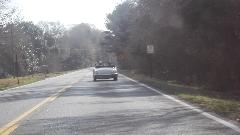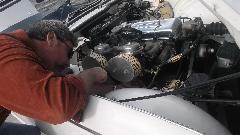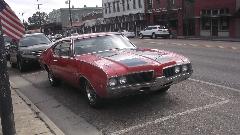 From there we took state roads east for an hour. At a short pit stop the TR4A was running very rich and needed a carburetor adjustment. Next stop was Ponchatoula where the women enjoyed antique shopping while the guys were chatting up cars on the sidewalk. By this time we had collected nearly 20 cars from three or four dispersed contingents of British Motoring Club New Orleans. The Olds 442 was not one of ours, but it was cute.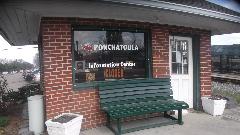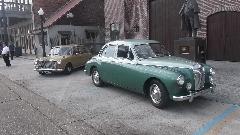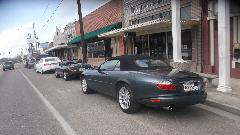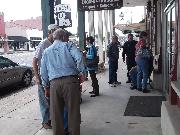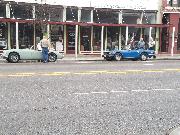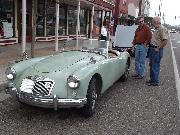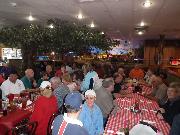 After an hour or so layover we ran another 10 minutes south to Akers LA for a casual lunch at Middendorf's Restaurant with 44 club members and friends in attendance. There was a brief photo op in the car park before cars and people dispersed. As we were deciding which direction to go, the ZB Magnette chose the golden opportunity to not start. This turned out to be a Mr Gasket electronic fuel pump (re-branded Facet pump) had crapped out after short time in service. So we took the MGA for a run back to Ponchatoula. Rains moved in fast and heavy, so top up as we entered town. We picked up a nice Airtex electronic fuel pump (a model I have experienced to be ultimately reliable). Then back to Middendorf's to fiddle in a bit of rain to install the new fuel pump, and the Magnette was on its way again. We were then back to Ponchatula to nest for the night, as it turned cool and continued to dribble.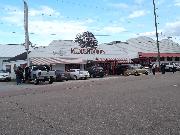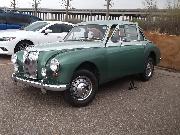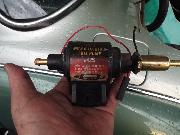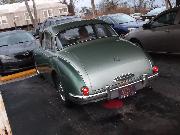 Monday, February 23, 2015:
Overcast and chilly again in southern Louisiana. Well, it is February after all, and we shouldn't complain, as it is much like April in Chicago. We high tail it out of Ponchatoula, down I-55 and a bit on I-10 to Harahan LA in about an hour. We are now tucked into the close western suburbs of New Orleans south of Lake Pontchartrain and on the north side of the Mississippi River. We were here to visit Allan Bradley and his MG ZB Magnette. He has been converting it to front disc brakes using the original Magnette king pins, MGA rotors, MGB calipers, and special machined caliper mounting brackets. There was a problem with the hubs seizing up when the spindle nut was tightened.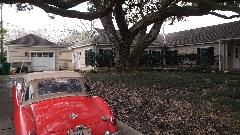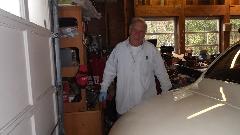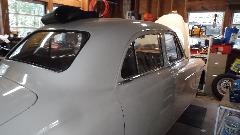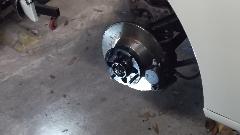 My first impression was that the bearing inner race spacer was too short, allowing the bearing inner races to move too close together. A better guess might be some dirt behind the outer bearing race so it doesn't seat properly in the rotating hub. We pulled the left side hub and rotor, used a bearing drift tool to vigorously set the outer bearing races in the hub, and tried it on the car again. There seemed to be some improvement but not the solution.

So we pulled the hub off again and removed the seal and the bearings for internal inspection. Sure enough, we found some raised burrs on the seating shoulder for the inner bearing outer race. Fortunately Allan had another MGA hub handy, so rather than grind off the burrs we reassembled it with the new bearings in the different hub, put it back on the car and tightened the spindle nut. Seized again. Bummer. But this time we had installed it for trial fit without the brake rotor and we could then see the inner end of the bearing hub which happened to be touching the caliper mounting adapter plate. Ah-ha! Notice rub marks on the plate in the pictures below.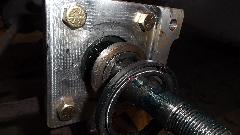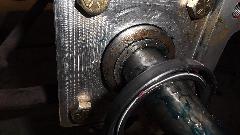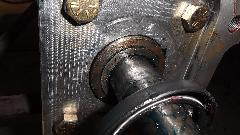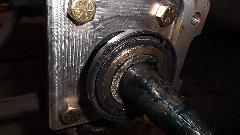 It seems the adapter plate needs some more machining, where the center hole needs to be larger so it will clear the inner end of the rotating bearing hub. There is a seal "spacer" that must butt against the shoulder on the bearing spindle. As is, this spacer nests closely inside the center bore of the adapter plate, and the hub seal cannot reach that far for proper mating. So the problem is solved although it is not yet fixed until the machining is done. Once again the MGA guru has taken a car apart and not put it back together (although it wasn't really together to begin with). Otherwise it is well on it's way to being fixed and back on the road again.

Tuesday, February 24, 2015:
Just spent a large part of the day with email, BBS, web page updates. Also in process of loading the new 2015 events schedule for CMGC onto their web site.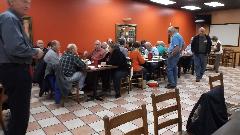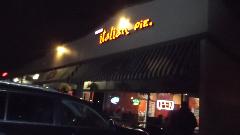 Meeting tonight with British Motoring Club New Orleans, the collective club, all four corners together at the Italian Pie in New Orleans. 32 people here for the club's monthly business meeting, as some of these people have driven an hour or two to be here. Reports on member projects, past events, upcoming events, and a couple of people chatting about the MGA guru having fixed their cars. After dinner and business I get to do the pony show again, as it seems there are a number of people here (mostly locals) who have not heard it yet. After the meeting back to WiFi work.

Wednesday, February 25, 2015:
Email, BBS and WiFi work eat up a large part of the day so it was mid afternoon before we left the new Orleans area. A bit west on I-10, then turning south on I-310, we cross the Mississippi River near Destrehan, LA. Run up the flag and shoot off some fireworks for this milestone in our travels. First time west of the Mississippi (having covered everything to the east).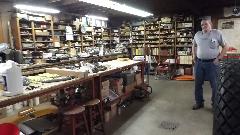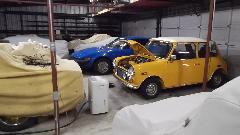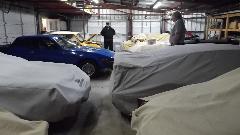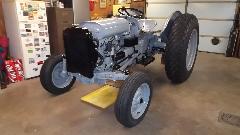 At 6-pm we arrive in rural Abbeville LA to visit Dave and Menda Hayden. British vehicles seem to follow Dave home fairy often. Here we find a a few Triumphs, a couple of Lotus, a Mini, and an MGB. We will do some unwrapping tomorrow. There is also this little British vehicle the Ferguson tractor with the Triumph Standard engine and turf tires. It has been a long time since I have seen one freshly bathed and undressed. It is just finishing restoration and is about to be entered in a car show as a Triumph variant.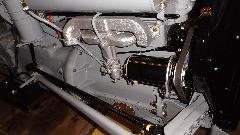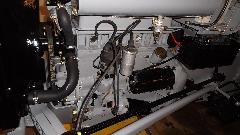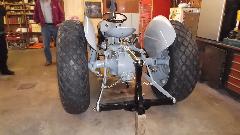 Before it gets too late we head out for dinner at Shucks. I hear that Abbeville may have the largest ratio of restaurants per capita in America. People here just like to eat. I'm not a sea food guy, but I do have a taste of shrimp, an the alligator is delicious.

After dinner we return to "the farm", which is one of a series of 4-acre plots. Plenty of space here for a large house, a large garage with large workshop, a large hanger originally for helicopter service now converted to more auto workshop space. Did I tell you this guy likes cars? We eventually retire to the large apartment over the garage. Across the hall another 30 feet of storage space that may eventually become another apartment. This one building could be any car guy's dream home.

Thursday, February 26, 2015:
Today we would visit the "farm" next door to collect some fresh vegetables. This place has a dozen large greenhouses filled with flowers, herbs, and vegetables. It is a truck farm under cover, operating year round. They feed a lot of people, and put flowers in lots of stores. Oil drilling companies pick up veggies by the truck load.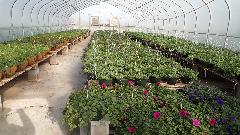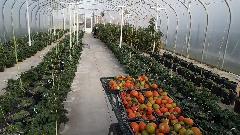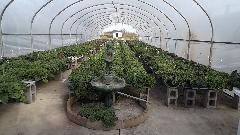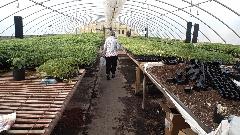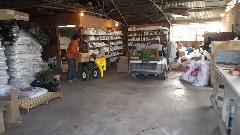 In the evening we get back to checking out Dave's rolling stock. I count at least five Triumphs (not counting the Ferguson). One each TR2 TR3 TR4A, TR8 and a Spitfire race car. That last one is apparently too hot for Dave to drive, but is being preserved indefinitely for a deceased friend.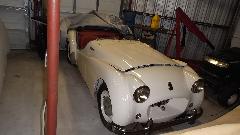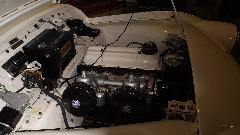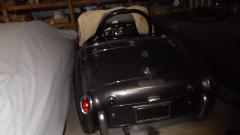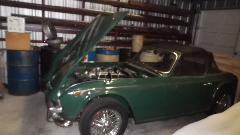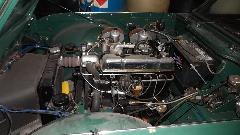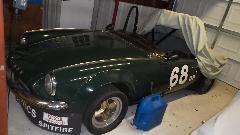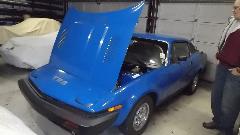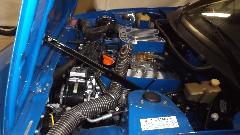 There was also a dingy MGB hiding in one corner awaiting restoration (but the picture didn't turn out). You might notice the Dave Hayden trademark, painting the valve covers body color. Kind of cute.
The Mini has a few tricks, including the wind-up key that turns when the car runs. There is another boot lid for it without the wind-up feature.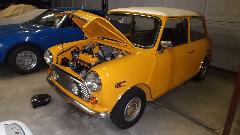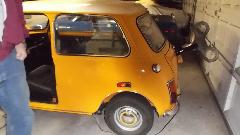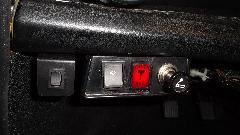 I found three Lotus. There is an early Europa with Renault engine, a late Europa with twin cam engine, and an Esprit Turbo. In the hanger I found a TR6 and a Datsun Z-type awaiting restoration.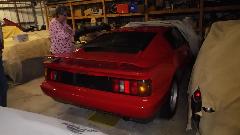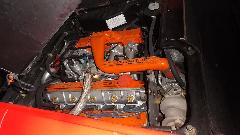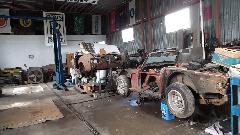 Friday, February 27, 2015:
Day off? Not quite. Lot of time contacting friends and clubs in Texas, making new appointments. Dinner was Chinese (not that it matters to anyone, but not much else to report today).

Saturday, February 28, 2015: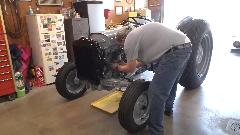 Today started off with quite a racket. The Ferguson is running. Fuel tight, water tight, mostly oil tight, noisy without an exhaust pipe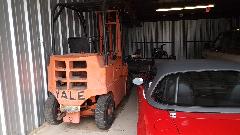 or muffler, but the Triumph engine runs well after a bit of tune up. Then a brief introduction to Yale the fork lift truck, nothing special, just old, but it works okay and it is keeping company with a Miata. Sheesh. Everywhere I turn, more cars here.

And the TR8 was running (barely). It ran like crap (really bad) after sitting too long, blame it on stale fuel. Quick trip to fill it up with fresh gas and it ran much better. Then we were off for an afternoon cruise to run with some more little British cars. First to meet up was this TR6, running quite well but exhibiting a rather loud tapping noise from somewhere in the valve train (which it has been doing for a long time with no ill effects).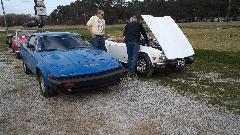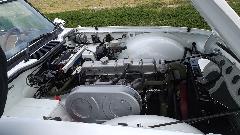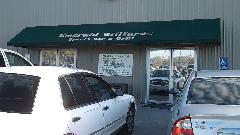 The meeting place was Emerald Billiards Sports Bar & Grill. I dunno about the Grill, but they definitely had a bar (a big one) and two dozen pool tables (for the "sports" part). There are "Rules" posted on the front wall, but only the first one counts. After a while more British cars showed up (and one Datsun 240Z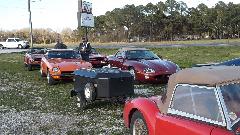 and one Mustang), I think eight cars in all. Photo at right is what's left of a sugar cane field after harvest.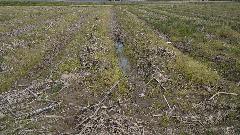 And we were off for a joint cruise. Perhaps the roads didn't matter as much as just having the cars out for some fresh air. After collecting in one place we landed in a Mexican restaurant for dinner.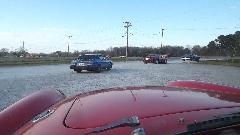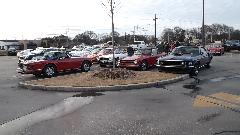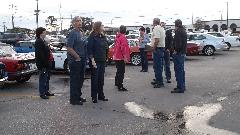 After dinner there was this jolly sport of pushing a TR6 back and forth while it wouldn't start. A jumper pack didn't work either. Finally large gauge jumper cables from the Mustang got it going (barely).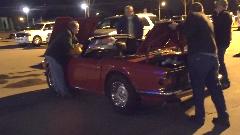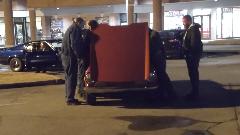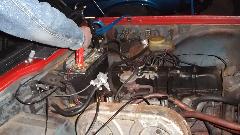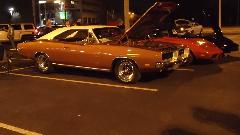 Then we cruised over to another local diner where there was a cruise night going on. Here we found a Charger and a nice GTO (among other things), but what do you suppose we were all looking at? A little Ford Pinto, and I hadn't seen one in about ten years (for good reason, generally speaking). What's so special? Just a stroker V8 and a massive set of hardware underneath. Apparently it turns 10.8 in the quarter.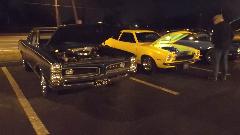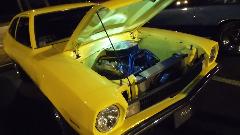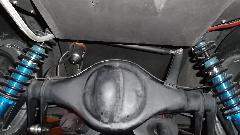 And then there was this Crosley convertible coupe. Amazing how the odd little Curmudgeons draw attention.