The MGA With An Attitude


MGA Guru Is GOING MOBILE - (March 16, 2015 - March 31, 2015)


Monday, March 16, 2015: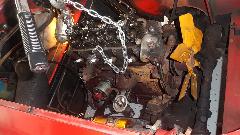 Reinstalled engine. Wired up the broken exhaust manifold to hold together until I can get a replacement part. Fresh coolant, engine oil, filter, and of course gearbox oil. Running again by late afternoon. Neighbor took a liking to the car and insisted on washing it, having fun with his pressure washer. This may be an historic moment, as the car hadn't been washed since the noise was repainted in late June (except for lots of rain). Good opportunity here, so I got him to pressure wash the old gearbox before tossing it in the trailer.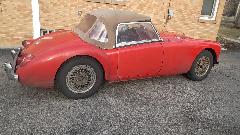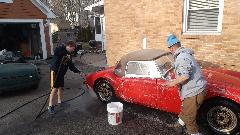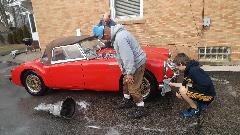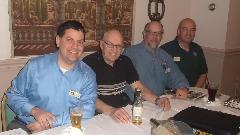 Off to the "local" Chicagoland MG Club membership meeting to hobnob with some folks I haven't seen in 11 months, and to present my Webmaster's Report in person (for a change). John Twist of University Motors Ltd was the guest speaker, having been at the swap meet the day before, and being a long term member of this club. He had some jolly good stories about the good old days, how he got started in business, and memories of the early days of our club. After a short break I was called upon for a review of what we have been up to since hitting the road last May, and I suppose it was a big hit. After the club meeting back to Victor's place for the night, expecting to do some electrical work on his MGB next day.

Tuesday, March 17, 2015:
Well, it didn't happen, no work done on Vic's MGB. He had to work half a day, I was updating the club web pages, then we were discussing club activities and management issues, and Penny had some appointment, and it was dinner time, and then it was late. Time flies when you're having fun. One tentative appointment for today fell through, so I got a lot of web work done, mostly caught up (except I didn't post the swap meet pictures yet), and I think I'm catching up on sleep for a change.

Wednesday, March 18, 2015:
Better beginning today, earlier start, breakfast to go with WiFi. Then we have an appointment, so high tail it to Downers Grove (Illinois if you forgot) to visit Bob Ligmanowski who has recently acquire a 1960 MGA project car to go with his 1977 MGB daily driver car. But I think he likes my MGA. This is one of those "Let me touch it before you see mine" moments. Then we poke his MGB a few times before venturing into the garage.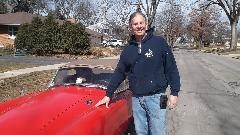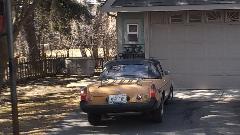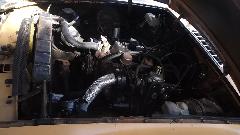 Inside we find the MGA, looking pretty decent at first glance. It appears to be a fairly complete car, engine and gearbox on the floor, a pair of seats with fresh tan leather covers, and a complete dash assembly on the shelf. Color was originally light blue, then painted dark metallic green on the outside, and black under the bonnet. On closer inspection the common issues begin to show. Fingers poked behind those nice looking rocker panels reveal lots of Illinois air back there. Much of the (rusty) boot floor was removed, and the spare part intended to replace it is partly Swiss cheese.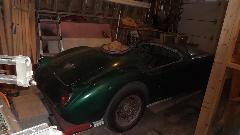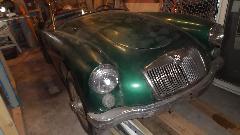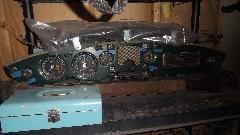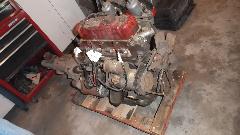 The engine and gearbox provided with the (1600) car are an odd mix. Looks like mid-1500 gearbox rear housing, late 1600 front housing, and a Magnette type top shifter. I'm thinking "not MGA", the engine block is "1500" type with no tachometer drive, the cylinder head is "15" with casting number 1H967 (correct for MGA), and the carburetors look like proper MGA parts. The engine number is 15AA-U-H-xxxx. I don't have this engine type listed, but I'm thinking early (1953) Austin saloon car.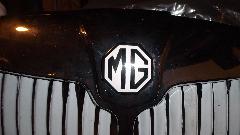 Then I spoted this new grille still in the plastic sleeve, but it doesn't seem to be heavy enough. Looking in back, the surround piece first appears to be a casting rather than a stamping, but that would be heavy, wouldn't it? Then I got it. This is one of the Tasker Metal Products grilles once made with injection molded plastic surround piece. Wow! A real piece of history here. I have never seen one of these in the flesh before. I thought they were all returned to the supplier decades ago for refund, and none were ever installed on the cars. But here's one that was never returned or installed. Would anyone like a new old stock super light special grille? Yeah, no, I thought not.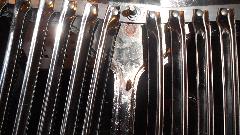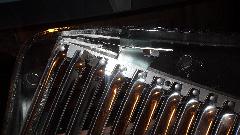 Then we toddled off with Bob for a late lunch before we all needed to get back to work. So off to WiFi for a short time, and a phone call to make, then to daughter's digs to return the PO Box key (as she won't get the new one for two weeks).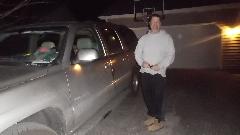 As dark was sneaking in on us we headed west (about 45 minutes) to acquire a good used exhaust manifold from Jason Klemm in Yorkville. He has plenty of them, and good prices so I got two (one to install and one for spare). Then we headed north for an hour, back to Crystal Lake (to take up where we left off).

Thursday, March 19, 2015: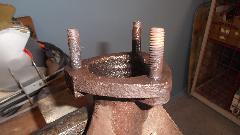 Okay, get cracking to install one of the exhaust manifolds I bought last night. Two studs with rusted threads, one stud with incorrect coarse threads, penetrating oil doesn't work, so apply heat and remove the studs with ViceGrips and muscle and courage and patience.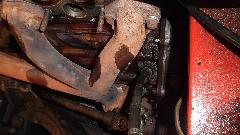 A quick shot of the twisted wire I had holding the broken manifold together for the past few days.

Off with the old and on with the new (not broken) one (including a quick trip to NAPA to pick up new bolts). Got the carburetors back on, and it purrs like a kitten, nice and quiet up front now.

Then we got Vic's MGB into the shop for some minor tinkering. Front carb running too rich, rear carb running too lean, throttle rocker shaft and cable so far out of adjustment that pedal to the metal only gives half throttle. Fixed all that, followed by a test drive, and now pedal down will rock your socks. Tappet cover breather pipe is not connected, so there is no crankcase ventilation (and oil all over the engine). Short discussion follows on how to install the PCV valve, all that's needed is a pipe thread hose connector and a couple feet of hose.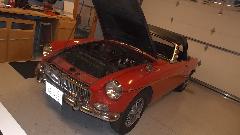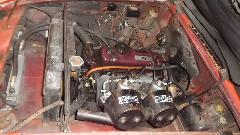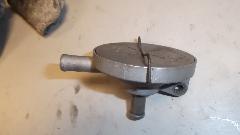 Then investigating odd behavior of the MGB turn signals and non-working horn. Apparently all of the turn signal problems are in the column switch, so need to order one of those. Horn circuit works all the way up to the column snap connector, so the grounding contact issue in also at top of the steering column. That will be tackled once the new turn switch is available for installation.

About dark time and dinner time, so day is done, lock up the garage and eat. Evening chat leads to time gone and late night turn in while guru gets busy for a few more hours with the WiFi chores.

Friday, March 20, 2015: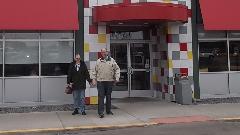 Finally got the swap meet pictures uploaded to the club web site. Then took our good friends and hosts Vic and Penny out for a casual lunch and chat before bidding them adieu. Then we drove from Crystal Lake to Romeoville to put the used gearbox in my storage locker, swap some tools, retrieve the ice chest. After a bit of WiFi time, we intend to spend the evening with daughters and friends before heading south for serious. Hard to believe we have been hanging around here for a whole week, but at least the weather has been decent. Story is it will be turning colder and snowing by Sunday so we intend to be long gone by then.

Saturday, March 21, 2015:
So after 1-am we pushed on down I-55, loading fuel in Lincoln, Illinois, ultimately stopping a half hour short of St Louis to get some sleep while there was still a bit of dark remaining. Late morning rising, a quick check of email, and move on. Next pause was Rolla, Missouri for fuel, lunch email check, and some (too much) time to compose my monthly travel report for the CMGC newsletter with photos, and then move on. Next stop late night was Joplin, MO, contemplating a short diversion through southeast Kansas to avoid Oklahoma toll road on our way to Dallas. Sort of curious if there may be something to do on our way through Oklahoma, so check our "Friends" list. Turned out to be a couple of friends we were almost tripping over on our way through, so we sent a couple of emails before catching some sleep.

Sunday, March 22, 2015:
Up a bit earlier today, time to be making plans and contacts for our return to Texas, so spending some time with pins in the map and a bit longer term route planning. Bingo, a couple of replies, and we have two appointments in Oklahoma, today and tomorrow. Top up fuel, and move on, not into Kansas but south this time.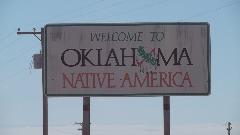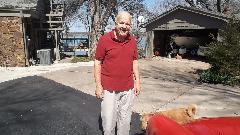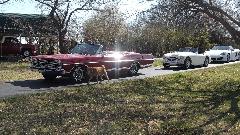 Next stop was Grove, Oklahoma, to visit Bill Miller, who we met on the east coast of Florida back in January. He has a very nice MGA (original owner no less), and a Morris Mini truck that appears to be a show stopper. Apparently Bill called the out militia, and other friends were arriving in short order. Soon there were a few more Brit car enthusiasts to greet the guru, and we notice a Ford Galaxie 500 and a MK-I Healey 3000 in the drive.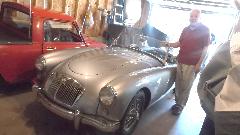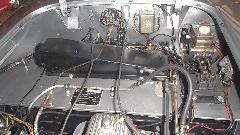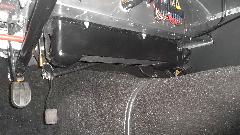 The MGA has a few custom touches, like deleted cowl vents, mechanical throttle linkage (no cable), larger heater core nested in the shelf, larger Healey type air bower in the inner fender. The Morris truck has a Mini Denso alternator tucked into the tinniest space possible, dual carburetors, and racing seats?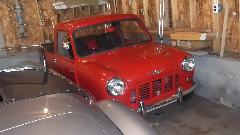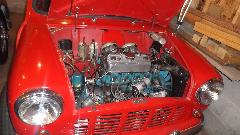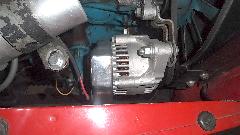 In too short time the friends have departed, but it's time for dinner, then late night chat. After the hosts have crashed for the night the guru is busy typing.

Monday, March 23, 2015: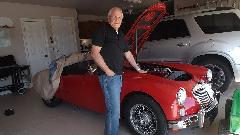 Today a visit with Frank Bice in Yukon, Oklahoma. He has a nice 1960 MGA 1600, an MG TF, and a late 70's MGB. The MGA starter switch is a difficult pull because the pull cable is too long with too many bends and therefore too much friction. Solution is to shorten the cable appropriately. The choke cable needs adjustment to shorten it a bit to eliminate some excess pretravel allowing more choke with less pull. Throttle cable is missing the return spring and the two-hoe clip to attach it to the trunnion.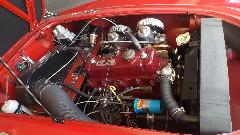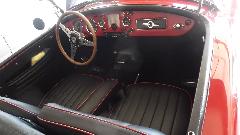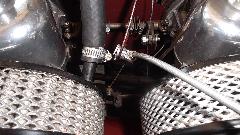 After a dinner run with a few more friends, we check out Frank's back yard workshop to visit his MG TF. It is a clean machine, needing some finishing touches. Also of course, a very nice workshop.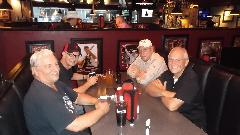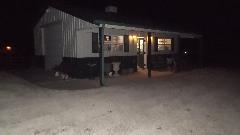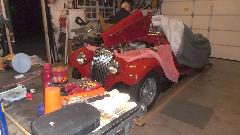 Tuesday, March 24, 2015:

Lunch at the airport with a couple more friends, and a visit to RPM (Restoration Parts Manufacturing) in a hanger at the airport. This business is owned by Dean Ritter and specializes in manufacturing rare parts and decals for the Jaguar V-12 engined cars.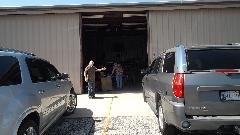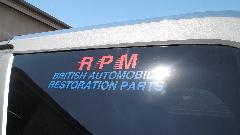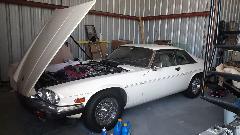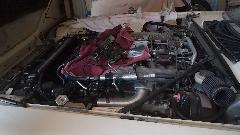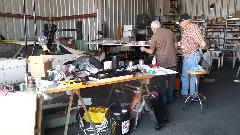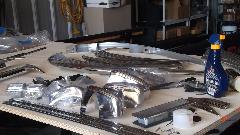 Then a short visit to a construction site to check out a new styrofoam building. Yes it is real. Only in America? Nothing to do with MGs, just curious. The walls are two layers of styrofoam with some thin plastic braces in between. It appears the braces may be arranged to carry service cables inside the walls.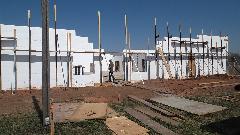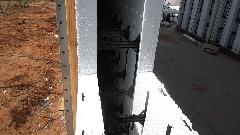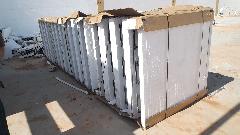 The construction blocks are about four feet square with castellated fingers on top and bottom edges. They appear to be held together by gravity only. The walls are braced temporarily on the outside to keep them straight during construction. Door and window openings are cut out after the walls are erected. The angled top edge of the end walls is also cut after the walls are erected.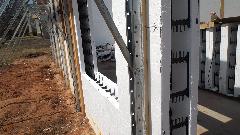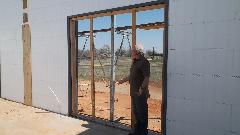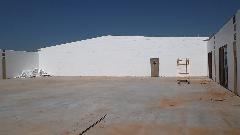 The floor is a concrete slab, and the walls sit flush with the outer edge of the slab. Plastic pipes embedded in the floor appear to be there for hot water heating (or possibly cooling). We found one pressure gauge indicating some of teh plumbing was undergoing a pressure or leak test. Someone is speculating that they may pour concrete inside the walls to make a structural concrete wall with styrofoam insulatin on both sides. It seems reasonable, but I don't know and will have to check on this later as construction may progress.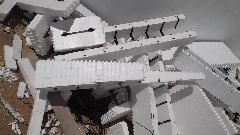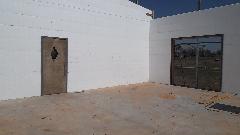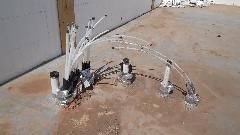 Back to Frank Bice to do some work in his MGA. Checking out the non-functional fuel gauge, the gauge works fine but the sender unit is in the wrong resistance range so the gauge always reads Full. Need to change the sender unit. In the process of removing half the fuel from the tank for testing, we notice continuous bubbles in the fuel line, implying a leak in the line between tank and pump, or the pipe inside the tank. We also did a bit of work on his new turn signal switch to get it to time out properly.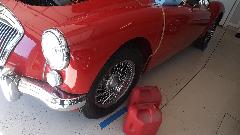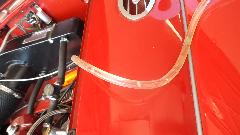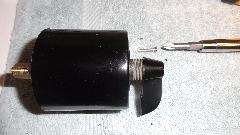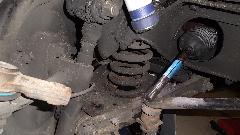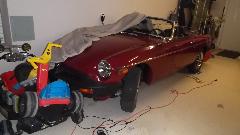 In the evening I finally seize the opportunity to change the ruptured gaiter on my steering rack and put oil in the rack. Finally a peak at Frank's MGB which has been hiding under a cover in the same garage.

Wednesday, March 25, 2015:
Heading south, today we stopped to visit KIP Motor Company in Dallas, Texas. I have previously purchased a few small parts here, notable some clutch parts for Nash Metropolitan (which are same as MGA parts). I have a web link to this supplier and have recommended them to other people. Today I find out just how diversified this place is, dealing in all sorts of British "orphan" cars, and the more rare the better.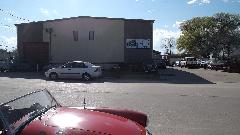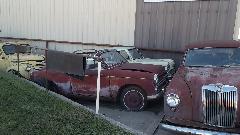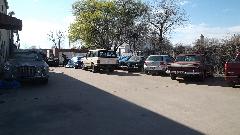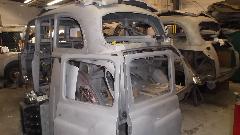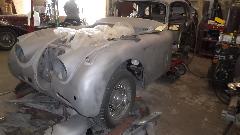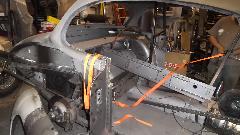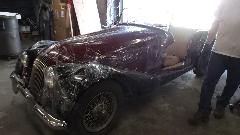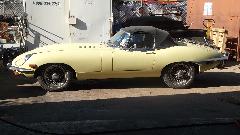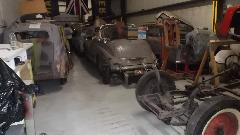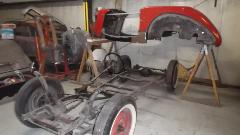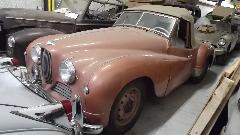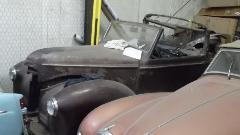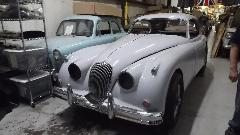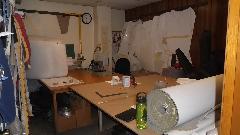 On the right the sewing room. Much of what is done here will be one of a kind reconstructions. Below, hand finishing of recovered parts and custom cast parts destined to be chrome plated.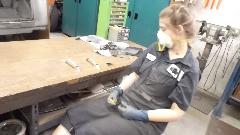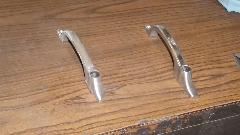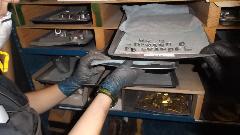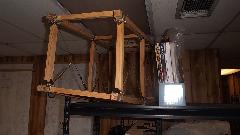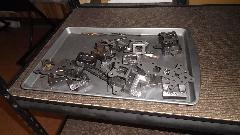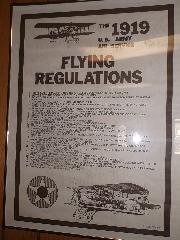 Kip also deals in vintage airplane parts and restorations. Here we see the "design office" (drawing room), a replacement tail boom for a Sopworth Camel, a tray of recently manufactured parts for same, a large wall full of original factory manuals, a smaller wall full of after market manuals, and just for fun, vintage flying regulations.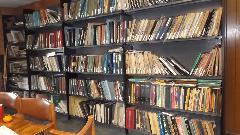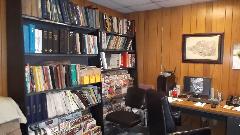 Thursday, March 26, 2015:
Today we visited The Bug Clinic in Bryan, Texas. Start with a 2004 Corvette, covered by a 1958 Ford truck body.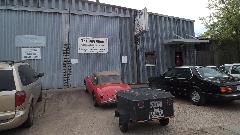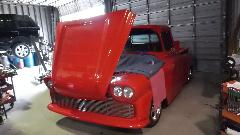 Another Corvette (yes you can blink), a TR3, and a slightly tricked out Porsche 944.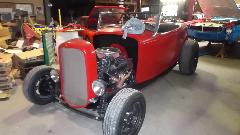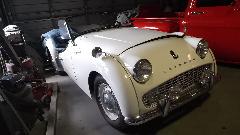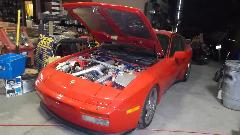 One of two AMC Javelin factory built for racing, and a first generation Mazda RX7.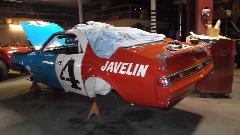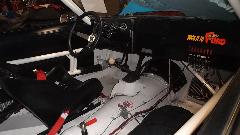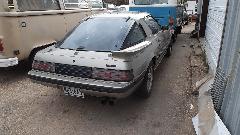 MGA 1600 with Weber carburetor, built to be reliable as a daily driver, and one very fast Honda.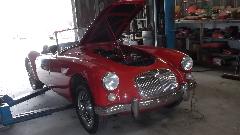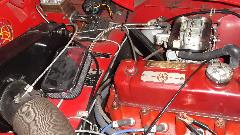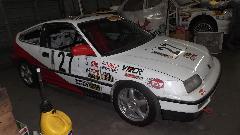 And then a rash of what this place was named for, lots of V-Dub Bugs.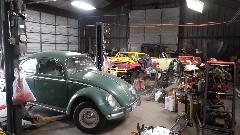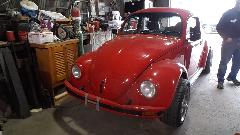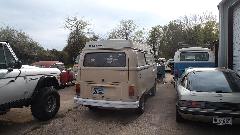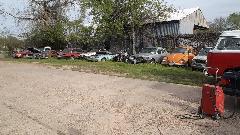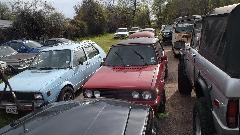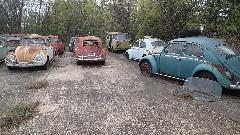 The green one is electrifying, about 70-mph cruise speed (for 40 to 50 miles).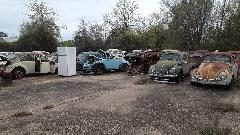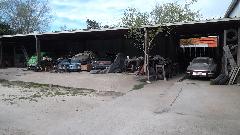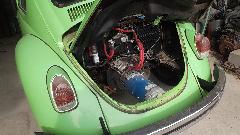 A fast BMW, and what is destined to be a much faster Porsche 914 with a V8 engine.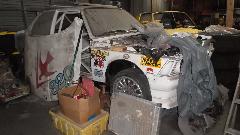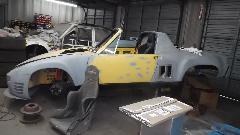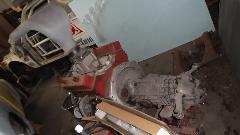 in the evening, dinner with Brazos British Motorcar Registry at Coco Loco Mexican Restaurant, Bryan, Texas.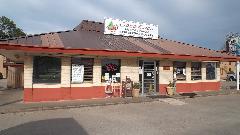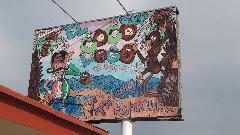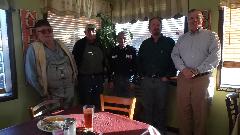 After a short WiFi stint we headed west, thinking we might make it half way to Abilene before resting. Filled the fuel tank before departure, taking the short route via Texas 36, we found lots of 70-75 mph speed limits on 2-lane highways. At such speed the fuel consumption is barely 20+ mpg, there are few open businesses after 11 pm, and we ended up driving through to Abilene before 2 am. Nearly running on fumes on arival we put 12.5 gallons of fuel in the 12 gallon tank. Credit the success to some accurate reading of the fuel gauge and some conservative driving near the end of the run.

Friday, March 27, 2015: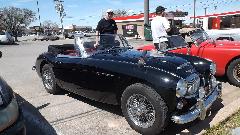 Today Bill Beecher of Abilene, Texas catches up with us. He is driving a nice Austin Healey 3000 borrowed from a friend for the purpose of giving the car some regular exercise. We soon toddle over to Central Texas Tool Company, possibly the oldest machine shop in the state, dating from 1919, in the same family for four generations. Much of the machinery in this shop is driven by the time proven method of single engine (electric motor in this case) and flat belt drives.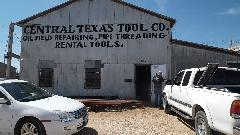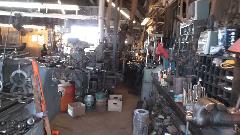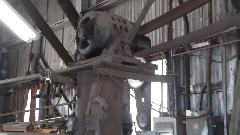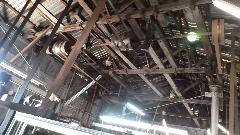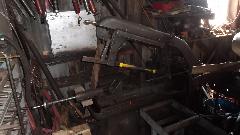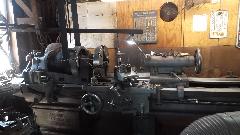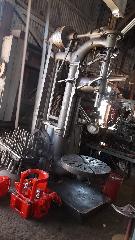 Some of the machinery being belt driven would be the cut-off saw, lathe, bigger lathe, shaper, and drill press.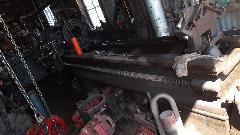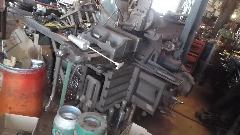 But the real reason for being here is to meet a few of the die hard members of Big Country British Car Owners who congregate here almost on a daily basis, and the collection of British cars to be found hiding behind the shop.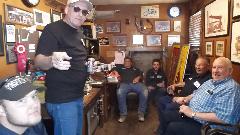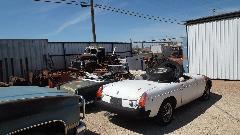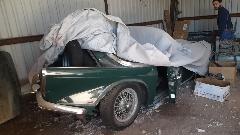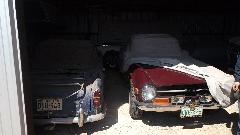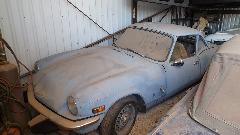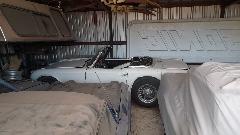 Then we cruise around a bit to visit Bill Beecher's TR3 body in process at a local paint shop, Blascyk Body & Paint, and a Morgan chassis in process at another mechanical shop, Phoenix Collision Specialists. Finally we get to Bill's place where he keeps the Healey in safe harbor along with the chassis of his TR3.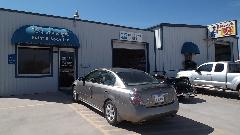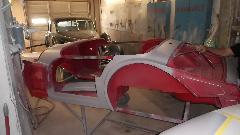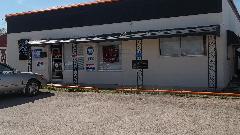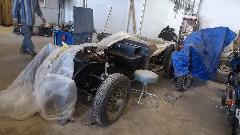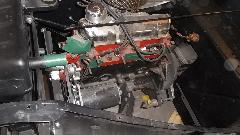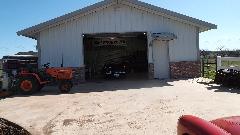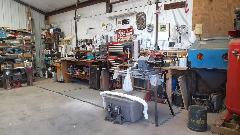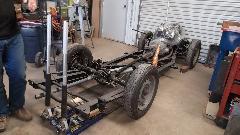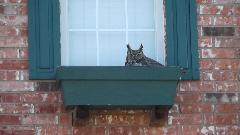 Still another visit today to another enthusiasts private collection in rural Abilene. I counted 14 motorcycles here, I think 13 residents and one visitor.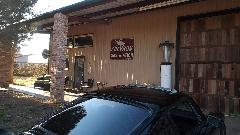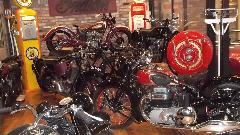 Then on to the cars, beginning with the daily driver Porsche 911. In the left row, a Bugeye Sprite, AH 3000, a late Porsche 356 pace car, two Formula Junior, an early Porsche 356 Coupe, another big Healey, a couple of Morgans.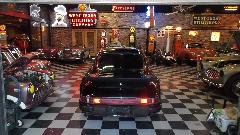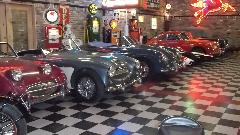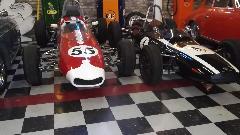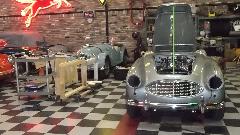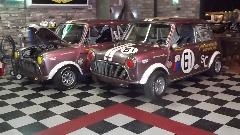 Left an AH 3000 "bitsa" car with early 2-seat body and late BJ8 running gear. Right two racing Mini with a heritage history.
The bugeye Sprite was begging for a drive in the morning but was not running well. We pushed it outside to tinker. It was running very lean on both carbs, so I gave it a carburetor adjustment, then purring like a kitten. Could not reduce idle speed, possibly due to misaligned butterfly valve. And it was leaking fuel from bottom of float chambers, so I pulled a set of Viton grommets out of my magic trailer, and all was well with the world.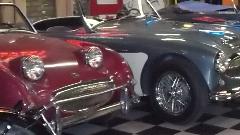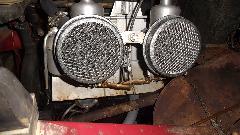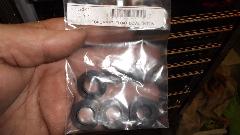 Saturday, March 28, 2015:
Today we had a breakfast meeting with the Big Country British Car Owners at Hastings Hardback Cafe in Abilene. There were about 15 people including several wives (somewhat unusual for a car group). With the wonderfully warm weather there were at least ten British cars on hand. We collected a couple of new club T-shirts here. That green E-type has a stable mate with a bit of a mechanical problem, so we were followed it home.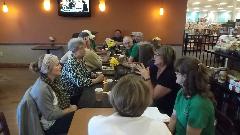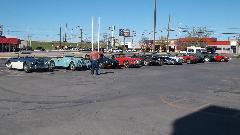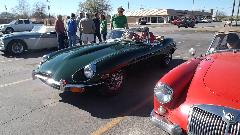 This was one of our shorter commutes, about a mile around the block. The stable mate was a 1947 Ford Coupe with flat head V8 engine, owned by Paul Lenker. The problem was a flexible rubber connector in the choke and throttle linkages, having deteriorated with one broken.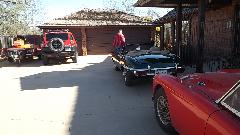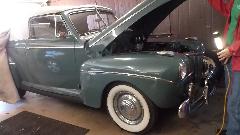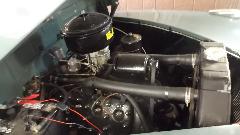 The rubber connectors needed to be replaced, but they are crimped onto the steel connecting shafts. Solution will be to split the connector hubs with a Dremel tool and thin abrasive cut-off wheel for removal, then attach the replacement connectors with JB weld. The owner will decide if the cosmetic crimp grooves are worth the effort for concours originality.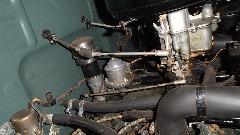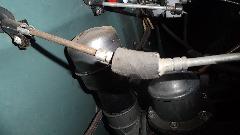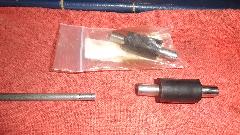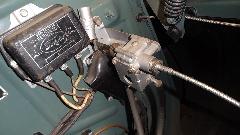 This car has a two-speed rear axle, a nice dealer installed accessory (never factory installed) providing an overdrive gear ratio for highway cruising. Along with a vacuum operated shift for the final drive comes a vacuum operate shift for the speedometer cable to make the speedometer and odometer read correctly when it shifts into overdrive. Our little British Cars might take a lesson from this vintage American.

Then we took a run from Abilene to Dallas on the expressways, finding this nice 1953 Ford along the way.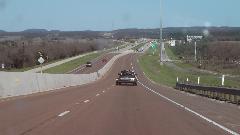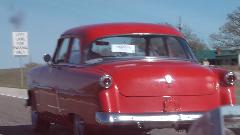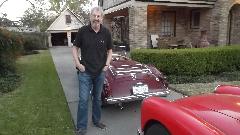 In Dallas we stopped for a visit with Andrew Kueny who has a very nice MGA 1600 (with the wrong cover on the master cylinder), an MGB and a late model Mini. We were out for dinner and extended chat before turning in for the night.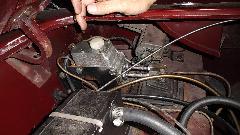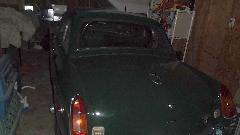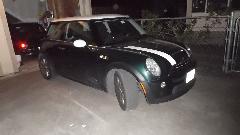 Sunday, March 29, 2015:
Got to some work on Andrew's MGA in Dallas today. Test drive exhibits sluggish acceleration at low engine speed. Inspection reveals loose distributor not secured in the base clamp. We removed the distributor to pull the base clamp for straightening and filing for proper fit, then reassembly. Then a slight delay while I ran navigator out to Rowlett, TX for a card tournament (one hour round trip). On return we used a set-back timing light to set timing at 32d BTDC at 4000 rpm. Then found front carb running very rich and rear carb running lean (sputtering at idle and sluggish throttle response). After proper adjustment of the carbs it runs well and idles smooth. Tabulate one more happy MGA driver.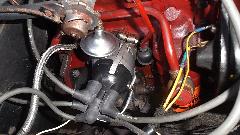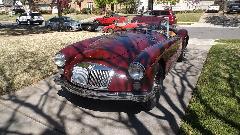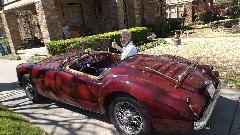 Casual inspection found some missing bumper bolts (no over riders), screen wipers parked on wrong side (needs reset of parking position of the wiper motor), ignition switch rotated out of position (bit of a mystery), broken heater control panel and seized or missing blower switch (need replacement parts), missing small bright trim ring for TS indicator lamp, missing bracket for fuel separator in the vacuum signal pipe carb to distributor. All cosmetic stuff that does not affect operation of the car.

When finished, I shuffled back to Rowlett to wait for navigator. Good news on that front, as he kicked a lot of tail and won the tournament. Having some limits to what he carries in the "motor home", he had borrowed a number of cards from other people. Being the nice bloke that he is, he collected his prizes and promptly gave them all to the folks who had lent him the cards. Well, truth be known, he just didn't want to carry to extra booty in the car, but it sounded like fun. Then we were heading south, but just a little ways, as we have some feelers to send out for future appointments, and a big backlog of web work.

Monday, March 30, 2015:
Nearly the entire day gone finishing up conversion of the CMGC newsletter to web pages and uploading to the club web site. Also caught up with email and BBS. Currently inquiring after a pair of front wheel bearing hubs for a disc wheel 1500, as at least one in my car has worn pilot diameter for the outer wheel bearing. Bummer, but such things happen with parts more than 50 year old in regular service.

Tuesday, March 31, 2015:
Today we drew a bead on Robert Wright in Conroe, TX. No phone number, but we had a street address, so we "dropped in". Robert was not home, but his niece referred us to another shop, Speed Fettish Performance (also in Conroe), but he wasn't there either. The shop owner tried Robert's cell number, got no answer, and figured he was flying today. So maybe we will try again tomorrow.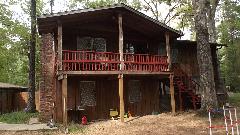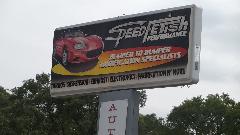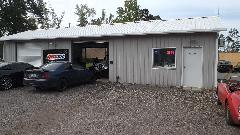 We noticed turn signals were not working, and maybe brake lights as well. Cursory inspection turned up a smashed trailer light connector. Nearest NAPA didn't have the right connector, but Advanced Auto did, so a bit of fiddling fixed that issue. Then tail lights worked, but still no turn signals or brake lights.

A few days ago we noticed the heater blower was not running. After poking around a bit it was going again, so I guessed it was just a loose bullet connector. Today the heater blower was duff again, and the turn signals (and brake lights) were also not working, so maybe a fuse problem. Fuse was okay. Duh? Test light time. White wires hot with ignition on. Green wire side of fuse was also hot. Second output screw terminal (green wires) on top of fuse block was dead. Huh? That's a new one, side screw hot while top screw is dead. That turned out to be a loose jumper bar between the two screw terminals. Never seen that problem before, but it was easy to fix by repositioning the wires and tightening the terminal screws. That got brake lights and turn signals working but still not the heater blower.

Test light shows good power and ground connections to the heater motor. Jumper wires for power and ground do not make the motor run. Bummer. A bit of knuckle buster fiddle to remove the motor from the heater box. Then power and ground jumpers had the motor running again. Say WHAT?!! This was not going back together until I could figure out what was ailing it, so I proceeded to take the motor apart for internal inspection. Worn out carbon brushes, and a broken wire on one of them. It figures. This is the one where I rewound the armature in January 1999, about 155,000 miles back. So bag it and tag it, and we will look for replacement brushes tomorrow.