The MGA With An Attitude


MGA Guru Is GOING MOBILE - (August 1, 2015 - August 15, 2015)


Saturday August 1, 2015
Heading north today, no appointments, not particular rush. So we go 10 miles west from Corvallis on US-20 and then take OR-223 north for 31 miles through Dallas, OR. Then we missed a turn and ended up on OR-99W for 13 miles passing through Amity, OR. The missed turn may have been fortuitous, as when entering Amity we found an MGB parked on the side. Couldn't resist, so we stopped to inquire, and we found this nice gent enjoying life under a shade tree. He has been driving an MGB for many years, lost the last one to an accident and acquired this one a few years ago. Converted from single Z-S carburetor to a Weber downdraft carb, it runs well. His biggest problem is mice liking to nest in the car and chew on the wiring if he parks it in the garage.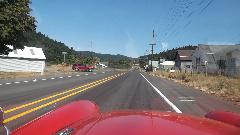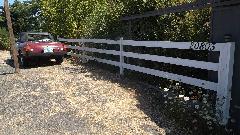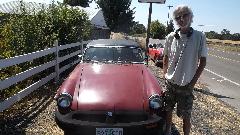 15 minutes later we take a lunch break in McMinnville to duck out of the sun for a while. I think we will just sit here (for planning) as we are close to tomorrow's appointment.

Sunday August 2, 2015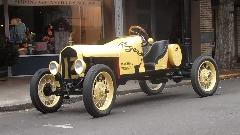 Five days behind in posting the photos and notes here, so I will try to be brief (meaning quick). Today we spotted this little jewel while heading out of McMinnville, Oregon. Looks to me like a Stutz Bearcat stripped down for racing, but I'm probably wrong, and it may be somewhat newer (less aged).

We were off to meet the Willamette MG Club folks for a rally. Meeting place was Maude Williamson Wayside on Wheatland Road north of Salem. Not given a street address, we spent hours on the internet to determine the true location. Also knowing how rally route instructions work (or don't work), we asked before starting where the ending point might be, got a vague note but no address for that either. But we were off to enjoy a nice drive in the country regardless.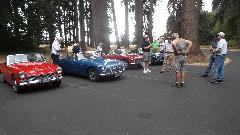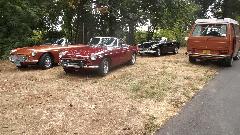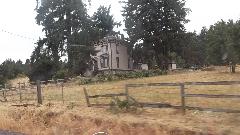 Plenty of nice roads in the mountains in western Oregon, a very pleasant place to drive. Too bad the rally questions kept demanding our attention. There was one error in the route instructions (perhaps a requirement of British car rallies) when we were instructed to "Bear right on route 223" (which turned out to be route 233).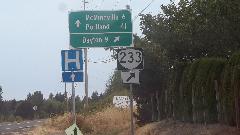 Then we missed a turn for the last instruction turning into the restaurant, just didn't see the place, so we added 25 miles to the rally route while we stopped into a WiFi spot to Google the place and find our way back. We know we missed one question, and we think we left blanks for the right questions that had no answer, and pretty sure we did not get any bonus points for ending questions. Initial guess had is we tied for 3rd place, after about 5 cars finished in 1st and 2nd places. Have to wait for the final results to be published later.

After a quick ice cream snack we were off to visit Gene Nunn (the rallymaster) to check out his personal collection of MGs. Today he was driving his VW Vanagon (with a Subaru engine) because his MGB wouldn't start (very dead old battery) and his MG TD and MGA were a bit trapped in the garage. Well, it was a short visit, as we all had other pressing things to do.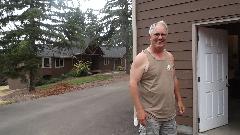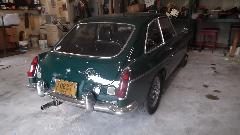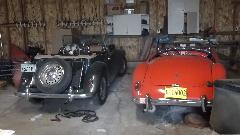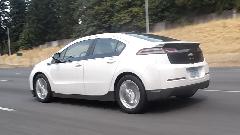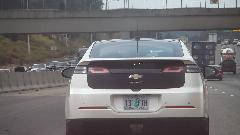 We were heading north for next day's appointment and ran upon this Chevy Volt on the expressway. They have a rather short all-electric operating range (about 40 miles), then use an engine generator to extend the range. Not often seen doing long distance on the expressway but perhaps it was close to home.

Monday August 3, 2015
By mid day were are back in Portland for some more work on Jae's (grandpa's) MGB. Now we discovered why the alternator was fried, and the electronic fuel pump seemed to prefer reverse polarity. The battery was backward with positive earth, installed the same way around that grandpa had done it (that figures). So we turned the new battery around for negative earth and rewired the fuel pump again, finally got the new alternator installed and working, and replaced a burned wire for the ignition lamp. Then we installed an original style valve cover (with sealed oil filler cap and rear vent pipe), unplugged the tappet cover vent, bought a PCV valve, some hose and hose fitting, some drills and pipe taps, and got a good start on connecting Positive Crankcase Ventilation and Fuel Vapor Recovery and Anti-Run-On functions. Not done yet, but it got late and we quit for the night.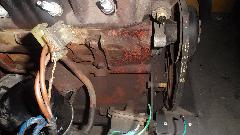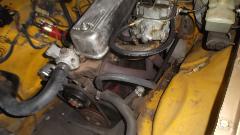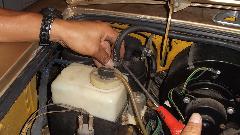 But the day was not done yet, and we headed north. Around 11-ish (yes, pm) we pulled in to visit Pat and Kenney Snyder in La Center, Washington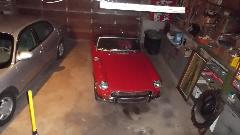 (and yes we were expected this late). I had a chance for a brief "hello" with Pat before she turned in, and an hour (or two) to chat with Kenney before it was appropriate for all of us to crash. I did get one serviceable picture of Kenney's regular driver MGB in the garage, a car with a story (like all good MGs should have). This is a special friend visit, as last time we met these folks we had to crash the gate at Portland International Raceway at midnight in June 1989. Déjà Vu.

Tuesday August 4, 2015
In the morning we got a few shots of some of Kenney's toys. We have an MGA Coupe nearing completion of restoration, an MGB GT hoping for more attention, some nice machinery that I always wished for but never had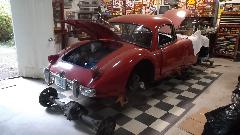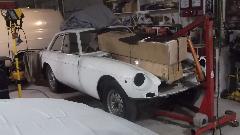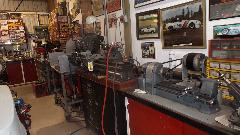 There was a fresh 1800 engine (that will need a shorter water pump and fan blade) for the MGA, and the driver MGB with a fancy paint job on the valve cover. Then finally I have a nice photo with our friends in the light of day. But then we had to bid farewell and run along, having a short run for our next venture.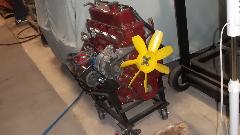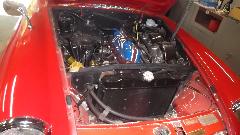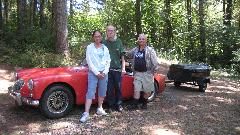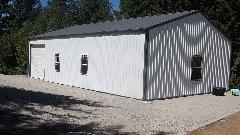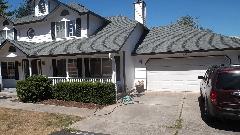 We were aiming for Keith Ansell at Foreign Parts Positively in Brush Prairie, WA. We think this is the house and shop, but we didn't have an appointment, and no one was here, so we will try to get back later.

Then we have a longer run, more than three hours up the expressway to Everett, Washington (north of Seattle).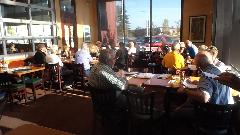 We are here at Bob's Burgers and Brew for an evening club meeting with MG Car Club NW Centre - North End (one of five divisions of this club). We haven't seen a club this geographically diverse since New Orleans. Tonight there were three dozen members and guests present. After dinner there was lots of business to cover in the meeting, followed by lots of tire kicking tech session with the MGs in the car park. Then we retired to the nearest WiFi spot to catch up some email and BBS work.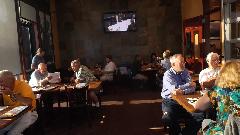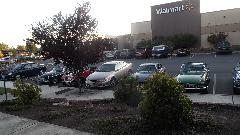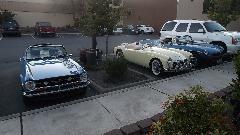 Wednesday August 5, 2015
Autosport Seattle, Seattle, Washington -- Brad Boswell, John Maloney (owner), Steve Homegar.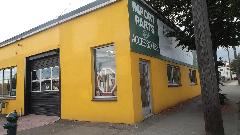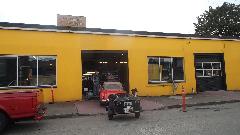 It is a jolly good engine shop. Ignore that TR thing on the lift (and the Mini under the cover), as that is not their normal line of work.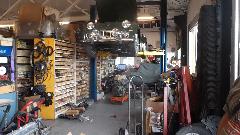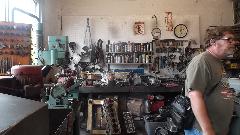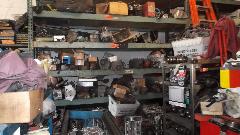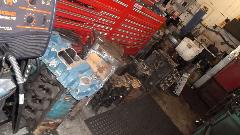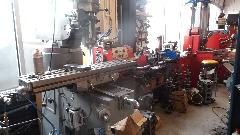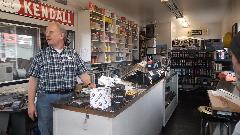 Then on to Britsport of Seattle. This is a full service restoration shop, hiding in the basement for decades. Lots of Jaguar things in here.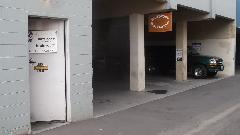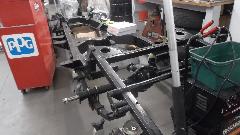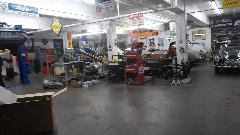 Plenty of MGA stuff too.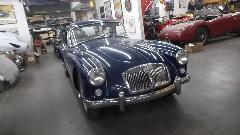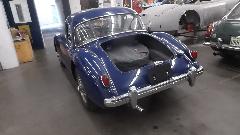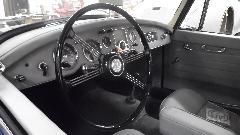 E-type and Twin Cam in paint booth. TR Spit, Big Healey, and a Vespa? That's a Mercury straight Eight.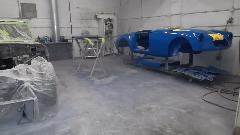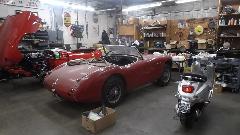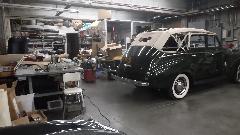 Another TR hiding behind it. And the Upholstery shop.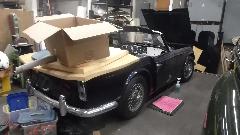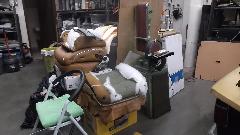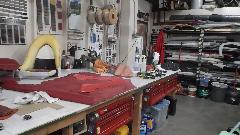 Thursday August 6, 2015
Dropped in today to visit Jim Stout in Shoreline, Washington. He has two MGA 1600-MK-II "Deluxe" roadsters (and yes they only made a few hundred of this model). We gave the red one a bit of a tune up (almost completely original), an did some bonnet latch adjustment on the blue one.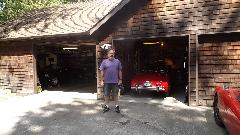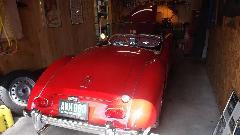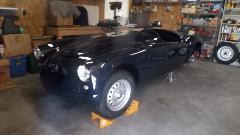 Purists may not like what he is doing with the blue one, Sebring style nose, custom front parking lamps and rear lamps, no bumpers, etc. With the two cars he has two original 1622 engines, one with original close ratio gearbox. The blue car currently has a 3-main bearing 1800 engine (New Old Stock source) with close ratio Ford T9 gearbox. An interesting historical note on "concours" originality: For the "DA" denoting close ratio gearbox stamped on the engine number plate, it is front stamped on one and reverse stamped on the other. Duh?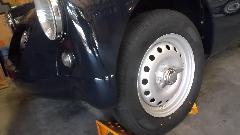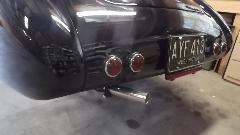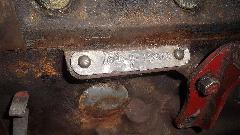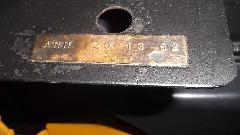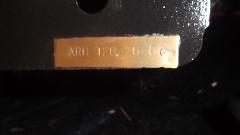 He also has at least two original cell core radiators with brass number plate spot welded to the steel fan guard, and a pair of original lower side trim strips (steel), and some original style special bolts for fastening those strips.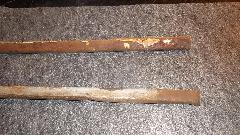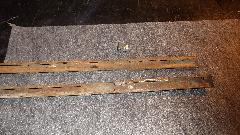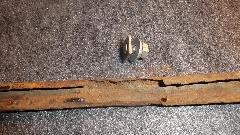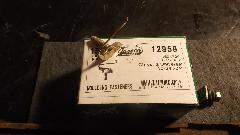 And (if that wasn't enough), he found a source for the snap-in spring-loaded fastener bolts that Moss Motors was supplying for many years but now claims are unavailable.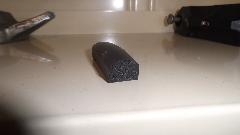 Au-ve-co Products 12959 (Chrysler 1624705.6010093). The last picture is a piece of the Todd Clarke (Clarke Spares And Restorations) rubber boot seal for MGA, nice soft rubber with crowned top, seems to work (but not as compliant as the MacGreggor hollow rubber seal).

Friday August 7, 2015
Today we are off to Whidbey Island, north of Seattle in Puget Sound. It is possible to get there via a bridge at the north end of the island, nearly 100 miles out of our way so we bit the bullet and paid the fare for a ferry (twice). First one was the Multikeo ferry. These boats are BIG. Three isles up the center hold up to 100 cars (and enough space for semi trucks). Two shorter isles on each side double decked can hold another 100 cars. This trip not quite 200, but including an articulated buss and a few trailers.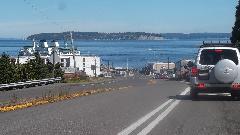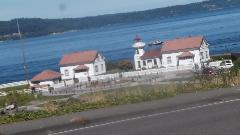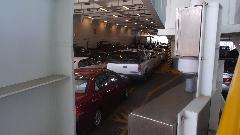 I was happy to find a standard vehicle length is under 22 feet, while my MGA with trailer is 21-1/2 feet. I was surprised to see how fast the ferry could travel, but was not able to find specifications for the machinery. Just off the ferry we stopped for lunch at Cozy's, apparently the oldest restaurant on the island. Left to right is myself, then Jim Stout (from day before) and friend Steve Poole, and Robin Bee who is a resident on the island and came to meet us for lunch.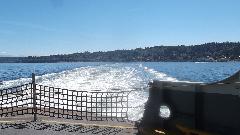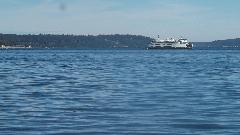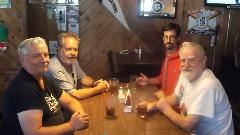 Just a few miles up the road we get to check out a few of Robin's toys, in particular a couple of vintage race cars. The nice lady is Robin's wife, very accommodating with creature comforts and WiFi codes (when I needed to make another ferry reservation).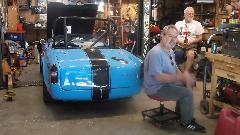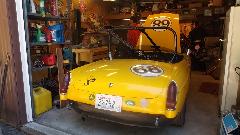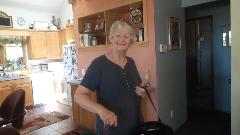 The Red car is a very nice split bumper 1974 MGB that had just found a new home, the other nice lady in the car being the new owner who just came to pick up the car.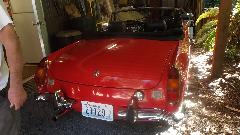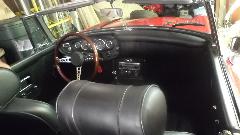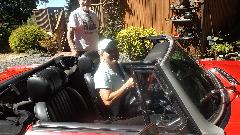 A bit later we have a demo ride (or two) in the MGB race car, and of course, we cool!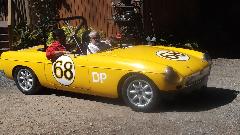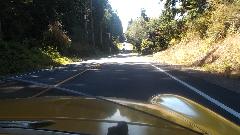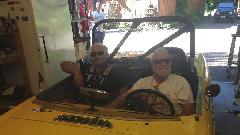 25 miles farther north we catch the 6:00 pm Coupeville to Port Townsend ferry (heading west). This time right up front in the breeze. View from the sun deck (three flights up) is wonderful.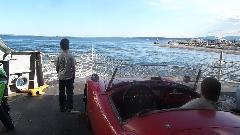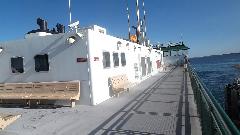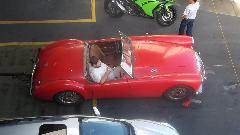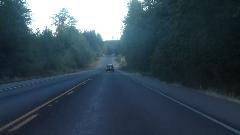 Off the ferry we were heading south on the west side of Puget Sound (still east of the Olympic Peninsula) for 70 miles. Destination was Gig Harbor, in preparation for next days appointment. After sitting on WiFi until 10-pm we drove 15 miles back north for another WiFi spot that was available until midnight. Being still a few days behind on documentation, we were desperate for more line time, and giving up sleep in the process.

Saturday August 8, 2015
Today, beginning at Gig Harbor, we have Kitsap Tour with MG Car Club NW Centre (west division, perhaps?). This was to be a 50 mile tour of Kitsap county, generally north of the Tacoma Narrows Bridge. After counting a dozen or so MGs and a Mini, I began noticing a number of non-British cars present. Apparently when you have a popular car club with an interesting driving event, lots of people like to play.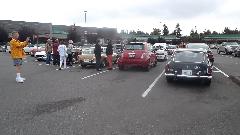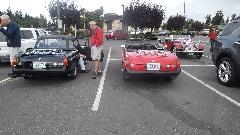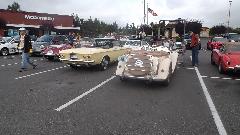 We found at least two Fiat 2000, two Fiat 500, two Chevrolet Corvair, a Lancia Beta and a Suzuki? What a motley crew. But it was destined to be a nice day and a fun tour regardless.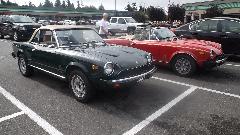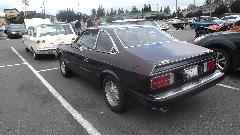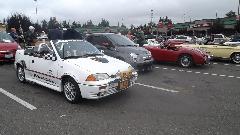 The orange 3-wheeler is a Polaris Slingshot, running a 2.4 Liter DOHC engine and 5-speed gearbox from the Pontiac Solstice. We have a tough time deciding if this is a car or a motorcycle.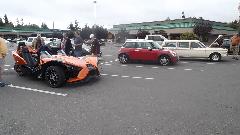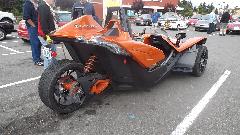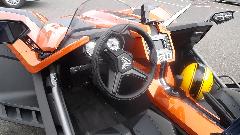 Early in a rally full of interesting roads we found a coupe interesting friends of nature (sort of).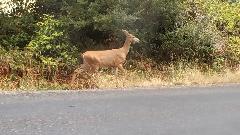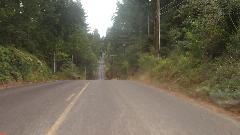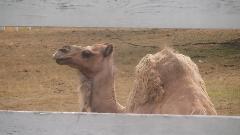 Following the bay at rally's end, .... Oh, come on, get a room! I suppose she was just happy the rally was over? We had about 30 people for lunch, not counting a number of cars that didn't finish at the restaurant in Allyn.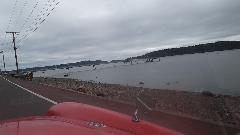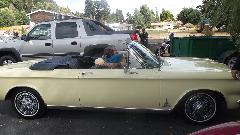 Across the street we found a novel wood carving shop with about a thousand sculptured friends of nature.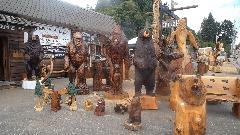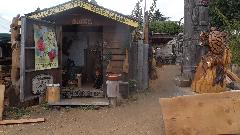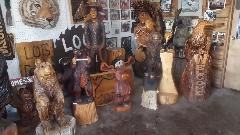 In the car park, an impromptu tech session on how to hide a power brake booster behind the MGA driver side splash panel.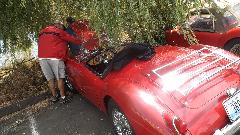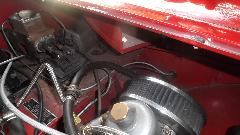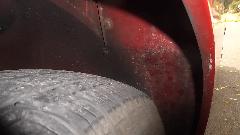 Also a bit of song and dance about the Corvair Monza Spider turbocharger, factory issue circa 1963. Then join the small convoy north, east, south, down to the Tacoma Narrows Bridge (where we get to pay $9 to drive about a mile). Between two ferries and one bridge we have paid about $40 in tolls in the past 30 hours. I keep forgetting, we gotta cut that out.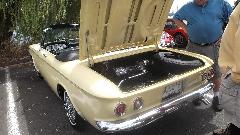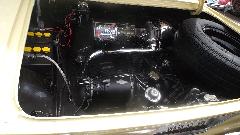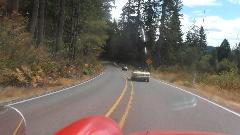 Load fuel, make a phone call to verify tomorrow's appointment, spend about 5 hours on WiFi to catch up with these photos and notes. And then around 9-pm, we get to drive nearly 300 miles east. Oh? Yup. Mostly I-90 in the dark, stopping about 15 miles west of Spokane around 2-am.

Sunday August 9, 2015
Today we have "Northwest British Classics – BritBull" car show in Millwood, Washington (siamesed with Spokane). This event is sponsored by Inland Empire MG Classics car club in Spokane. We popped in at 9-am to register, and we were definitely not the first to arrive. Let's see if I can count.
5 T-types, 6 MGA, 1 MGC, 5 MGB chrome bumper,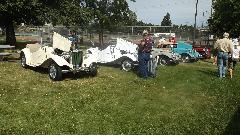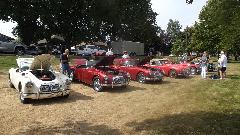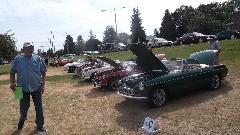 5 MGB rubber bumper, 7 cars in "Other Model" class, with a 2011 Lotus Evoro S with supercharged 3.7L engine,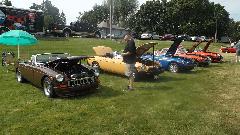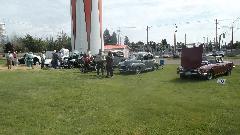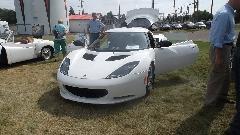 4 new Mini, 1 old Mini, 5-cars in Modified (mostly engine transplants) ,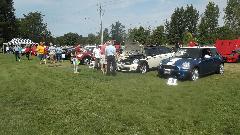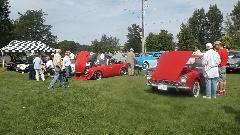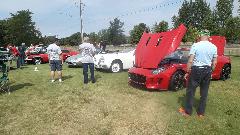 At least 10 Jaguar, several engine transplants,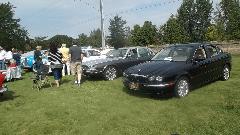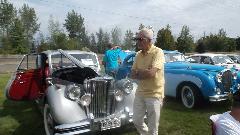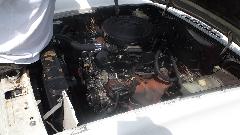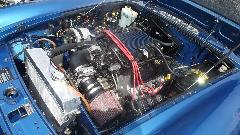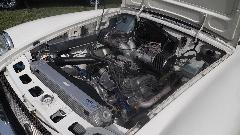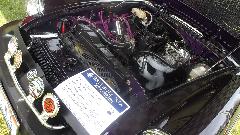 4 TR6, 3 Spitfire, 1 TR4, 1 TR-3, 4 AH 3000 roll-ups,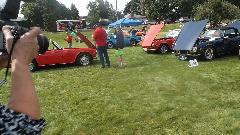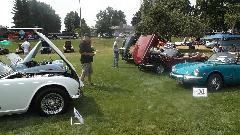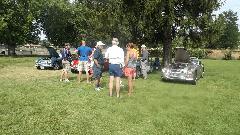 2 AH 3000 MK-I side curtain cars (sorry no AH 100), 1 Jag and 1 AH 3000 in Display Only class (premier)., about 70 cars in all. In the end, the MGA with an attitude received the Long Distance Award (again), and we made a few more appointments for later (mostly in Idaho or Montana, so maybe much later).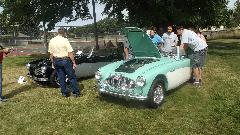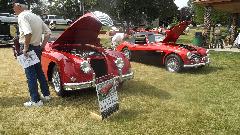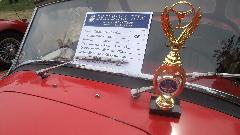 The show was over early (to avoid afternoon heat), so rather than kill a half day just to stay overnight we headed back west on US-2. We did find a few more friends along the way.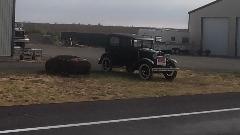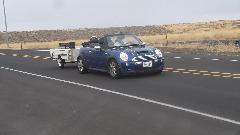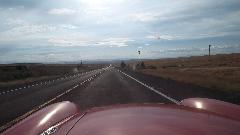 After 100+ miles of (sleepy) plains we got into the mountains for more fun, eventually dropping into the western Washington lakes and streams. Just as dusk was falling we landed back in the eastern suburbs of Seattle, having run 600 miles round trip in 24 hours for one car show. Yeah, but that's what we do to meet and greet friends of MG.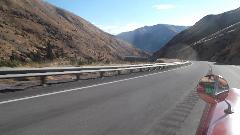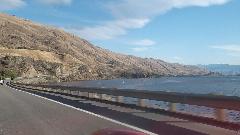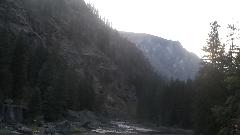 Monday August 10, 2015
Having returned to Seattle a day earlier than planned, this was an opportunity for a catch up day. Lots of photos (above), and some issues with the Chicago club we site. Pushing evening here, but not finished yet.

Tuesday August 11, 2015
More WiFI work most of the day, trying to post the CMGC newsletter on line, not finished yet. But we did get to a club meeting with MG Car Club NW Centre, East Side. Something like 27 people present, very friendly folks, and a lot of interest in what MGA guru is doing. One more night here, and we have to move south tomorrow.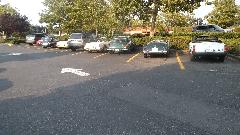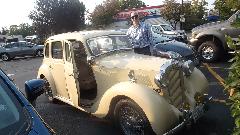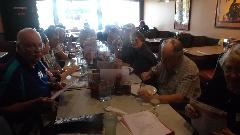 Wednesday August 12, 2015
More technical issues with the club web server, and a little more work on posting the club newsletter on line. Early afternoon we headed south from Sammamish, WA (East side of Seattle) to Orting, WA (southeast of Tacoma). We were stuffed pretty bad in rush hour traffic, turning a short trip into a long trip, but arrived eary evening. We were here to visit Marcus Topp who has an early 1959 MGA 1500 (high starter) in process of restoration. Chassis and body are repaired and painted, getting close to being mated again. The picture does not do justice to the color, as it is a very nice shade of metallic blue.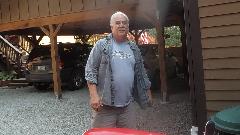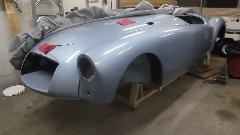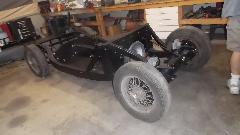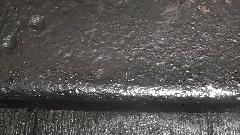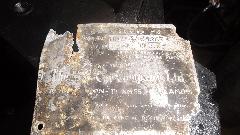 Having the Car No. plate in hand, we went searching for the chassis number on the frame, and we found it (even with overlying paint). Hard to read, but it is there, and it matches the Car Number. Now squint and read 65267.

Plenty for like minded MGA enthusiasts to chat about while the salmon was on the grille, and more chat through and after dinner. Late night was catching up some WiFi work, but dang, the newsletter is not finished yet.

Thursday August 13, 2015
Heading south again today, taking the scenic route (not the interstate). Passing through Elbe, Washington, we happened on a sort of vintage railroad museum. The train cars are being used as a "Hobo Inn" (hotel) with restaurant and bar. Not car stuff, but kind of fun.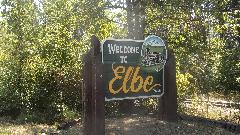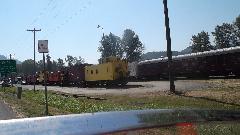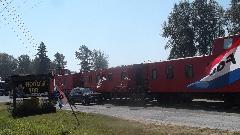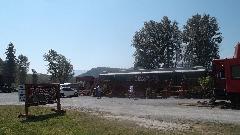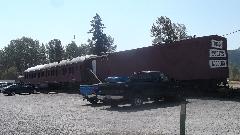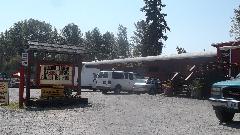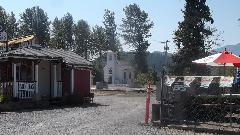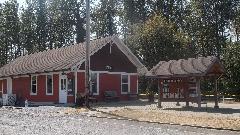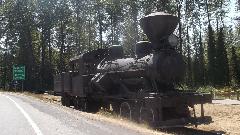 Continuing on, I received word of a serious technical problem with the Chicagoland MG Club web server. Arriving in Hillsboro, Oregon, I spent some WiFi time and calls to tech assist, trying to fix it, but not that quick or easy, so not fixed yet (but the web site is still on line).

In the evening we got to visit Larry Wheeler who has an MGA well long in restoration, and his neighbor who has a very nice MG TD. After chat and dinner and more chat all sensible souls turned in for the might. Then I was stuck solving the web server problem and posting these notes in the small hours of the morning.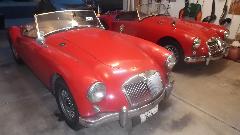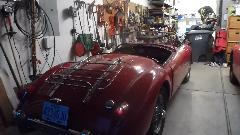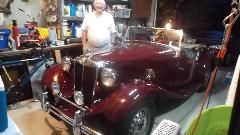 Friday August 14, 2015
Got a few hours sleep, finished posting the club newsletter on line, and caught up with bulletin boards and email, finally. Tonight we have a meeting in Portland with Columbia Gorge MG Club (previously Columbia Gorge MGA Club). Arriving a bit early (for a change), I got a picture of one MG Midget in front.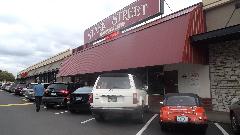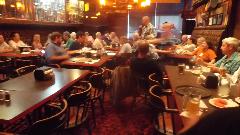 This is a lively bunch with lots of club activities to talk about. Getting out a bit late after the meeting, I found three more MGs in the lot, but no ideal how many I may have missed in between.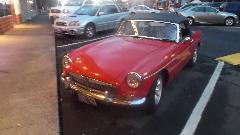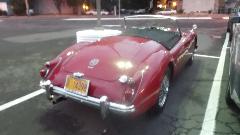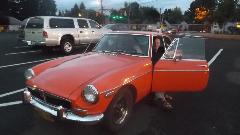 We chugged back to Larry Wheeler's place after the meeting, had another late night chat and caught up with the computer work earlier (at least before midnight). Oh by the way, my MGA developed an irritating ticking noise in 1st and reverse gears on the way back from the club meeting. Rats. Take it easy on 1st gear for a while, and maybe the gearbox will hold up until we get back to Illinois (in a few weeks) to get it fixed (again).

Saturday August 15, 2015
Maintenance day today. Start the day by installing a Speedy-Sleeve on the rear axle of Larry Wheeler's MGA. It was nearly trashed the first time when the plastic pipe being used as a driver punch slipped off center. But we managed to recover the sleeve, straighten the flange a bit, and get it reinstalled.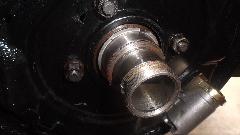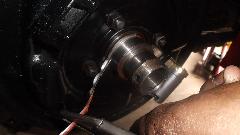 Most of the rest of the day was a maintenance day for the MGA with an attitude. Starting with engine oil and filter (4000 miles), lube job, gearbox oil change (12K-miles), differential oil change (12K-miles). Then R&R the radiator to replace the plastic fan that lost two blades back in northern California on July 16. Yes, we have been driving with the broken fan for a whole month, and it doesn't seem to have been much of a problem. I did find a little damage to the radiator core that appears to have been done by one of the plastic blades as it broke. Nothing terminal just some bent fins and one tube slightly scrubbed on the rear edge, not leaking.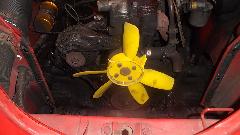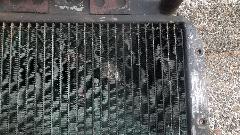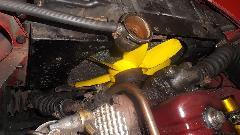 Next chore was to replace rear brake shoes. The prior set ran 160,000 miles until 60% worn and were replaced a few years ago. This set only 61,000 miles, perhaps 30% worn, but sitting on the last notch (19 clicks up) of the adjuster. It is so far out of range that the hand brake was dysfunctional. After installing the new shoes the adjuster went up 12 clicks to be adjusted properly, with new shoes and drums that have never been turned. I would say these are faulty brake shoes. The linings appear to be thick enough, so the steel frame of the shoe must be too short between end abutments. Left, old shoes sitting on 19 clicks. Center, old shoes left and new shoes right. Right, new shoes installed.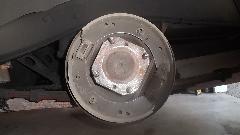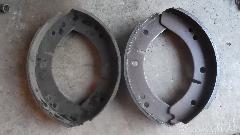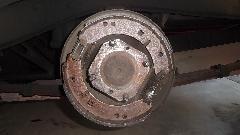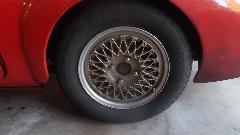 All is well for now, but I will need to install new rear shoes again in about 18 months due to the too-small shoes. I don't like throwing out good parts when only half used. I will have to ask around to see who supplies better brake shoes.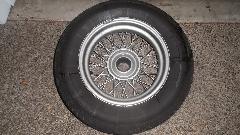 Later in the evening I talked Larry into a trip to Harbor Freight to buy a breaker bar and 1/2-to-3/4 socket adapter so we could finish tightening he octagonal nut and get his car back on the road for a test drive. The last picture is his wire wheel in need of cleaning the gear oil off before it goes back on the car.


Incidentally, as part of maintenance day this was also laundry day (to give navigator something to do). And then late night was not just for photos and notes, but also planning for future activities.