The MGA With An Attitude


MGA Guru Is GOING MOBILE - (October 1, 2015 - October 15, 2015)


Thursday October 1, 2015
From McCook, Nebraska we ran 15 miles south on US-83 and crossed into Kansas, then heading east on US-36 and US-24. Two hours on we couldn't resist a little tour of this town in our name sake. It started well enough with the typical grain elevator. The green sign in lower left of that picture says "Business District" pointing left. Turning left we weren't sure about being in the right place, all gravel side streets.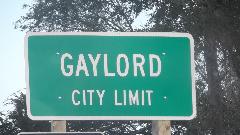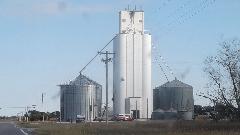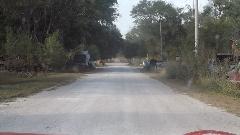 Main street didn't look very promising. There were a couple of viable churches.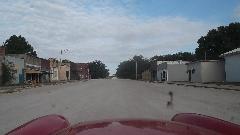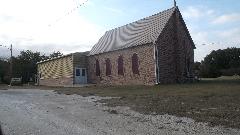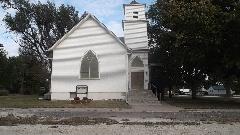 Some happy homes (in the minority perhaps), a civic center, a post office, and a small library with some books (didn't know if it was ever open, and no picture).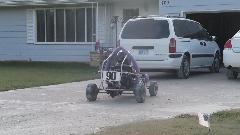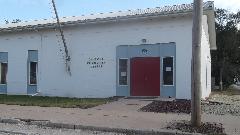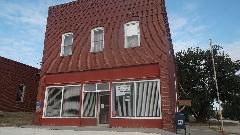 At least one going business, a good old fashion service station with one gas pump. "Trust Worthy Home Center" perhaps was no more, and we think the last picture used to be a school (a very long time ago). A bit disappointing. Maybe we could have been happier if we hadn't taken this tour.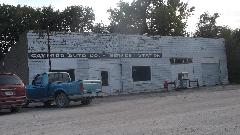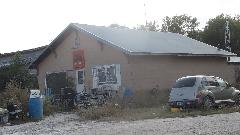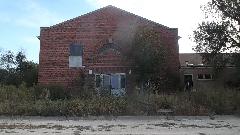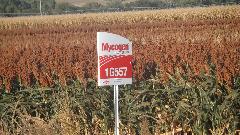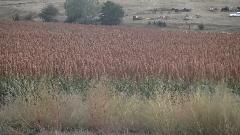 For production crops in Nevada and Kansas, in addition to corn and cattle and hay and wheat and straw and soybeans and sunflowers, we can add Sorghum, and lots of it.

By 8-pm we had landed in Salina, Kansas, here to visit Steven Stockham and his 1958 MGA..Good timing, fresh out of the paint and assembly shop just today. It runs well but has a few teething problems (like a sticky starter pull cable). For tonight it was off for a late dinner and chat (very good pizza), and we will take this up again tomorrow.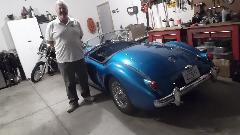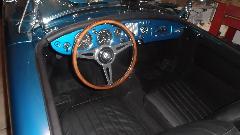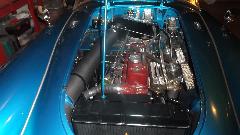 Friday October 2, 2015
Mid day today we hooked up with Steven Stockham again for a visit to Paints Unlimited in Salina, Kansas. This is where Steven's MGA had its bodywork and paint done, and they have done a few MGA by now.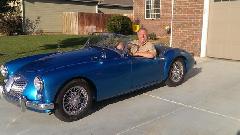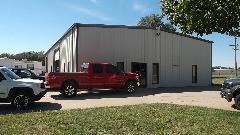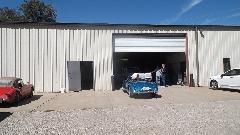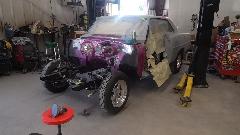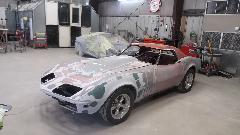 A sample of other things currently in their shop. You can see they like vintage cars, not just a collision repair place.
In the evening (2nd shift), we visited Arrow Printing in Salina, perhaps not what it sounds like. There is printing done here, but the building next door holds several vehicles undergoing restoration. The first is a nice MGA 1500 Coupe in fresh paint and final assembly. The grille is original factory issue (selected as the best of several on hand), with the characteristic wide air spaces and stiff slats that will not cut your fingers. The door pull handles are very nice chrome, and we spent some time looking for part number and sources for the packing pad.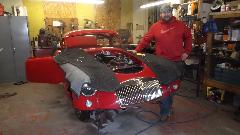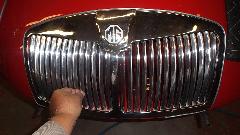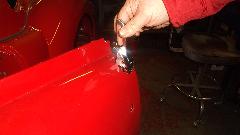 The cockpit is lined with sound deadening sheet, most of the carpet is in, seats are done, dash is finished. Most things unique to the Coupe are still ahead, assembly of the doors, headliner, front and rear windscreens. In the back corner an MGA race car is patiently awaiting its turn for restoration (but maybe a Mustang comes first).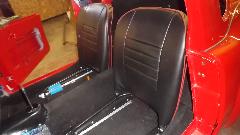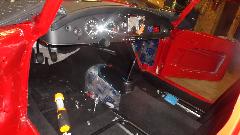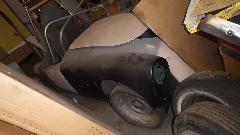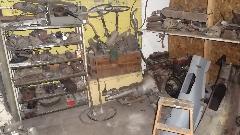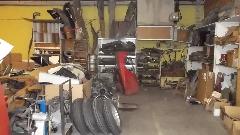 We think there may be enough parts here to build a couple more MGA. Two MGB appear to be finished and awaiting new homes.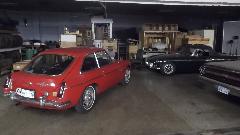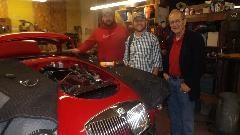 By quitting time the whole crew was assembled to meet us. Left to right, Jason Brightbil, Jason Fellers, and Kent Fellers (the shop owner).


Saturday October 3, 2015
After normal WiFi work today we rambled on down to Bentley, KS (near Wichita) for a dinner meeting with British Car Club of Wichita at Bentley Corner Bar &amp Grille. A couple more cars showed up after these photos, and we had a jolly good dinner with plenty of Brit car chat.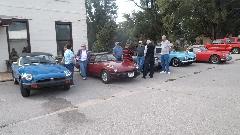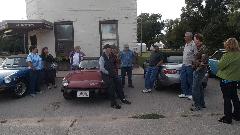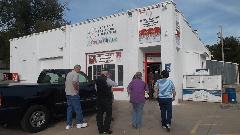 After dinner we had a bit of hussle while we followed this Miata for 25 miles over to Red Rock Road south of Hutchison, KS before it got dark. Here we cut down a gravel road a few tenths of a mile to find an old airport runway with lots of grass in the cracks and hay bales stored on the sides, which was to be site of an autocross event the next day. We had no idea if the cones were in final position, but we took one lap around just to get and idea of the size and nature of the pavement. Then back down the runway and gravel road and several miles into Hutchinson where we would spend the night.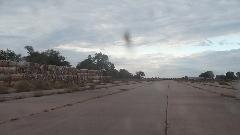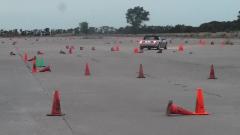 Sunday October 4, 2015
Back out to the old airport early morning to meet with Wichita Region SCCA.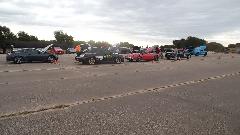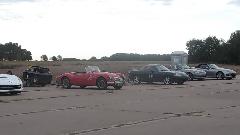 This should be interesting, as last time I had done a serious SCCA Solo-II event was 15 years earlier. Not quite sure what to expect, strip and prep the car, run it though tech, find a loaner helmet, walk the track, and check out the competition.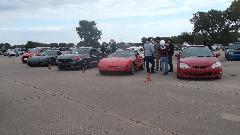 There were a lot of newer and seriously fast looking cars here, and plenty of serious looking drivers. The kids with the go-karts were equally serious, as a couple of these carts were faster than my MGA.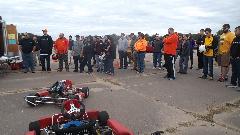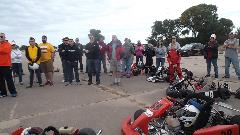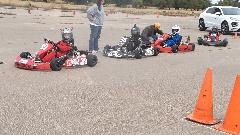 For the rest of the event I was busy driving or working the track with no time for more pictures. The timing results were posted the next morning at http://wichitascca.org/SoloResults.html -- See Oct 4.


By the PAX index factors, I placed 17th out of 38 cars entered, not bad for an underpowered antique car running on VW beetle tires, not even having adjusted tire pressures from street use and trailer towing. As to the Mazda queston, one Miata did very well (5th place on index), while I handily beat three Miata (20th, 23rd, 25th on index) and two RX7 (22nd and 32nd on index). Even without the index factor I beat 12 cars on scratch time, including three Miata and one RX7. Aside from my MGA, the oldest cars there were 1994 models.


I had one significant problem with the course layout. Being an airport runway it was long and narrow, and the course designers took some advantage to make the course very fast. From the start point to far end of the course it was a flat out drag race for my MGA, 4500-rpm launch with a bit of tire smoke, red line in 1st, red line in 2nd, and in 3rd "stand on it until you see god and then brake", followed by U-turn at the far end. I think it was a tad over 75-mph (4000 rpm+ with 3.9 final drive) which is way over the hill, possibly illegal track layout by SCCA Solo-II rules where the fastest Stock and Street Prepared cars should not run higher than normal road speeds (70 mph). The return run was also flat out acceleration to red line in 2nd gear followed by a bit of 3rd gear before greater offset in the slaloms slowed it down to more normal speeds. A bit of side drift was enough to slow a tad getting out of 3rd gear back to 2nd for the next turn, after which it ran 4500 to 6000 (or maybe a bit over 6000 on occasion) in 2nd, slightly off throttle for slow downs but no braking at all required to the finish. In short, I only touched the brake once for the far end U-turn, as most of the course was a drag race with very little depending on driver skill or vehicle handling.


Jolly good fun running flat out for a minute, but the overly fast course puts the MGA at somewhat of a disadvantage. Any car with more than 100-HP will outrun it in a flash. For parts of the course where the car was on full throttle, race tires may not have much advantage. For most "normal" course layouts race tires could improve my times by about 4-sec per min, but for this track I would guess race tires would only improve about two seconds.


In the early 90's the MGA ran in E-stock (not the slowest class). In the mid 90's the slowest class was abandoned, and the MGA was then H-stock (yes the slowest class), but I was still very competitive. For this event I noticed a Miata (which used to be two classes above MGA) running in E-stock (only one class up from MGA). So the world moves on with SCCA ignoring the slower (obsolete) vintage cars. But they did seem to enjoy watching the old MGA put on such a good show.

A little more time in town on WiFi, followed by some night driving, and by day's end we were more than 100 miles east in Emporia, KS.

Monday October 5, 2015
A very long day on WiFi, half of it posting club newsletter on line, but not finished.

Tuesday October 6, 2015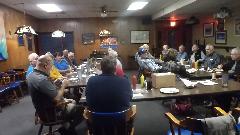 Finished posting club newsletter on line. Then 90 minutes travel to Conroy's Pub in Lawrence, KS for a dinner meeting with Lawrence All British Car Club. I believe 24 people here, all good souls and jolly good fun. That box on the table in front contains my replacement shock absorber form World Wide Auto Parts, thanks to Charles Linn (club president) for being the ship-to point. More about that tomorrow.

Wednesday October 7, 2015
Half a day on WiFi, followed by a visit with Charles Linn (President of Lawrence All British Car Club) at the farm of his parents Chuck & Shirley Linn in Tecumseh, KS (west of Lawrence). Nice quiet place to work on cars, good weather, breeze and shade trees. Their house began life during the Civil War era as a one-room home with a basement. Foundation walls were constructed of stone drawn from a local quarry,and cemented together. What we now call floor joists were hewn from tree trunks with an ads (large blade hand axe). There have been at least three additions to the building in more recent years, now with a neat garage down under and full modern living quarters on the upper level. Some old things are just fascinating (without being cars).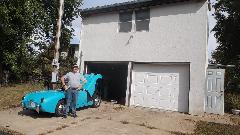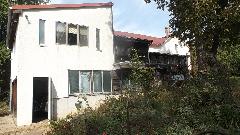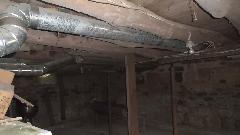 A few steps away there was a workshop building with a loft, a chicken coupe (still used),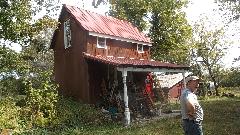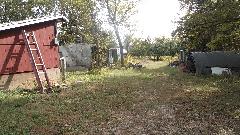 some "Butler" buildings (corrugated steel) sheltering machinery (mostly older tractors), an old grainery converted to an artist's studio, and a couple of barn type buildings (now mostly for storage space). A long time since I grew up on a farm, but pleasant memories.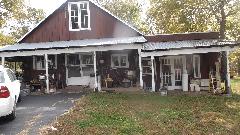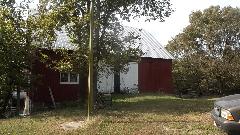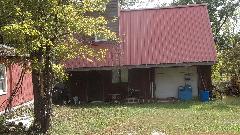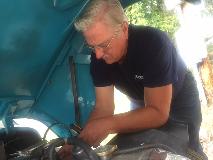 We took a shot at Charles' 1960 AH Sprite, running bad, backfiring, no acceleration with throttle from idle. Running very lean, but it's amazing what can be done with a carburetor adjustment. Enrichen the fuel mixture some, shorten the choke cable to enable full choke for cold start, balance air flow and set up the fast idle. Time for a test drive, nice country roads and grins all around.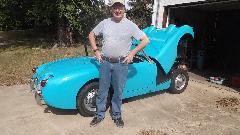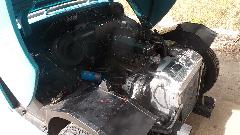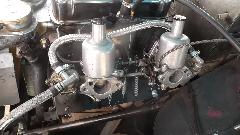 Then it was time for some maintenance on my MGA, starting with on oil change, filter and lube job, and also change the right front shock absorber that blew out its small-side seal a couple of times.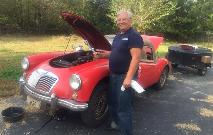 In the past week the clutch master cylinder has been acting up, so the clutch might gradually re-engage as you hold the pedal down. This is due to internal leakage past the primary seal cup. Been there before, and the primary cups need to be changed. Photo below left is the parts installed May 30 about 20,000 miles back.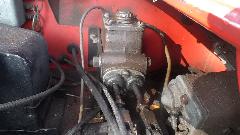 If you look back at the trip log you may note that I was concerned about these parts when last replaced. I have had multiple cases of such internal leakage of both clutch and brake master cylinders (for the same reason). By prior experience I have learned to replace these "thin-wall" seal cups with thicker wall cups (originally intended for wheel cylinders) These parts are available from local auto parts stores (just ask for 7/8-inch hydraulic seal ups). Notice inside the cups are marked "use with expander". Well, the plastic backup parts supplied in current master cylinder rebuild kits are not the same as OEM parts and do not actually work as expanders. But I have found that these thick wall wheel cylinder seal cups seem to do the job without need for expanders.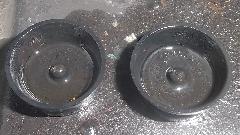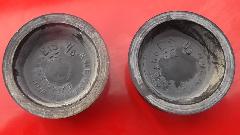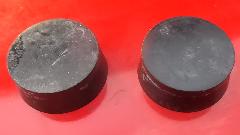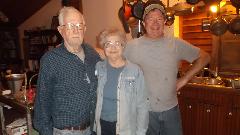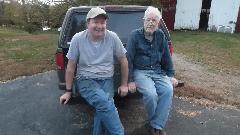 Please enjoy these photos of Charles Linn and his father Chuck Linn and mother Shirley Linn. When the work was finished we all sat down for pizza and good chat.

Thursday October 8, 2015
Two stops today. First up was Jesse Prather Motorsports in Topeka, Kansas. This has not much to do with MGs, except that Jesse is Kent Prather's son, and he worked at Prather Racing for several years before starting his own business (so he does have some experience with MGs). These days he is heavy into race preparation for Mazda Miata and RX7. The first car that caught my eye was sporting a 3-rotor rotary engine (never commercially available in North America) with a turbo charger and something over 600-HP at the rear wheels. A bit more than a passing interest for me, as I drove an RX7 (stock form) for more than 30 years.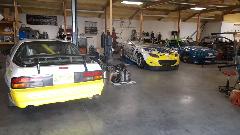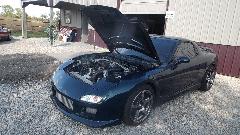 Then there was this beast of a V8, for when you just want to go fast on the track. First time I have ever seen the engine exhaust system running through the passenger compartment. Wanna ride?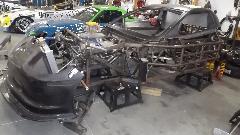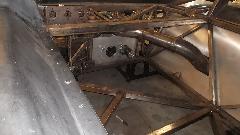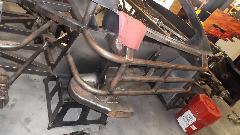 Then we were off to visit Kent Prather at Prather Racing in rural Wakarusa, KS (south of Topeka). To his credit he has eight national championships with SCCA, six of them driving an MGA (center photo below). He was trying for one more a couple weeks earlier at the Runoffs in Florida but didn't quite make it. He had lowered the suspension in his MGA by (another) 1-1/2-inches. Possibly not entirely sorted out, that may have been his demise as he spun out twice in the final race. Today we were in for a (regularly scheduled) Thursday Night Beer and BS session at his race shop.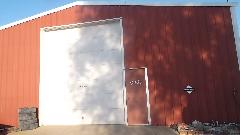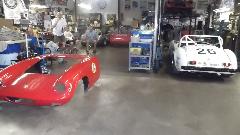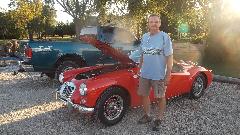 For something different here, check out the Ginetta 1500 (smaller than the Elva Courier) with shallow sump, Weber quad intake, offset engine for weight balancing, tube frame and coil-over suspension. I'm not sure the driver fits in here, let alone a passenger.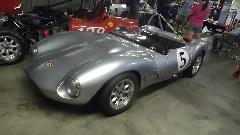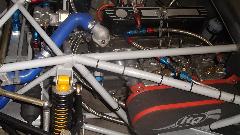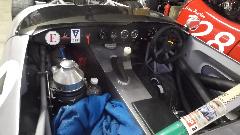 Then we had a visit to "the car barn" with some interesting treasurers. There was the big Jaguar that came in a package deal with some other cars, the MGA with vintage Paxton supercharger,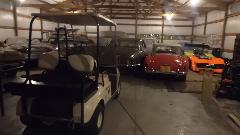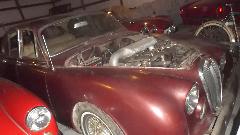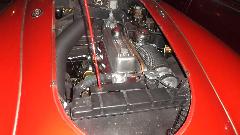 an Alpine Tiger (with 260-cid Ford V8 original issue), a Triumph Stag with a slightly different V8 that happens to say Corvette on the valve covers, an MGB GT tucked away in a dark corner,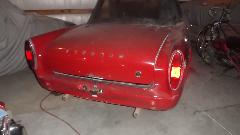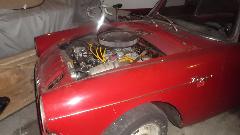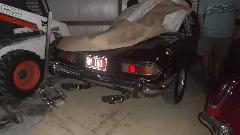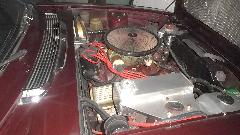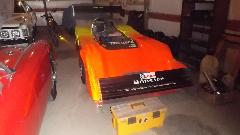 and a spec racer with a respectable history of national championships. --- When the crowd thinned out late night Kent and I had a little more chat about old times and good times before we were off to find another WiFi spot.

Friday October 9, 2015
Day off (sort of). Spent a lot of time making a web page and a drawing for MGA 1600 LHD dipper switch bracket (and it's not done yet). Sometimes the most trivial things take the most time. But an hour drive south in the evening moved us from Topeka to Ottawa, somewhat closer to tomorrow's planned activity.

Saturday October 10, 2015
Ah, the Lake Garnett Grand Prix Revival is happening for two days this week end. They did it last year for one day, lots of participation, too much to do, not enough time, so this year it is planned for two days. It is a celebration of the good old days of road racing on the 2.7 mile track around Lake Garnett. The original road coarse has been reserved for touring laps for various classes of cars. On Saturday there would be street speed touring laps for registered cars. On Sunday there would be higher speed touring laps for a few different classes of cars. We missed most of this on the first day, as well as missing the "Cobra Extravaganza" celebrating the 50th Anniversary of the AC Cobra winning the FIA World Championships in 1965, and the morning car show in downtown Garnett (Kansas of course).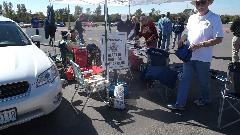 What we did do was the Autocross put on by Heart Of America Jaguar Club (local chapter of Jaguar Club of North America). Arriving mid morning to register without prior notice, I was relegated to the afternoon heat (actually surprised to be entered at all). It was a very tight track, requiring 1st gear in a couple of places, and I think never red-lining it in 2nd gear (and lots of unintentional drifting). I think I beat about 3/4 of the cars on scratch time, but will have to wait a few days for results to be posted. It was funny watching some of the higher powered cars trying to use power, losing it, getting off course. Most of the Cobras and Vettes were well down in times (or more often DNF). One vintage Mustang GT bested my time by a second or so. Some small cars did well, like a Ford Fiesta, a Honda S2000 (when it stayed on course), and a Mini taking FTD (driven by a lady driving instructor and national champ and in SCCA).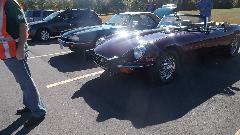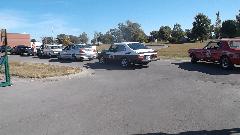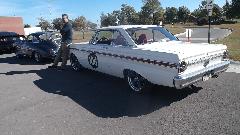 Big cars and Cobras not so good today. One vintage Mustang GT was pretty quick (but not this Boss 302). The Datsun 2000 was a quick car with a good driver doing quite well.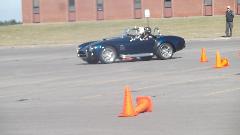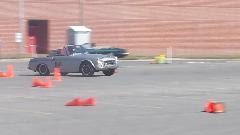 After a late lunch (with WiFi at Subway) we had a 5-pm visit to "the track" to catch a few cars and people on the way out. One notable car here was a Rover/MG RV8 (clone) decked out in full race trim (which was reportedly doing very fast laps). I expect to see it running tomorrow.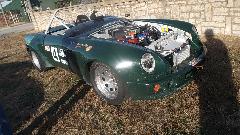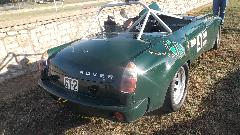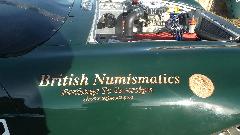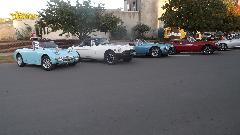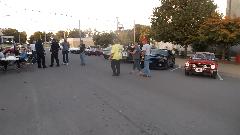 In the evening we found the "cruise-night" in downtown Garnett, and had a nice social with a few old friends, and a few new friends, including a few folks we met at the Autocross.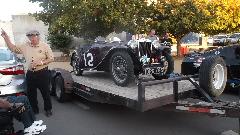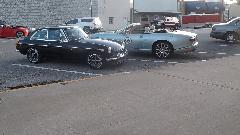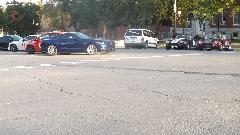 By late night we were 25 miles back north in Ottawa, because that's the larger town with the better services.

Sunday October 11, 2015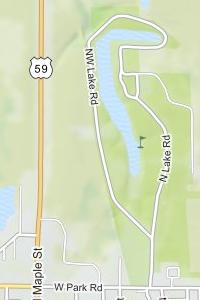 Back in Garnett, Kansas today, our venture for the day was to hang out at "the track" and watch a great variety of cars doing "touring laps" on the old Lake Garnett racing circuit. Class A was limited to 60-mph max, Class B 80-mph max, class C 100-mph max, Class D 120 mph max, and Class was unlimited speed (but please don't do anything stupid while "touring". Woo-hoo! Some of this was definitely going to fun to watch.


The road circuit closest to the lake was the 2.7 mile touring circuit. The little rectangle upper right was the staging lane. Paddock area was to the right (east) of the circuit and staging lane. Classes A-D ran in the morning (20 minutes for each class) with Class E (30 minutes) immediately after a lunch break. Classes A-D would have another shot at it later in the afternoon. We arrived while Class A was running, and I took the opportunity to snatch some pictures in the paddock. After chatting with a few prior acquaintances I was hanging out with the Kansas City MG Car Club.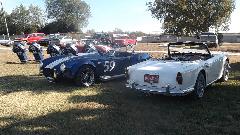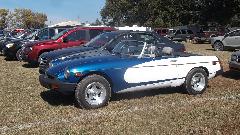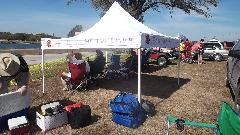 Paddock photos, in no particular order.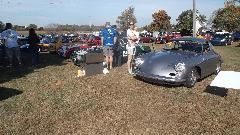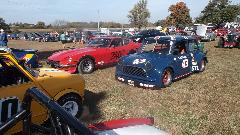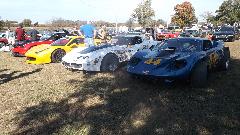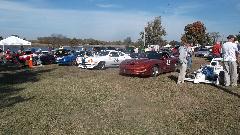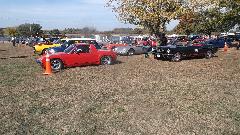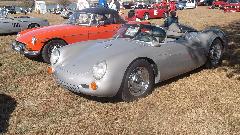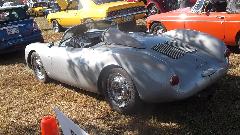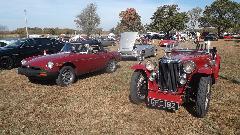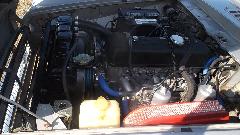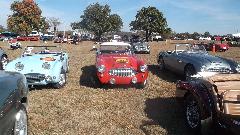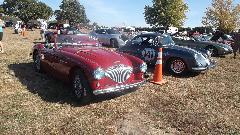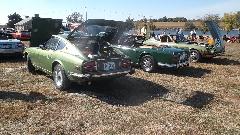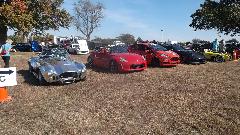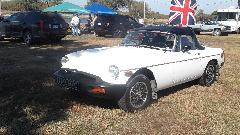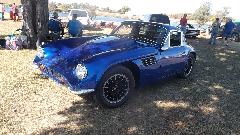 First time I have ever seen a Super Seven type with a hardtop and a wing. This one is actually an 8 and good luck getting in and out.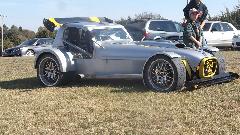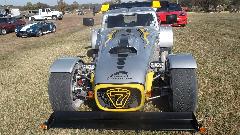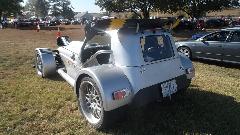 ---
On the circuit at speed.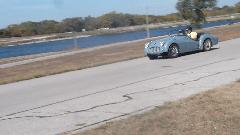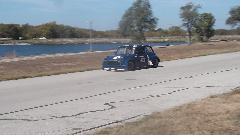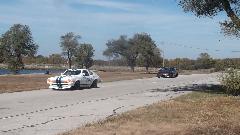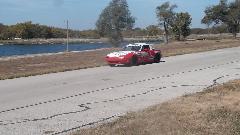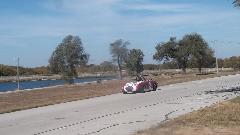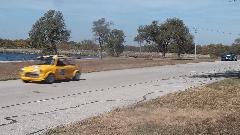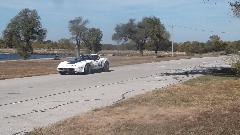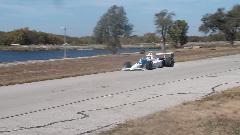 This would be the MG Rover 3.5. Late the day before it threw a fan belt. This morning it was discovered to have a broken sway bar. When running in Class E (unlimited speed) it stopped at side of track and was towed after the laps were finished. I haven't heard yet what was the final demise.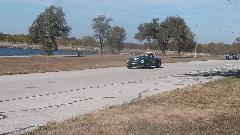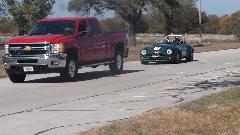 Monday October 12, 2015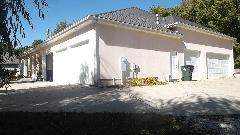 Today we were off to visit Rob Camblin in Independence, Missouri (who happens to be president of Kansas City MG Car Club). Now here's a guy with his priorities in order. Inside is a six car garage with rattle space and a high ceiling. In the front, three cars they may drive regularly (MGB-GT, a large sport ute, an MGTD). In the middle, a large 4-post drive-on lift that will park three cars (MHA on top and 2 more cars underneath). In the back a 2-post lift (currently home to an MGA 1600-MK-II) that could possible park two cars. On the left side center and back they could park two more cars end to end. If you're counting that's maybe ten cars inside and still some remaining workshop space all on one level. And there is a large basement storage space to go with it.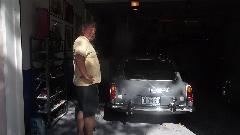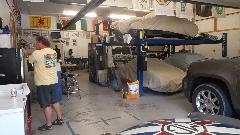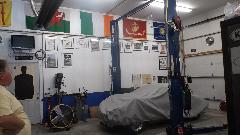 The MGA 1600-MK-II is a bit special, originally purchased/delivered in France and bearing much of the original French regulation special equipment.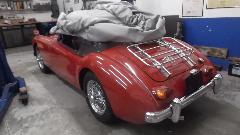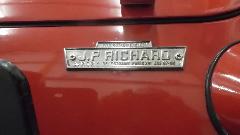 Having arrived mid-afternoon we had a lot to chat about until late night and some WiFi work into the small hours of the morning.

Tuesday October 13, 2015
Morning holds a bit more WiFi work before heading for the garage. A current project is assembly of a nice MGB 1800 engine (for a friend I think).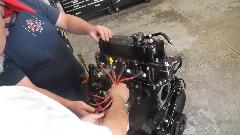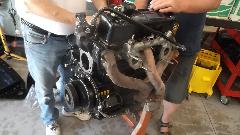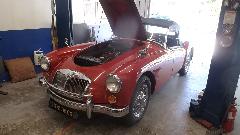 Then we got to tune up the MK-II, fuel mixture, cables and choke adjustment, and we found a sticking choke on the front carb, somewhat worn throttle shafts with a slightly sticky throttle valve at idle (possibly all original never rebuilt). Oil cooler hoses are marked "AHH6296 1.62", we think original factory issue parts (may be due for a change after 53 years of faithful service). After tune up it runs well.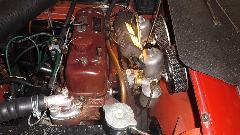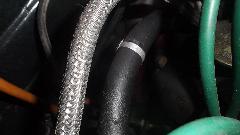 In the evening we were off to a club social with Kansas City MG Car Club (which looked a lot like a dinner meeting to me with about 40 people in the room). I temporarily misplaced my camera, so no pictures here, but a good time was had by all. Before the meeting broke up there was time for a short presentation about what MGA Guru does, after which some people wanted to chat a bit later. Several people mentioned using the MGA guru web site for restoration and maintenance references, and most seem to have their cars running okay, so perhaps the Guru's work is already done here. There was one MG TC that broke something in the differential over the week end, but I don't know if we will get involved with that one or not. We may have another day to spend here, so will see what may happens.

Wednesday October 14, 2015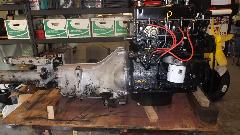 Morning email and BBS and tech questions. Mid day a bit of assistance to remove the MGB engine from stand, install rear plate, flywheel, clutch, and mate it to the gearbox in preparation for installation. Later afternoon and evening some serious discussion about club organization, newsletters, web sites, advertising and other internet activities. After dinner, watch Kansas City beat Houston in baseball playoffs (while bantering about a bit about MGs and clubs). Kind of nice to have a bit more leisure without travel for a day. Tomorrow will be different.

Thursday October 15, 2015
Well this was good fun. Today we drove over 200 miles into Kansas with Rob Camblin to get a picture of his MGB GT with an emu to collect an extra point or two in the Moss Motoring Challenge. Normally these birds are not particularly interested in humans, but this one you could walk and pet (sort of).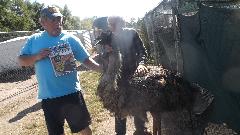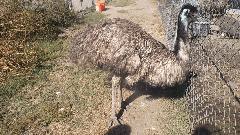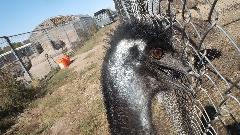 That's what happens when you leave us alone for a couple of days with no appointments. So we spent the rest of the day looking around to see where we have not been yet.